Bull Durham
"It's all about sex and sport. What else is there?"
starring Kevin Costner, Susan Sarandon and Tim Robbins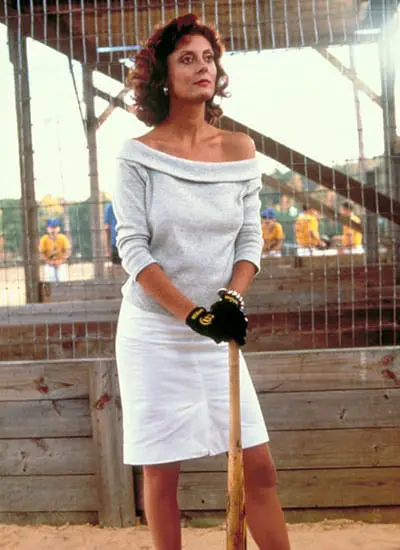 PODCAST: '80s Movies: A Guide to What's Wrong with Your Parents:
How Bull Durham Messed with the Minds of Men and Women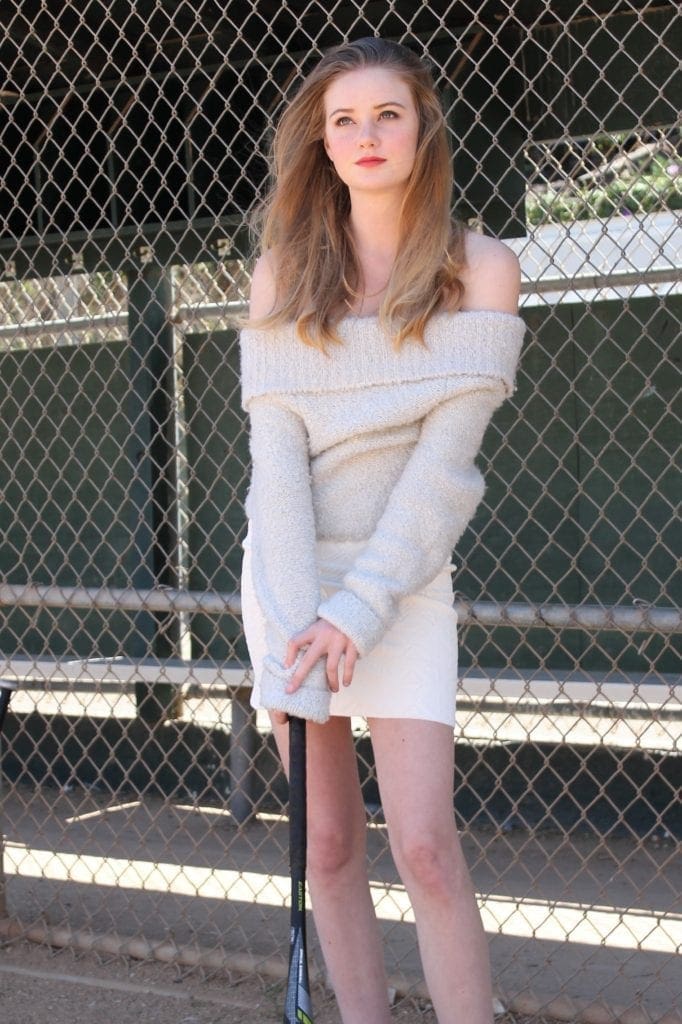 Catcher Crash Davis (Kevin Costner) is demoted to a single-A baseball team in Durham, N. C., to develop pitcher Eddy Calvin "Nuke" Laloosh (Tim Robbins). Crash quickly learns that part-time professor/full-time Durham Bulls superfan Annie Savoy (Susan Sarandon) is also coaching Nuke, using her feminine charms to improve his game.

Bull Durham is considered one of the best sports movies, the best baseball movie and the ultimate romance for men.

In many ways, Bull Durham is timeless. But, some of the men's clothes nail down the era: Crash's Ray-Bans, the Ralph Lauren Polo, and bomber jacket were the standard men's wardrobe in the '80s. Nuke's white linen jacket exemplified how Miami Vice style looked on everyone who wasn't Don Johnson.

Bull Durham is about adults, Rated R, and wasn't marketed to teens – so all that sex, language and cigarette and marijuana smoking? Have at it, guys! Only grown-ups here! However, that doesn't mean it didn't mess with the minds of its viewers.
The only two female characters – Annie and her younger protegee (and owner's daughter) Millie (Jenny Robertson) – are sexually aggressive. They have different approaches: Annie is measured and thoughtful, taking one player to be her monogamous lover for the duration of the season. Millie, on the other hand, seems to be less particular or have any sort of code. This has positive and negative aspects.
"Baseball Annies" are a real thing, as in any sport – there are women who pursue pro athletes for a romp in the hay – the profile may not fit Annie Savoy, but Millie is apparently more accurate.

However, writer-director Ron Shelton admits that Annie Savoy is pure male fantasy. He told Sports Illustrated that unlike Crash and Nuke – who are examples of men you will find in the minors, "Her character was just a figment of my dreams. Trust me, I never met anyone like her in the minors."

Progressively, women are depicted as unabashedly sexual beings in an environment with no slut shaming. In fact, when one of the players starts to make a crack about Millie, Crash shuts him down immediately and, in doing so, it feels clear the entire team agrees (and it's a message to the viewer that they, too, should respect Millie). "Good" or "bad" girls don't exist here, this is just who they are – and it's accepted, without question.

This is one reason Bull Durham works for women: many women love the idea that they could sleep around like men and have no social ramifications or damage to their reputation (or their own conscience).

It's also female fantasy fulfillment that Annie is given license to "fix" Crash. It's a stereotype that has some truth: we all know at least one lady who is known to enjoy a boyfriend who is a project and try to improve their man. Annie fulfills the female fantasy of having a man respect and follow her suggestions (even the weird ones, like wearing a garter to improve his pitch).

Male fantasy itch is scratched, too, in a bigger way. Annie exists to service her player of the season, both sexually and professionally, and truly wants nothing in return. Annie doesn't want marriage, or even to stay in touch, once the season is over. Millie isn't motivated to improve them, but she seems content with a single romp in the sack.

So, if it's just fantasy, what's the problem? It's no different than the Disney Princess phenomena: someday my prince will come. For decades, little girls got the idea that a perfect man would come and rescue them from their circumstances, sweep them up and take them away on their white horse, ride into the sunset and give her a happy ending. This notion that wormed its way into their brain through subconscious movie viewing negatively affected the relationships of women, now grown. Men watch and rewatch Bull Durham, perhaps perpetuating this sort of naughty 1950s idea of what "The One" looks like: smart, sexy, understands him and she gets pleasure from giving her man pleasure – and that's about it.

What's really unfortunate is that Annie is still relegated to using her sexuality to get what she wants, which is to coach baseball. If Annie – a strong, independent, intelligent, original thinker – believes that opening her legs is the only way to pursue her interests in a male-dominated field what message does the female audience takeaway?

The movie title refers to the name of the baseball team, the Durham Bulls. The team was founded in 1902, originally named the Durham Tobacconists. The team named changed to Durham Bulls in 1912.

The fame that came to the team following the release of Bull Durham helped them get a new stadium.

Producer Thom Mount (Can't Buy Me Love) was one of the owners of the Bulls (it cost him $35,000). He had grown up in Durham.

Crash Davis' jersey number, 8, was retired in 2009. That number is one of six retired by the Bulls, including Jackie Robinson's 42.

Ron Shelton, who'd had success as a screenwriter on the Robin Williams-Kurt Russell comedy Best of Times and the award-circuit film Under Fire, based Bull Durham on his own experiences as a minor league baseball player in his 20s. He played for five seasons and retired at age 26 during the 1972 baseball strike, he said because if he believed if you're still in the minors at age 26, you're never going to The Show.

The baseball comedian is real – Max Patkin "The Clown Prince of Baseball" said he caught the eye of Ron Shelton when he was in Amarillo, Tex., and other cities when Shelton was playing in the minors.

Crash Davis was a real Durham Bulls player. Shelton was looking through a records book of the Carolina League and spotted the name, a former Philadelphia Athletics' second and baseman/shortstop who came to the Bulls after he'd served in World War II. Shelton assumed he was no longer alive. The real Crash Davis was alive and showed up one day during filming. The story, according to Shelton, went like this:

I said, 'Mr. Davis, we might have a problem if you don't want us to use your name.' '

''He said: 'I have just one question. In the end, do I get the girl?'

''I said, 'You sure do.'''

He said, 'Well, then, fine.' ''

Tim Robbins developed an 85mph fastball during filming. He said he learned, "it's all in the legs, not in the arms."

Part of Robbins' audition was proving he could really pitch. He said he "nearly took Kevin Costner's head off" with one pitch. Of course, that Nuke-like wildball is probably what landed him the part.

On the other hand, Kevin Costner asked Shelton to let him show him his hitting skills. He'd baseball played in high school. Shelton said, "So we got a bunch of quarters and went out to these cages on Van Nuys Boulevard, in Los Angeles. He has a gorgeous swing—a better looking swing than I had. And then he goes around to the left side. He could switch-hit!"

For authenticity, Ron Shelton was so adamant that all players really know how to play ball, it was in their contract. Robbins said one actor's game wasn't strong enough and was replaced.

The rain-out scene is taken from Ron Shelton's baseball career.

The billboards and signs in El Toro field were not product placement: those were the real sponsors of the Durham Bulls and they just happened to be posted during filming.

Similarly, the announcer describes the Bulls as "The Greatest Show on Dirt"…which he is quoting from the archway at the entrance to the stadium.

Shelton was impressed with Kevin Costner from his performances in Silverado and Costner was the first choice to play Crash Davis. If he'd said no, the backup offers were going to go out to Mel Gibson, Kurt Russell and Harrison Ford.

Shelton and Costner wanted Charlie Sheen for the role of Nuke, but he was committed to another baseball movie, Eight Men Out. The studio, Orion Pictures, wanted to cast Anthony Michael Hall but after two meetings with Shelton, he still hadn't read the entire script so Shelton decided against him. Tim Robbins was also offered Eight Men Out, but took Bull Durham instead. 

Orion also wanted Kim Basinger for the role of Annie, feeling Susan Sarandon was too old for the part. Sarandon made sure to bring the sex appeal to the casting meeting...they changed their minds.

Susan Sarandon and Tim Robbins met filming Bull Durham. Even though Annie winds up with Crash, it was Sarandon and Robbins who had the enduring romance. They were together for 21 years and had two sons before splitting in 2009.

Ron Shelton's film following Bull Durham was Blaze (1989), in which he cast Bull Durham's Robert Wuhl. In the lead role, Shelton cast Lolita Davidovich – whom he later married and had a child. Their relationship is a real Hollywood romance – they've been married for more than 20 years (since 1997). 

Ron Shelton said Bull Durham is about the other nonglamourous side of sports. He told ESPN, "The minor leagues are so without inspiration that nothing ever seemed inspiring except the sheer magnitude of the daily grind."

The stars were asked how the characters would exist in baseball today: "Crash probably becomes Grady Little, who was the manager of the Bulls when we shot the movie. He actually did our baseball organizing for us, and twenty years later he managed two winning seasons in Boston, two more winners in LA, and now he's out of work. Seems to fit Crash well," said Shelton. "I think Crash still has a heated, sexy relationship with Annie, but it's been sorely tested because she's not going on the road." (Costner concurred that Crash and Annie would still be together, after all these years.)  And Nuke, according to Shelton, "has probably done steroids and now HGH, and he's had a rollercoaster career where he wins 25 games one year and three the next." Tim Robbins agreed, saying if the movie were made today, "The first scene is him sitting at one of those autograph conventions. He's an alcoholic, but yet, he has a moment of relevation: even though his arm is shot, there's always the knuckleball! "

Kevin Costner said Shelton loves pranks, but one he thought went too far and he had to intervene. He says one of the actors had been romancing quite a few of the women of Durham, so Shelton got some local police to come in and pretend arrest the actor for being with a minor. Costner said, "But the kid, the guy, he's just seriously watching his entire life crumble in front of him and it's in front of everybody! I'm pretty sure I snapped a bit and had to sort of reveal the prank, just for my own sanity."

Bull Durham was the "big break" for Tim Robbins. Some also say it was Costner's big break, but he'd already garnered a lot of attention as Eliot Ness in the megahit The Untouchables. Costner had already shot  No Way Out, which hadn't been released yet. However, the studio was impressed with him and believed it was inevitable he would be a box office draw.

Susan Sarandon said using a Southern accent allows one to get away with certain frills and it allows you to get away with something you couldn't normally.

The film was shot so that Annie continues to add to her baseball altar as the film progresses, as Sarandon said, symbolizing "Annie's rite of passage."

Annie Savoy is named after "Baseball Annies," a term that used to refer to female groupies on the prowl to bed a baseball player.

Sarandon called baseball "a living chess game." She explained: "It's a thinking sport, it's very ritualistic. I like it because it's not a contact sport but it's dangerous."

According to Costner, he was pushing for "Unchained Melody" to be used during Annie and Crash's love scene. It didn't work out, which he admitted was for the better…"then Ghost came out (laughs) and I don't think anybody can ever use it again, or wants to.

Kevin Costner has expressed interest in a sequel.

In 2014, a musical adaptation of Bull Durham was workshopped in Atlanta to solid reviews. Shelton and theater journalists indicate the hope is to put it on Broadway to coincide with the film's 30th anniversary, June 15, 2018.

In 2017, Shelton was inducted into the Rochester Red Wings Hall of Fame. He'd served as utility infielder for the team in the early 1970s. He was part of the winning 1971 team that brought home the Governor's Cup and the Little World Series Championship. Shelton's contribution was hitting a .260 with one home run, nine RBI and a .982 fielding percentage in 66 games.
Shelton has been credited with reinventing the sports film. He has written and/or directed eight sports films, including Bull Durham:

White Men Can't Jump (1992), basketball

Best of Times (1986), football

Blue Chips (1994), basketball

Cobb (1994), baseball

The Great White Hype (1996), boxing

Tin Cup (1996), golf (also starring Kevin Costner)

Play it to the Bone (1999), boxing

While Just Getting Started (2017) is NOT a sports movie per se, it takes place at a retirement community built around a golf course, and golf does have a starring role in the film.

Shelton's screenplay for Bull Durham received six awards and an Academy Award nomination. It's his only sports film to get awards recognition.

Costner is now closely associated with sports roles, he's starred in seven sports films, including Bull Durham – often as a coach.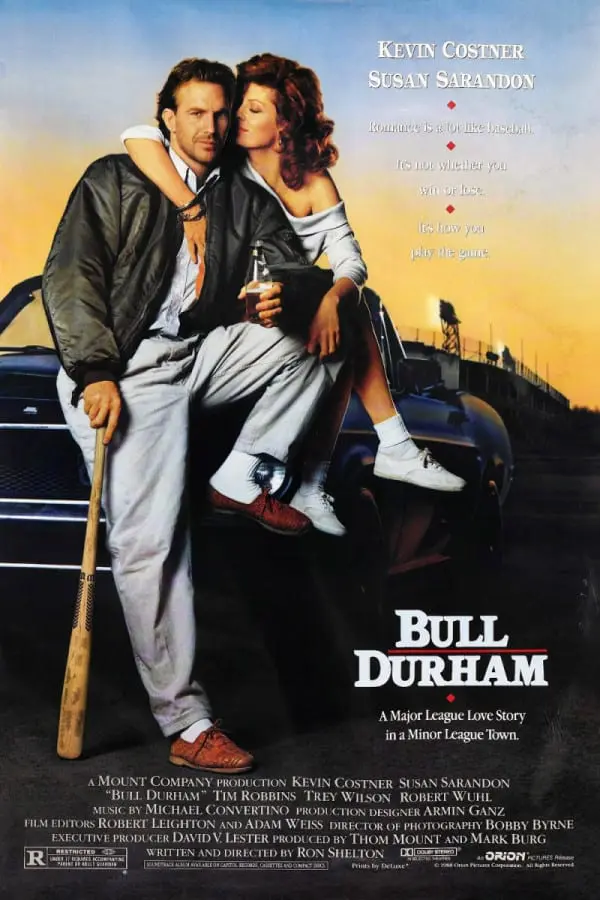 Costner's sports roles are: 
Field of Dreams (1989), where Costner's farmer character builds a baseball diamond in his cornfield and the 1919 Chicago White Sox show up to play. 

Tin Cup (1996), where Costner plays an aspiring golfer (also written/directed by Ron Shelton). 

For the Love of the Game (1999), where he plays a washed up pitcher. 

The Guardian (2006), where Costner plays a Coast Guard swimming instructor. 

Draft Day (2014), where he plays an NFL General Manager. 

McFarland, USA (2016), where he plays a cross-country coach.
Costner turned down Everybody's All-American, a movie about football, to take Bull Durham. Dennis Quaid starred instead and he, too, has also become a sports movie regular.
Soundtrack
The soundtrack is out of print and not all the songs on the album made it to the movie. Additionally, some of the most notable songs in the movie didn't make it to the soundtrack, including "Rock Around the Clock" by Bill Haley & The Comets, "Sixty Minute Man" by the Dominoes, and "I Idolize You" by Ike & Tina Turner.
"A Woman Loves a Man" by Joe Cocker

"Can't Tear it Up Enuff" by Fabulous Thunderbirds

"I Got Loaded" by Los Lobos

"Born to Be Bad" by George Thorogood & The Destroyers

"So Long Baby, Goodbye" by The Blasters

"Middle of Nowhere" by House of Schock (aka Gina Schock from The Go-Go's)
"Centerfield" by John Fogerty

"You Done Me Wrong" by Pat McLaughlin

"Try a Little Tenderness" by Bernie Wallace and Dr. John

"All Night Long" by Stevie Ray Vaughn and Bennie Wallace

"Love Ain't No Triple Play" by Bonnie Raitt, Dr. John and Bennie Wallace
Director: Ron Shelton
Screenwriter: Ron Shelton
Release Date: June 15, 1988
Rating: R
Opening Weekend Rank: #6. Other new releases were Arnold Schwarzenegger's Red Heat (#1) The Great Outdoors (#3). At #2 was Big.
Opening Weekend Box Office: $5 million
Lifetime Gross: $58 million
Budget: $7 million
Production Company: The Mount Company
Distributor: Orion Pictures