Dirty Dancing
"First dance. First love. The time of your life."
(1987)
starring Jennifer Grey and Patrick Swayze

'80s Movies: A Guide to What's Wrong with Your Parents - 
DIRTY DANCING:
Why an Iconic Feminist Film is So Problematic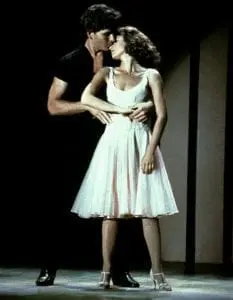 Frances "Baby" Houseman vacations at a Catskills resort the summer before starting college and falls in love with a staff dancer.

DIRTY DANCING is one of the greatest dance movies, feminist flicks, and soundtrack films of all time.
QUOTABLE LINES:
"Nobody puts Baby in a corner."
"I carried a watermelon."
"I'm scared of walking out of this room and never feeling the rest of my whole life the way I feel when I'm with you."
"Oh, come on, ladies. God wouldn't have given you maracas if He didn't want you to shake 'em!"

Patrick Swayze and Jennifer Grey. Swayze and Grey starred in iconic '80s teen films: Swayze in The Outsiders, Grey in Ferris Bueller's Day Off and, together in Red Dawn.
MTV. Sure, most of the music came straight from the '60s. But the three original songs took off in heavy rotation on MTV: Eric Carmen's "Hungry Eyes" and Patrick Swayze's "She Like the Wind" were in heavy rotation.  Bill Medley and Jennifer Warnes were unlikely MTV stars, but using the Dirty Dancing movie clips with the upbeat, positive message of the song propelled both the movie and music to box great success - including an Oscar, a Grammy, and a Golden Globe. An MTV Video Music Award? In the year of U2, Bruce Springsteen and INXS? Oh no.
The '80s loved its dance films. The '80s experienced a dance movie reconnaissance. However, this was not the age of Fred Astaire and Ginger Rogers where the choices were ballroom or tap, dance styles crossed all music genres.  Between Saturday Night Fever (1977), that fueled the soundtrack movie, that powered MTV (see above) that then triggered an interest in stimulating choreography (thank you MIchael Jackson), '80s moviegoers reaped the benefits with Fame (1980), Urban Cowboy (1981),  Flashdance (1983), Footloose (1984), Stayin' Alive (1983), Breakin' (1984) and White Knights (1985) among some that captured the moment and made us want to dance. Even then, Ranker puts Dirty Dancing at No. 1.

Dirty Dancing is a positive film for young women in many ways. Baby is a regular awkward girl who gets the hot guy. She has a wonderful relationship with her parents. She possesses phenomenal character traits: confidence, compassion, integrity, curiosity, and perseverance. She doesn't feel the need to dress sexy or change who she is to be appealing. She's in control over her own sexuality and doesn't carry any feelings of guilt or shame about pursuing sex. However, she is not role model material. And, this film sends a lot of negative messaging as well (and we're not even talking about the abortion). 
UNACCEPTABLE BEHAVIOR: Baby and Johnny's sexual relationship constitutes statutory rape. Johnny is 25 and Baby is 17. And called "Baby," which, c'mon, screams "jailbait!" Seventeen is the age considered statutory rape in some states if one person is four years older…so, it would be illegal for a 17-year-old to date a 21-year-old, much less a 25-year-old, even in 1963. 
DANGEROUS TAKEAWAY: Dirty Dancing sets up young teens for date rape and disappointment. Here's what adults know that teens don't: no adult in their 20's is romantically interested in a teenager for their mind and personality. The age gap is massive in terms of life experience and maturity. In this instance, Johnny comes to know Baby through her dedication, hard work and selflessness. But, do you think that's what teen girls of the '80s took away? Dirty Dancing romanticizes the idea that it's not just okay that they have sex with an older man, it postulates that this older man would appreciate their wisdom and see them as more knowledgable about life in general.
UNACCEPTABLE BEHAVIOR: Baby allows her sister to date a sexual predator. Baby has already heard Max Kellerman's order to the Ivy League wait staff to romance the daughters of the wealthy guests. Then, she witnesses her sister emerge from the woods with Robbie, upset that he somehow sexually assaulted her. Assistant Manager Neil excuses Robbie's behavior, saying, "I'm sorry you had to see that" and doesn't even reprimand Robbie for his behavior, therefore, normalizing it. In other words, Robbie does this kind of thing all the time. Once Baby knows that Robbie is the one who impregnated Penny with false overtures of love and then abandoned her with taunts and put downs. Yet, when Lisa tells Baby she's going to give her virginity to Robbie (twice!), Baby only half-heartedly tries to talk her out of it and never reveals any of the insight she's gathered. At that point, she knows Robbie is a sexual predator and does nothing to save her sister.
DANGEROUS TAKEAWAY: Neil Kellerman looks the other way after overhearing that a young female guest has been molested by one of his staffers. It's clear this is normal. It's then also clear to the young audience that trying to grope a girl without her consent is normal behavior for a young man. Moreover, unwanted sexual advances is not cause to break up with someone.
UNACCEPTABLE BEHAVIOR: Baby takes advantage of her father's trust. When she asks him for a large sum of water, she lies to him about the illegal purpose. Then, she immediately disobeys him after he forbids her from hanging out with the entertainment staff (who - abortion morals aside - are all considerably older than her and all the reasons why a parent would be concerned with that play out). Later, Baby turns the tables on Jake Houseman, giving him a backhanded apology where she accuses him of institutional bias and basically blames him for her deception.
DANGEROUS TAKEAWAY: Teens, your gut tells you that you know everything and your parents are idiots. Your gut is RIGHT! Whatever your parents are trying to teach you is all wrong. 
NOT TO MENTION:
Baby's sexual advances toward Johnny put him and Penny at risk. While Johnny may have a romantic interest in Baby, he does not make any advances. He has made it clear time and time again that he needs the job at Kellerman's which does not allow the entertainment staff to fraternize with the daughters of the guests. Moreover, he's the person who got Penny and Billy their jobs - they are reliant on his continued employment. When Baby confesses her feelings to Johnny and tries to seduce him, Johnny goes for it. He's no innocent: he could've said no. But, sure enough, once they're discovered, Johnny gets fired for sleeping with an underage guest - and not any guest, Mr. Kellerman's honored guest. As noted above, though, if Dr. Houseman wanted to press charges, Johnny could have been arrested for statutory rape. And, now, an upset Dr. Houseman, believing that Johnny he knocked up his dance partner and then pushed her into butchering her body before "moving on" to his teen daughter could have also triggered him to call the police and report the illegal abortion, endangering Penny. 
Johnny's temperament is exactly why even trustworthy employees are escorted out by security today. When Johnny bursts back in to demand that he do the final dance with "my kind of dancing," he is an employee fired for sleeping with the underage daughter of a guest. He's also someone who implicated two other guests in a crime by pulling Dr. Houseman and Baby into their scheme of getting an illegal abortion.
Dirty Dancing is yet another movie that shows girls can fix the "bad boy." Johnny dresses like a Greaser looking for trouble, gets into fistfights, breaks the rules of his employer, and is in a constant state of scowl. He has a bad attitude. Yet, Baby sees Johnny isn't bad, he's just misunderstood. She applies her 17-year-old ivory tower idealism to his hardscrabble life of poverty -- and with a little love -- poof! He's completely turned around! 

THE SCRIPT
Baby Houseman and Johnny Castle are Eleanor Bergstein, the screenwriter. Bergstein was nicknamed "Baby" – a name she says that followed her into her 20s – and she and her family would go to resorts in the Catskills, a haven for Jewish families, in the 1960s. Her father was a doctor. She reports that she did, once, dance with a dirty dancer. After becoming a talented dirty dancer herself at house parties. She went on to be a dance instructor for Arthur Murray. 
Kellerman's is a pseudonym for Grossinger's.  Grossinger's is the Catskill resort Bergstein vacationed at with her family, well-known enough that Debbie Reynolds and Eddie Fisher were married there. Like Kellerman's, Grossinger's was known for its rest, relaxation, and flurry of activities for the guests. Jackie Robinson vacationed there once as well.  Grossinger's just missed its moment: it closed in 1986 and was condemned in 2017. An investor is trying to clean it up to reopen it as a Dirty Dancing-themed resort.
Johnny Castle was inspired by Michael Terrace. Terrace was a Broadway and ballroom dancer who helped popularize the Mambo throughout America. His story is very similar to Johnny's: he was a Marine during World War II and, once out, used his charm and good looks to land a job as a ballroom dance instructor at Murray Dales. In 1949, he took a summer gig as a dance instructor at Grossinger's, who were known to have the best dancers. Once there, it was clear he was expected to sleep with the rich female guests, if they so desired - and they did. 
Baby attending Mount Holyoke isn't random. Dirty Dancing may be the only film where the lead character is super psyched to be attending Mount Holyoke University. That school was picked, though, because the first women on the cabinet, Frances Perkins -- who U.S. Secretary of Labor during President Franklin D. Roosevelt's administration -- is a Mount Holyoke alumni, class of 1902.
Even Frances Perkins agrees, Frances is a real grown-up name. Baby "changing" her name to her given name so people would take her more seriously also reflects back to Frances Perkins. Frances Perkins' given birth name was Fannie Coralie Perkins. After graduating from Mount Holyoke, she changed it to Frances. 
How did a feel-good teen dance film get made with an illegal abortion scene? Very thoughtfully. Sometimes, films get the green light and down the road, someone more alert to potential problems may raise a flag saying – "hey, that shouldn't be in there!" And, it's changed. That exact thing happened in Dirty Dancing. But writer Eleanor Bergstein had already predicted that. She said, "Right before the film came out, when no one had any faith in it at all, the producers called very excited because they had gotten someone [Clearasil] to be a national sponsor who was going to put a tube of acne cream on each poster. Then the sponsor saw that there was an illegal abortion in it, so the producers came to me and said, 'Eleanor, we'll pay for you to go back in the editing room and take the abortion out.' I always had known this would happen one day. I said, 'Hey, I would love to, but I can't because if I take it out everything will fall apart.' There's no reason for Baby to meet Johnny, for Penny not to be able to dance, for Baby to learn to dance with Johnny, for her to make love with Johnny — there's no story without that. Everything just crumbles, nothing will make any sense. They said, 'Too bad, we should have thought of that sooner,' and so we didn't do it. I thought it was my reward for being good. My sense is if you're going to put something like this in, you better rhythm it so precisely into the plot that when the day comes — I sound like The Godfather, the day will come — when they ask you to take it out, you can't without the movie falling apart. Because if it can be taken out, it will be."
Political issues of 1963 seemed weird to include in a film in 1987 but are oddly relevant today. Bergstein said, "[The movie is set in] the summer of '63, which was the summer of Martin Luther King's 'I Have a Dream' speech, and at the time people said, 'What are you putting in that for? Race relations are solved.' Of course we know that it isn't. They also said, 'Why do you have the Vietnam War in? That's over.' Now young men are being sent across the world to fight in a war they didn't want, so all the things I was told were topical to' 63 when I made it in '87 have come back, most egregiously Roe v. Wade. I got so much pushback and resistance for putting them in … and here we are marching in the streets again. During the [2016 election], people were always asking what happened next in Dirty Dancing, and I sent out a video saying Baby would be out in the streets working her ass off for Hillary."
Dirty Dancing was written to spite the director of Bergstein's first film. The Jill Clayburgh-starrer It's My Turn (1980) was Eleanor Bergstein's first film and put her on the map. In that film, she'd written an "erotic" dancing scene that was cut. So, what's a feminist writer to do but then go write an entire movie about that dance sequence and have it become a huge hit!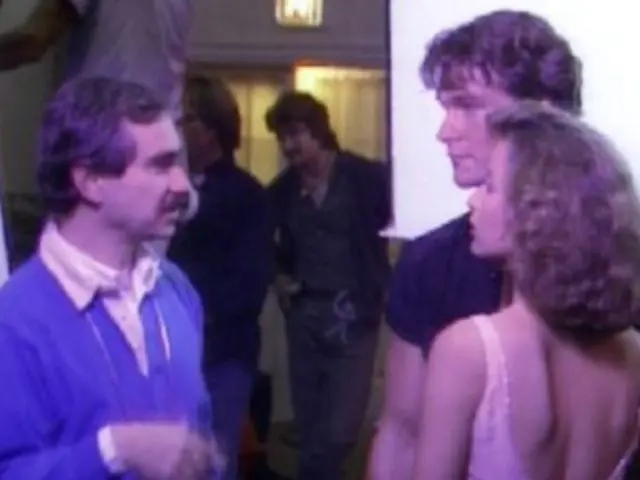 EMILE ARDOLINO, DIRECTOR
Emile Ardolino was the obvious choice to direct. He was known for popularizing dance in America in the mid-1970s with TV documentaries "Dance in America." He received much recognition, including Emmy attention, for works for TV like "Baryshnikov at the White House" and "Alice at the Palace" starring a pregnant Meryl Streep as Alice in Wonderland and Debbie Allen as the Red Queen.
Ardolino believed the takeaway of the movie was to encourage moviegoers to dance. "If there's anything we'd like to say with this movie, it's get out there and dance with each other. You know, it's a wonderful experience to take someone in your arms and dance cheek to cheek, or hip to hip, or pelvis to pelvis, or shoulder to shoulder. It doesn't matter," Ardolino said in an interview. "But touch each other, communicate with each other, because that's what dance has always been to me: a form of communication. 
WHAT IS DIRTY DANCING?
Dirty Dancing is sensual partner dancing, which was pretty shocking in 1963. Emilio Ardolino said in the days before the sexual revolution, "dirty dancing" was your way to make a connection. "If you wanted to get close, you danced close. In a way, it's like sexual foreplay. But, it's romantic, it's very physical, very touchy.
Or, it's Cuban mambo meets Soul Train. Choreographer Kenny Ortega explained: "Dirty Dancing is like soul dancing, only with a partner. A little mambo thrown in, a little Cuban motion thrown in. Sort of a conglomeration that's based on all the original dancing of the early '60s. I think Dirty Dancing is the most intimate communication outside the bedroom. And it's not dirty at all. But if two people are looking at each other, looking into each other's eyes and trying to say, 'I love you,' it's beautiful."
CASTING JENNIFER GREY AND PATRICK SWAYZE
Emile Ardolino insisted on finding dancers who could act rather than actors who could dance. According to the book "Focus On: 100 Most Popular American Romantic Films," Ardolino detested how Flashdance used a dance double for Jennifer Beals and was determined to have actors who could really pull off the necessary dance moves. Grey is the daughter of a famous dancing actor (see next entry) and had been in dance classes through her life, and Ardolino believed she could pull it off.
Both Jennifer Grey and Patrick Swayze have dancing in their blood. Jennifer Grey's father is Joel Grey, the famous actor-dancer from Cabaret. Patrick Swayze's mother was a ballet instructor who was a strong influential player in the Houston fine arts scene. She led him to pursue a career as a professional dancer in New York. One role was in the ensemble for the Joel Grey musical "Goodtime Charley;" during that production, Joel Grey introduced Swayze to his then 15-year-old daughter, Jennifer.
Patrick Swayze almost said no. In "The Time of My Life," a memoir he co-authored with his wife shortly before his 2009 death from pneumonia complications as a result of pancreatic cancer, Swayze wrote that he was avoiding both dance and heartthrob roles. Swayze, a professional ballet dancer, landed on film for the first time in 1979's roller disco film Skatetown USA. (Swayze, a natural athlete, was also a competitive roller skater in real life). Critics lauded praise on his sexiness, comparing him to John Travolta in Saturday Night Fever and other dreamboat actors, and Teen Beat type magazines flooded him for requests. Swayze said it scared him because that's not the kind of career he wanted and tried to stay away from similar roles. When offered Dirty Dancing, he was still battling the "dancer turned actor" label. 
The yes was because Swayze saw himself in Johnny and wanted to tell his story authentically. Swayze agreed to play Johnny because "he felt for him." In a 1988 interview with Barbra Walters, Swayze described what he saw in Johnny that rang true to him: "A guy from the streets that is fighting to like himself, to believe in himself, to believe he could be something more than what society will allow him to or what mommy or daddy taught him he could be."
If Swayze had turned down the role, there'd be no film. Screenwriter Eleanor Bergstein said, "No other actors were ever considered for Johnny except Patrick. It was always him and only him. We looked through pictures and I said, 'Oh, there's the eyes we want,' and we turned them over, and Emile [Ardolino], our director, said, 'As a matter of fact he's a Joffrey dancer.' We went after him, and when I met him, I said, 'Now that I know you, if you decide not to do this, it's hard for me to think that I'll make the film.' I really felt that way and I still do. So it was always Patrick, only Patrick, the only one we offered it to, and a wonderful, brilliant, good man."
That said, Val Kilmer and Billy Zane were in the mix. Bergstein's assertions aside, Val Kilmer was reportedly offered and refused the part of Johnny first. Johnny was written as a dark-haired New York Italian (his ethnicity was changed to Irish with the casting of Swayze). Billy Zane was in consideration, but Jennifer Grey said at the chemistry test, it turned out, they didn't have any: "[Chemistry] doesn't have to do with whether you like someone or not. It's just you either have it or you don't." On the other hand...
When you see the Swayze-Grey screentest, yeah….of course. Holy cow. Swayze said he rubbed Grey the wrong way during Red Dawn. Grey said she didn't think she and Swayze had chemistry ...until the screen test began (see video above). "You could tell, like two minutes into the screen test, that it was going to work." 
Where was Swayze's wife while he was creating red hot chemistry with Jennifer Grey? In the room. Watching. Swayze's wife, Lisa Niemi, was also a dancer and an actress, so she understood more than anyone the importance of creating sensual heat in dance and on screen. Swayze wrote in his autobiography Niemi wasn't just with him for the callback, but she's the one in the video above helping the two pull off the lift. Swayze wrote he and his wife frequently performed the lift, so the dance's "big move" was no big deal to them.
In the end, working together on Red Dawn was the key to their chemistry. "We didn't have to bother with the whole getting-to-know-you process," Grey said in a promotional interview. "We knew each other very well from before, which had been about six years ago when we did Red Dawn together, and we hadn't seen each other since then, but we knew each other pretty well so it made it easy that way."
Jennifer Grey was too old to play Baby. Jennifer Grey was 27. So, how could she play a naive, inexperienced 17-year-old? Bergstein and Ardolino had their doubts as well and gave her five minutes in her audition to prove she could play a 17-year-old. Grey told People Magazine her secret: "I pretended it was the '70s and I was at Studio 54 making a commotion."
Sarah Jessica Parker and Sharon Stone were also in contention to play Baby. Sarah Jessica Parker was a well-known teen actress who'd had a part playing an awkward high schooler in "Square Pegs" and had played a supporting character in Footloose as a girl who loved to dance so much her boyfriend took lessons to bring his A-game to prom. was seriously running for the part. But, Sharon Stone? She was 30! Reports say she was trying for the role of Baby, but who else thinks Stone might've been auditioning for the part of Penny?
Dirty Dancing was a reteaming of Red Dawn's Swayze and Grey, something that was not uncommon in the '80s. The '80s saw a surge of opportunities for young actors, far more than had been available in the decades prior. As a result, the same teen and 20-something actors were frequently working together again, movie after movie. 
Patrick Swayze was the unique mix to be Johnny Castle. Swayze grew up as a ballet dancer in cowboy country, Marlboro masculinity, testosterone tough Houston, Texas. As a child, he was regularly beaten up and bullied. However, his father - a Golden Gloves boxer - taught him to fight and got him into martial arts. So, Swayze says he grew up with a chip on his shoulder, making sure everyone knew he was a ballet dancer who was all man. At the same time, Swayze also said that his father showed him you could be both tough and tender. His mother, the dance instructor, was a perfectionist who expected drive, discipline, and flawless form from her dancers - and passed that on to her son. All of that comes together in one role: Johnny Castle.
Jennifer Grey's acting chops - the ability to be prepared and yet in the moment - is what gave her the openness to play Baby. "When we're doing those dance sequences, those moments really work because they're real. They just took pieces of Patrick and Jennifer working together attempting to be a real dance team. They took my real frustration, trying to keep this girl serious, trying to keep her from crying, trying to keep her focused, to get past her fear and her ego," said Swayze in an interview with the American Film Institute. "One thing that worked beautifully is it really was a teaching situation. I had been a dancer my entire life, Jennifer had natural talent but needed to be nourished. So, I think Jennifer, at that time and still, is one of the most gifted actresses around to be present in the moment and I think that's what made Baby really special."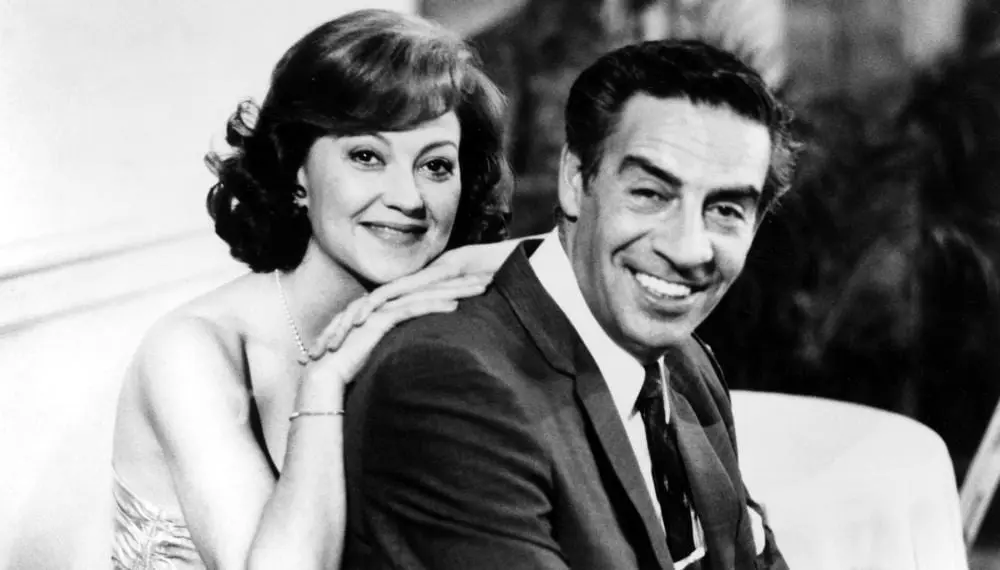 CASTING THE SUPPORTING ACTORS
The production couldn't meet Jerry Orbach's rate, so he made a deal...and a small fortune. Vestron didn't have the funds to pay Jerry Orbach what he was worth outright, so Orbach's agents negotiated a "small portion" of the backend for him on Dirty Dancing. Considering the massive box office, VHS, DVD, and rerelease ticket sales, money continues to flow into his estate, 15 years after he passed away.
Cynthia Rhodes was a regular in '80s dance movies and videos. Cynthia Rhodes made a name for herself in the dance film community. She had roles in Xanadu (where she worked with Kenny Ortega), Flashdance, and Staying Alive. She was a regular in music videos, including three big hit singles: Toto's "Rosanna," The Bee-Gee's "Woman in You," and Richard Marx' "Don't Mean Nothing." That last video led to Marx falling in love with his leading lady and they married in 1989, had their first child a year later, and Rhodes stepped away from movies for full-time motherhood.
Patrick Swayze's wife, Lisa Niemi, was up for the role of Penny. Swayze wrote in his book that Niemi "wowed everyone" with her audition, but "what tipped the scales was the fact Cynthia Rhodes had a starring role in Staying Alive with John Travolta. Cynthia had momentum, and momentum sells in Hollywood. What we didn't know, but found out much later, was that Eleanor expected me to insist on casting Lisa as a condition of getting me. But I really didn't think of myself as having that kind of power as an actor, so it never occurred to me to ask."
Marjorie Houseman was recast after shooting began, and in desperation, they cast the Bungalow Bunny in the role. Kelly Bishop was originally cast as Vivian Pressman, Johnny's demanding client that embodies the phrase "When the husband's away, Vivian Pressman will play." Lynne Lipton ("Thundercats") was originally cast as Marjorie Houseman. However, on her first day of shooting, she started not feeling well and had to take several breaks to lie down and rest. On Day 2, she was clearly too ill to continue – with 200 extras standing by. Linda Gottlieb wrote in Premiere that Bishop was given the role swap at the last minute because of one important quality: "She was there." The assistant choreographer, Miranda Garrison, then took over for Bishop to play the guest who made sure the entertainment staff worked all night long. 
The role switch was a welcome one for Kelly Bishop. "What was good about the role was that I'd always played the other woman, that character I was cast for originally, and this changed me into more of a mom, which broadened my outlook a little bit," Bishop said. "Although I have to admit I found being a nice mom not nearly as much fun as being a bad girl."
Sex therapist Dr. Ruth Westheimer was originally cast as Mrs. Schumacher. Dr. Ruth is TV's favorite sex therapist and in the '80s, she was a national treasure. She was also a friend of Eleanor Bergstein. Dr. Ruth had agreed to play the pickpocket but later worried it would hurt her image, so she bowed out. 
"Cousin Brucie" was a well-known New York radio DJ in the '80s. Bergstein asked him to play the role of Kellerman's social director, but then the role wound up going to Wayne Knight (in his pre-Jurassic Park and pre-"Seinfeld" days). He took over the role of the magician that saws Baby into two instead. Cousin Brucie also hosted the Dirty Dancing Concert Tour.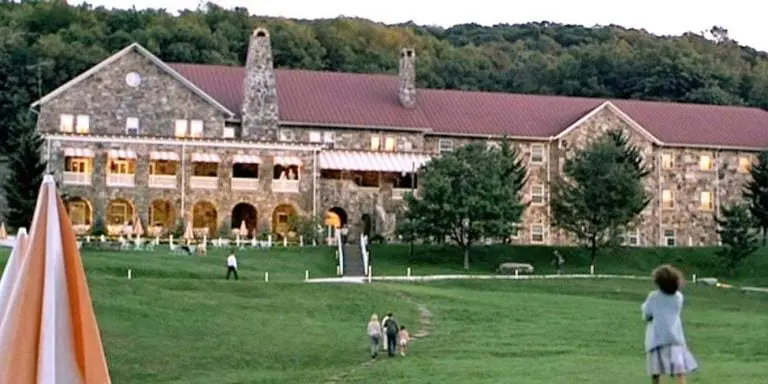 PREPRODUCTION
Finding financing for a female empowerment dance movie was not easy. ven Eleanor Bergstein track record was debatable. She only had one film under her belt, It's My Turn, another film with feminist overtones. It wasn't well received by critics and did just okay at the box office (although, in what would be a Bergstein Hallmark, it did launch a fantastic hit song, "It's My Turn" by Diana Ross.  Producer Linda Gottlieb had worked almost exclusively in made-for-TV movies including ABC Afterschool Specials.
Studio heads said yes to the soundtrack, no to the movie. As a sales aid, Bergstein created a mixtape of the '60s era songs she'd written into the movie. The studio heads passed on the script but would call her and ask her for another copy of the cassette tape. 
Financing was precarious, very precarious. Gottlieb put the budget at $8 million. Vestron Pictures agreed to make the film for $5 million, period, end of story.  Gottlieb wrote in Premiere Magazine that the studio's chairman said if he "sees so much as a decimal point after the number 5," he'd pull the funding.
To cut the budget, Gottlieb had to house the cast and crew in the same hotel where they were filming. However, due to terrorist incidents in Europe in 1986, Americans weren't leaving the country to vacation – and, therefore, finding a hotel on the cheap was a challenge. In June, she found the Mountain Lake Resort n Virginia who agreed to her offer on one condition: they film during their off-season in September – just three months away.
Mountain Lake Resort reps, extras, and townspeople were told the movie's title was Dancing! The resort's general manager J.W. McMillan told Variety at the time, "When the name Dirty Dancing came out, we thought, 'Uh oh, what have we been a part of?'" Two hotel reps were sent to New York to watch a cut of the film to see if they needed to raise a fuss and have their name removed from the film (an out that was included in the contract). 
FILMING
Jennifer Grey and Patrick Swayze didn't like each other during filming. Swayze wrote in his autobiography, "The Time of My Life," that once shooting began, it was obvious Grey couldn't stand him. "We did have a few moments of friction when we were tired or after a long day of shooting. She seemed particularly emotional, sometimes bursting into tears if someone criticized her."
Johnny's irritation at Baby's lack of focus was real. The scene where Johnny runs his hands down Baby's shoulder and she laughs wasn't acting. Jennifer Grey was ticklish and filming had gone late into the night. In her exhaustion, she laughed and that look of annoyance on Swayze's face? That was real. Months later, the editor found it among the footage and shared it with Bergstein, Ardolino, Grey and Swayze who burst out laughing when they saw it - and the actors gave their permission to include it in the final print. 
Swayze was fed up with Grey's inability to keep a straight face. He wrote, "She slipped into silly moods…forcing us to do scenes over again when she'd start laughing." He added, "I didn't have a whole lot of patience for multiple retakes." 
Giggles? Try a nervous laugh. Jennifer Grey said she was just misunderstood. "I was terrified. He [Patrick] can't wrap his head around that kind of fear, because he was completely fearless. He had no physical fear at all."
Grey and Swayze may have had their ups and downs, but Jerry Orbach was revered. Every time he completed a take, Swayze would look over at Orbach to see in his eyes if he'd nailed it or not. "I would go over to him and say under my breath "What did you think?" and he goes "No, go further, I think there's more you can get." He would say little things like "courage", and it gives me goosebumps to say that. I really, really respected that man. 
PATRICK SWAYZE WAS IN PAIN DURING MOST OF THE DANCE SCENES.
Swayze was a RETIRED dancer. Swayze seriously injured his knee while playing high school football. Despite his knee issues, he still followed his dream to be a professional ballet dancer dancing in New York with the Harkness Ballet and later famed choreographer Eliot Feld's dance company, even when a staph infection threatened to infect his leg to the point where they'd have to amputate. He continued to dance through the pain then, but a motorcycle accident caused him to quit. Swayze was riding his motorcycle in New York City when he rounded a corner to find himself about to have a head-on collision with a child on a bicycle in the wrong lane - he crashed his bike in a way that would keep the boy safe. At that moment, Swayze wrote in his autobiography he realized he was pursuing a career path that would be over in an instant due to circumstances beyond his control. He quit, but knew he was destined to perform, and began taking acting classes.
Swayze's knee was swollen throughout much of the shoot. The dance sequences caused Swazye's knee to swell up regularly, forcing him to ice it or drain it. He wrote that the worst of it was when Johnny is teaching Baby balance on the log. 
The log scene sent Swayze to the hospital. The dancer refused a stunt double to do the log balancing scene and as soon as they got the last shot, he headed to the hospital to drain his swollen knee, saying it was "definitely more painful and difficult than anything I did on the dance floor." Swayze wrote in his autobiography, "The Time of My Life:" "We had to balance very carefully so we wouldn't tumble onto the rocks below. It looks like fun in the movie, but shooting that scene was dangerous and physically taxing. When you're balancing like that, your joints are working overtime, making constant tiny adjustments. And because most of the cartilage in my knee was gone, the bones were just grinding painfully on each other."
While Swayze was on the log, a stunt double for Grey for the long shots. Notice how you can't quite make out Grey's face in everything but the closeups. Grey's double is Denise Amirante, now a Nashville-based Christian music songwriter.
Adding to Swayze's knee injuries, he twisted his ankle while filming the final dance sequence. Jane Bruckner told The Mirror that the injury occurred when he jumped down from the stage down to where the audience sat. "He landed awkwardly and immediately everyone knew something wasn't right. We all knew he was pushing himself."
DANCING MAGIC
The crawling moment in "Love is Strange" scene wasn't written into the script, it was Patrick and Jennifer being silly. The rehearsal scene in the studio where Baby and Johnny crawl to each other was reportedly really Jennifer Gray and Patrick Swayze warming up. Cameras were rolling and the camera crew realized something special was happening. No one imagined that it would make it into the final film. 
The dancing threesome scene occurred when the director walked in on a rehearsal. Even having accepted a supporting role, Miranda Garrison continued to work with Swayze and Grey on nailing their dance moves. Fast Rewind wrote that the scene where Johnny and Penny are making a Baby sandwich to teach her the dance moves came from real life. Director Emile Ardolino walked in on choreographer Kenny Ortega instructing while Swayze and Grey and assistant choreographer Miranda Garrison were dancing as a trio to help Grey get the rhythm down. He replicated the moment, subbing in Cynthia Rhodes for Garrison.
The Lift in the lake practice was quite the elaborate setup. For starters, a platform was built. "It would have been too deep otherwise," Swayze wrote. "But whenever I slipped off that platform, I'd be treading water and scraping the shit out of my legs trying to get back on it quickly. And despite the fact that Jennifer was very light, when you're lifting someone in water, take after take after take, even the skinniest little girl can feel like 500 pounds." So, somewhere during the shooting day, it was decided that choreographer Kenny Ortega would help Swayze out. Ortega told Parade Magazine that he was wearing a wetsuit underneath the water holding Patrick's feet down so he wouldn't slip.
The Lift practice in the lake was even tougher because it was fall…the lake was cold. Real cold. Why are there no closeups in that scene? Swayze and Grey's lips were blue. Patrick Swayze said it was 40 degrees and they shot Baby and Johnny attempting to the lift over and over again. Swayze wrote, "It was horrifyingly, hypothermically cold in that lake, and we filmed that scene over and over." Grey said she recalled the crew being in hooded coats, gloves, and wetsuits while she and Swayze were in a shirt and jeans getting in the near freezing water: "I remember swimming in the lake was very, very, very cold. You have to be really young and hungry to get in water that cold for that long. It was not good. I ­remember thinking: 'Can you die if your nipples explode?' It just didn't feel healthy to be in that water." 
MAKING MOVIE MAGIC
The tree leaves are painted green. It rained so much in Virginia, the camera crew was unable to shoot exteriors. When the rain finally cleared and dried up, the September leaves had turned brown, so it seemed there was only one solution.
As it was fall and not summer, the cast was shivering. Between takes, the cast would throw sweaters over the summer wardrobe. Kerosene lamps were lit underneath the tables.
Smashing in a car window isn't as easy as one might think. Swayze had to be taught how to break the glass by the car's owner, who also owned a towing service. Apparently, there's a trick to breaking older car windows and it took Swayze several takes to get it. According to the book "The Fan's Story," after the scene was in the can, Swayze took the female extras for a ride in the tow truck. 
The day when Johnny breaks the car window, it was not really raining the day. Hoses were used to make it look like rain was falling. 
Stunt doubles are in the car as it drives to the lake's edge. You know, just to be on the safe side.
The golf course scene was a personal victory for Jerry Orbach. The scene on the golf course where Baby asks her father for the money went on a lot longer than intended. That's because Orbach sunk two of his putts and he was pretty proud of it. So, they stayed in the film.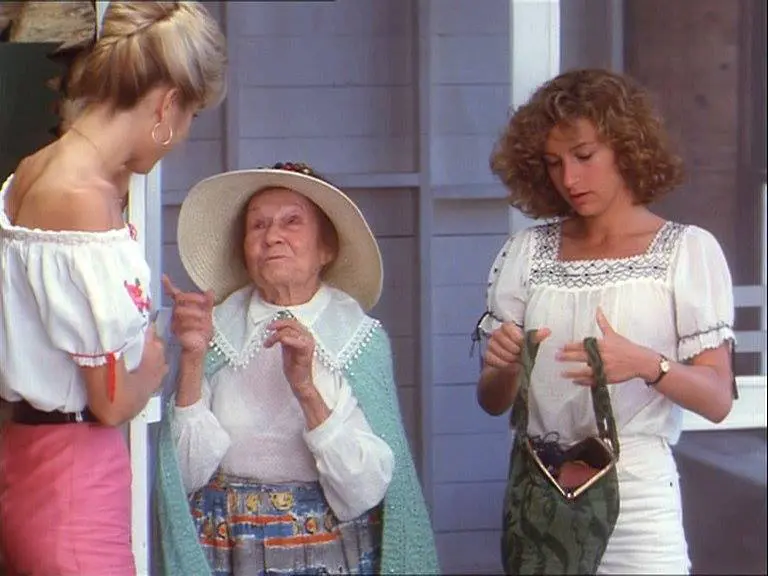 THE CURSE
Cast and crew members suffered a series of unfortunate events, causing the cast and crew to believe the production was cursed. The set was broken into, cast and crew members suffered injuries and illnesses, and a cast member was struck with food poisoning – much of it happening 24 hours apart from each other.
The first thing was Lynne Lipton falling ill. Production began Sept. 5, 1986, and Baby's "mother" started to show signs of being sick. By day two, it was clear she couldn't continue and the on-the-fly cast changes occurred.
Then, the oldest woman on set collapsed. Paula Trueman, the sweet old lady pickpocket, fainted on the set and she was taken to the hospital, according to Swayze's book. Unlike Lipton, Trueman recovered and was fine soon after to continue.
Then, everything went haywire.  According to Den of Geek, NOTHING went right. The rehearsal area was burglarized. Three crew members came down with food poisoning. The lead makeup artist had to return home suddenly for personal reasons; the replacement makeup artist broke her wrist and two fingers, so she could no longer work. The second Assistant Director also broke her wrist. The wardrobe assistant broke her toe. A recent rain flooded the roads to their hotel. A production assistant was arrested for driving without a license. Jennifer Grey was stung by wasps during the sex scene in Johnny's Cabin. The set decorator fell off a ladder and was injured. And "an art department station wagon destroyed the prop department van." 
ADJUSTMENTS
Patrick Swayze didn't like the script. Swayze said the original script was weak and too fluffy, but he loved the ideas in it. "There were elements of class conflict, relationships, sexual awakening, family issues - it had a little bit of everything," he wrote in his autobiography. He and his wife, Lisa Niemi, worked with others to rewrite the script to explore the concept and characters further. Johnny's speech before the final dance sequence was rewritten by Swayze and Niemi, they stayed up all night working on it just before it was shot. 
Johnny and Robbie's fight was added by Patrick Swayze. The fistfight showed a rougher side of Johnny. Swayze wrote that he and Niemi "wrote it so Johnny would stop before knocking the guy out, though, since he'd be wary of getting fired - something that had no doubt happened to him before."
Patrick Swayze did NOT want to say the film's most memorable line. He wrote that he fought hard to have the line removed, but it was a nonstarter. "I could hardly bring myself to say: 'Nobody puts Baby in a corner.' It sounded so corny."
Johnny and Penny would've run off into the sunset together if Swayze had his way. The actor wrote, "I felt all along Johnny should ultimately end up with Penny, as they were so much alike and a more realistic couple than Johnny and Baby." While Bergstein seemed pretty open and willing to let her lead actor adlib and rewrite portions of dialogue, she overruled him on this key issue. 
Swayze was told to tone down the sexual chemistry in the dance sequences with Cynthia Rhodes. Producers thought Johnny's dances with Penny would overshadow the dances with Baby. Swazye ignored the request, saying he had "no doubt" he and Jennifer Grey would create the heat that they did.
Dirty Dancing was the third film Patrick Swayze tried to get "She's Like the Wind" placed. Swayze loved writing and recording music, he used to sing in venues in New York City before he made it as an actor. He actually co-wrote"She's Like the Wind" for Grandview USA in 1984. Then, he pushed hard to get it in Youngblood in 1986;  according to his co-star Rob Lowe, producers told Swayze they'd include it on the soundtrack but didn't. Dirty Dancing included it in the film – when Johnny Castle says goodbye to Baby as he leaves the resort. It's an instant smash that A/C "Lite FM" type radio still loves to play today.
Much of the cast was drunk in the final dance scene. Kelly Bishop said in a British documentary The Dirty Dancing Story that the night of shooting the final scene, a stash of whiskey came into play and most of the cast was drunk. 
The cast and crew survived mostly on pizza and soup. Extras were promised they'd receive a small stipend plus lunch – however, the Mountain Lake Resort often didn't have enough food to feed 300 people.  "I didn't have 10-15 cases of anything in there. We didn't have 300 hamburger patties. We were getting ready to close down in a month…the best thing I could do was make big batches of soup," the lead line cook at Mountain Lake Resort, Mike Porterfield, said in "The Fans' Love Story." "They catered a lot of pizza. They would go to Domino's and get a couple hundred pizzas. That made Domino's real happy."
LEADING UP TO THE RELEASE
"Burn the negative and collect the insurance." Producer Aaron Russo had previously produced Bette Midler's The Rose and operated in the music film space. He was not impressed with Emile Ardolino's second cut. Much editing commenced. 
Jennifer Grey's breasts and Patrick Swayze's butt were left on the cutting room floor. After the film was in the preview stage, Grey requested that her nudity be cut out of the sex scene with Johnny. Eleanor Bergstein agreed, according to Fast-Rewind, because, "Baby was just someone's daughter and nobody really wanted to see her nude." Swayze also benefited: his bare butt was in earlier versions, now he's only seen pulling up his pants.
The steamiest scenes were cut. While Bergstein indicated it was out of consideration for the actors, trimming the sex scene helped the film obtain a PG-13 rating. [The above deleted scene was definitely hot but not sure there's the '80s censors would have seen as R-Rated.]
Jennifer Grey went into a depression, convinced Dirty Dancing would kill her career. "I went to a screening of it with my agent at the time. By the end, I knew she hated it. She made it clear she didn't think anyone would ever see it," Grey said in a making-of documentary. "I was very despondent and assumed it was over for me. But then there was excitement closer to the opening. All of a sudden I didn't think I was awful And I went from 'no one will see this and I'm bad in it' to 'You're America's sweetheart'."
Jane Brucker felt the movie was going to have been a cinematic blip. "I knew it wasn't going to be a big blockbuster. There was no big sponsorship – and it was about dancing. We weren't getting limos to the airport or catalogs of sneakers to choose from. We weren't lavishly catered for and all stayed on site," she told The Mirror. "Even though it was fun I felt it wasn't going to be a big mainstream movie. Who would care about mambo dancing? Even the title, Dirty Dancing – what was that?"
Texan Patrick Swayze REALLY hated the title. Even while doing the promotional interviews, Swayze slammed the title. "I hate the title Dirty Dancing. Studio does test marketing things and it tested well, but I'd like to know where they tested it. They definitely didn't test it in middle America or the Bible Belt," Swayze told a Texas news reporter the script didn't start with that title. "It was called Dancing! for a while, but how can you call it Dancing? That's Bob Fosse's musical. We all really fought to change it...It's not the kind of film the title indicates it might be. The only other thing we could come up with, jokingly, was I Was a Teenage Mambo Queen.
The title was a turn-off to most of the cast. "We didn't think it was going to be a good movie. We didn't. We thought the title was weird," said Kelly Bishop, who plays Marjorie Houseman, to the National Post. "They actually called it 'dirty dancing,' that kind of dancing. But we all thought that they were just trying to do something a little exploitive and trick people into coming to see it because they thought it would be light porn or something like that." 
The film's editor was contemptuous of the concept. He didn't like the "dirty dancing," reportedly asking Bergstein:  "How can you have respect for a girl who dances that way?" Bergstein didn't respond.
The Canadians thought it was porn. Worried the title would limit distribution, the filmmakers came up with the alternative title, "I Was a Teenage Mambo Queen." The title came from Bergstein's tween years when she did the mambo at contests – a result of her training in the Catskills. Eleven-year-old "Baby" - as Bergstein was called then -would win the prize: a bottle of champagne.
Tragedy struck Grey days before Dirty Dancing's release. Grey was as a passenger in a car driven by her boyfriend at the time, Matthew Broderick, and the car struck and killed the passengers: a mother and daughter. Broderick was seriously injured, recovering in a hospital for four weeks.  Grey said it affected her deeply: "The juxtaposition of that deep sorrow, the survivor's guilt, and then being celebrated as the new big thing just didn't jibe. It didn't feel good to be the toast of the town."
The intended distribution strategy was to play in theaters for only one week. Vestron Pictures was best known as a video distribution company and they planned to play to their strengths. After not being able to secure a sponsor to promote the film, they had to pay for it themselves. Therefore, the plan to make it a nearly straight-to-video film.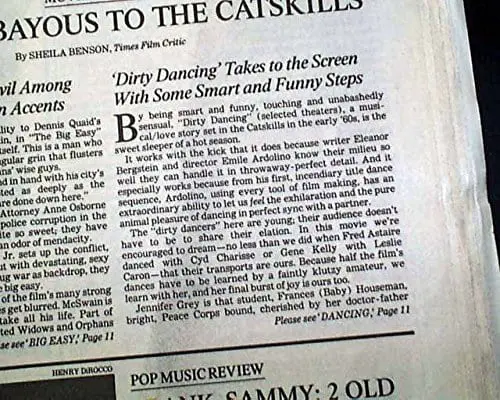 REVIEWS
Roger Ebert awarded it only one star: "Well, you gotta hand it to Dirty Dancing for one thing at least: It's got a great title. The title and the ads seem to promise a guided tour into the anarchic practices of untrammeled teenage lust, but the movie turns out to be a tired and relentlessly predictable story of love between kids from different backgrounds," wrote the '80s most famous movie critic. 
Pauline Kael got it. The New Yorker critic was one of the few who understood the film for what it was: pure pleasure. She wrote: "The dancing here brings out the sensual dreaminess of the songs. "Dirty Dancing"—what a great title!—is such a bubbleheaded, retro vision of growing up in the sixties (or any other time) that you go out of the theatre giggling happily." She lauded Swayze for his "masculine dance strength," but it wasn't all raves: Kael titled her review "Tender Hooey."
The New York Times' Vincent Canby gave it 3 stars but lauded Swayze's performance. He wrote: "Given the limitations of his role, that of a poor but handsome sex-object abused by the rich women at Kellerman's Mountain House, Mr. Swayze is also good. He's even convincing when he must admit, in one of the film's lesser moments, that ''the reason people treat me like nothing is because I am nothing.' He's at his best--as is the movie--when he's dancing.
Rolling Stone's David Edelstein LOVED it like a fan. "Director Emile Ardolino has an exhilarating way with dance – he gives it room to breathe, and he catches you up in its rhythms. (The erotic choreography is by Kenny Ortega.) The dance dries up in the second half, and the cornball ending is a botch (it's a Marxist 42nd Street). But for those supple, shapely numbers – when Grey spins with Swayze, and blooms – I'd forgive anything."
FUN FACTS
That perfect lift that's inspired romantic, dancing copycats for more than 30 years was a one-and-done for Jennifer Grey. "Never rehearsed it, never done it since," said Grey. "I don't know how all these people who reenact it have the guts to throw themselves into the arms of anyone other than Patrick Swayze. It's insane!"
Jane Brucker actually wrote "The Hula Hana Song," which her character performs in the talent show. "They wanted to do a song from South Pacific, and they couldn't get the rights to it," Brucker told Moviefone. "They said, 'You have to write something or we have to cut it.' [Choreographer] Kenny Ortega helped me make it Hawaiian." Smartly, she copyrighted her music. "It's made me more money than I got paid to do the movie," she said.
Lisa Houseman can't sing, but Jane Brucker can. In real life, Brucker was an established jazz singer, but Lisa's not – so Brucker forced herself to sing off-key.
The good girl-bad boy theme carried to the wardrobe. In every scene, Baby is wearing light angelic colors. Johnny is always dressed in black or something dark.
Director Emile Ardolino read the script for the first time while serving jury duty in Manhattan. 
After Dirty Dancing, Emile Ardolino had another career high. Ardolino wowed audiences in 1992 with Sister Act, in which he was able to utilize his musical directing skills. 
"The guy had a dirty knife and a folding table - I could hear her screaming in the hallway." Dirty Dancing takes place a decade before Roe v Wade was decided. That decision by the Supreme Court to make abortion legal occurred in 1973. Bergstein wrote the film in 1983, a decade later. She said she intentionally included the visceral line because she wasn't sure future audiences would understand the severity of what women went through when abortion was illegal.
Jennifer Grey and Patrick Swayze were both a decade older than their characters. At 27, Grey was no 17-year-old "baby." But the age difference is the same: Patrick Swayze wasn't 25…he was 35.
Dirty Dancing was originally Rated R. They had to go through three rounds of edits with the MPAA to earn a tamer PG-13 rating (see "Leading Up to the Release" above).
Jennifer Grey's grandfather would have played Kellerman's. Mickey Katz was a "Borscht belt" comedian who played the Catskills resort circuit. He was known for his parodies of popular songs, such as "Schlepping My Baby Back Home."
Dirty Dancing lovers weren't just fans, they were fanatics. "There is the 100+ club for Dirty Dancing," Patrick Swayze told Barbara Walters. "Women that have seen it in movie theaters – not on video – more than 100 times."
MORE FUN FACTS
The original Mrs. Houseman can be spotted in the film. That's the back of her Lynn Lipton's head seen on the drive up to Kellerman's. That scene was filmed on the first day. The above scene was captured before she became too ill to continue and was replaced by Kelly Bishop. It gives us insight into why Baby tells her sister "Baby never lies" later, when she's forcing her to lie on her behalf. 
How much did an illegal abortion cost? It may seem that $250 was a lot of money for a father to hand his daughter without asking any questions. Even more when you calculate that $250 in 1963 is about $2,051 today. The price, though, may not be too off the mark. According to the book "When Abortion Was a Crime," it wasn't just illegal in the early '60s, raids and additional restrictions had created a situation in which physicians and hospitals didn't even want to perform what was called "therapeutic" legal abortions. The result was back-alley abortions, sometimes the women would be blindfolded and taken to a secret location, and the price was steep. The cost today is $350-950 for an abortion in the first trimester.
Matthew Broderick created quite a stir when he visited girlfriend Jennifer Grey for a few days. Ferris Bueller's Day Off had just been a monster hit. Mike Porterfield, the kitchen chef, remembered in "The Fans' Love Story," "The little girls in the dining room were taking everything he touched – silver, saucer, coffee cup, anything he touched, they took."
Bill Medley and Patrick Swayze had a connection! Medley was a member of the Righteous Brothers and duetted with Jennifer Warren for Dirty Dancing's biggest hit song, "(I Had) The Time of My Life." (Video at top of page.) Three years later, his Righteous Brothers hit "Unchained Melody" was used for the most iconic scene – let's call it sexual pottery – in the Swayze's romancer Ghost.
Before his acting career took off, Jerry Orbach was Mae West's chauffeur.
THE MOUNTAIN LAKE LODGE IN VIRGINIA
The Mountain Lake Lodge hosts an annual Dirty Dancing weekend. Try and book the Virginia Cottage, it's where the Houseman family "lived" during their two-week stay." 
The water in Virginia Lake was so pure, people drank it. It's not just Baby that is pure as snow, so was the lake she trains in. The general manager of Mountain Lake Resort said residents would pump it out as their drinking water. The lake is now gone, it's now a meadow.
The women created their own menu. According to Mike Porterfield, the lead line cook at the Mountain Lake Resort during filming, Jennifer Grey, Cynthia Rhodes and a couple of the other female cast members didn't eat what was on the menu. Instead, they'd get fish from nearby Blacksburg and have the chef cook it for them. Porterfield attributed it to a Hollywood diet, but given that the meals were a lot of pizza and soup, who can blame them? It wasn't trying to lose weight: Cynthia Rhodes was burning calories so fast with the nonstop dance rehearsals that she couldn't drink enough milkshakes to keep weight on and lost 10 pounds during the production.
Patrick Swayze would buy the resort staff beer and drink with them every night. While the production tried to keep the resort staff away from the cast and crew, "Buddy" (as Swayze prefers to be called) was friendly with the workers - he came to them. He'd come into the resort's little store to buy a $12 six-pack nearly every night and would share his with the staff (that was the pricey stuff, if you're wondering). The staff was mostly college students who drank Old Milwaukee, so Mike Porterfield said, "We were amazed that somebody would spend that kind of money every night and invite us out and share some beers with us." Swayze wasn't the only one who chose to hang with the cooks. Jerry Orbach and Jack Weston chose to dine with the resort's chef and cooks.
The cast enjoyed the resort's relaxing activities during downtime. When they were off, they were off. The cast would often go into the nearby town to drink and dine. Dance captain Karen Getz (the dancer who chews gum and stares down Baby) told the Boston Herald that she and Swayze would go fishing and watch movies together. 
Nobody knows which lake was used for the lift. Both Mountain Lake and Lake Lure, N.C. claim their lake to be the one where Johnny practices the lift with Baby. However, given that the cast remembered how cold they were in Virginia and how hot they were in North Carolina, our money is on Mountain Lake.
Dirty Dancing put Mountain Lake Lodge on the map and ensured its future success. Since 1987, it's frequently been used for shoots, such as Wrangler Jeans commercials, and TV shows, like Wheel of Fortune and Jeopardy.
TAKEAWAYS
Never get involved with the entertainment staff. In 2012, Cine-fille.com posted a tongue-in-cheek blog post by "Joanna" summarizing the 12 things she learned from Dirty Dancing. Number One: Never Get Involved with the Entertainment Staff: "If you hang out with the entertainment staff, you will find yourself mixed up with a bad crowd. You will disobey your parents, help a complete stranger get an illegal abortion, learn the mambo (going "ugh" is optional) and fraternize with people of different socioeconomic status. You will also have the time of your life. The entertainment staff is clearly terrible at their jobs."
Dirty Dancing is a feminist masterpiece. The Mary Sue website identified why women could unite behind Baby's coming of age tale:
1.    No one judges Penny for wanting an abortion.
2.    Baby is in charge of her own sexuality. She doesn't have to be convinced to have sex: she wants to have sex with Johnny, she pursues it, and she's in control. With no guilt.
The Number Two rule: Watermelons are Terrible Conversation Starters.  That's according to the What I Learned from Dirty Dancing blog, but is that true? Johnny did circle back to Baby, so maybe carrying a watermelon is just the kind of aloof appeal a girl must contain to attract a sexy older man.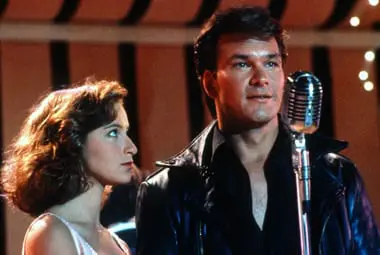 THEORIES
Dirty Dancing is a Hero's Quest. There's a theory that Dirty Dancing is actually a hero's quest (to be fair, almost all movies are some sort of hero's journey, but let's examine this theory….) In Quail Bell Magazine, Daniel Wilkey theorizes that Baby takes the 10-step heroic initiation process. He writes, "By comparing Baby's tale with Greek myth, we learn that, far from simply being a movie about achieving one's dreams, Dirty Dancing is a primal tale of an arduous and difficult journey from sexual ignorance to enlightenment, filled with symbols representing Baby's metamorphosis into a sexually awakened adult."
Maybe Eleanor Bergstein isn't the real Baby after all. Maybe it's Jackie Horner. Jackie Horner is thanked in the credits. According to "The Fans' Love Story," Sue Tabashnik said in interviews she did for her book, she learned Horner's life provided much of the plot. Horner spent summers at Grossinger's Hotel and later worked there as a dance pro. Bergstein consulted with Horner in 1985, prior to filming. And, Horner said she brought watermelon to staff-members' parties. 
The class conflict isn't social, it's religious. To those who are not Jewish, Dirty Dancing is about a rich girl who is awakened to the way the economic divide creates an unfair social class. To the Jewish community, Dirty Dancing is about a Jewish girl falling for a Gentile boy and, according to Tablet, it may be the most Jewish movie ever. Stephanie Butnick confirmed this when she spoke with Eleanor Bergstein, who she said confirmed it was a seriously Jewish movie: "So Jewish, in fact, that none of the characters ever need to explicitly mention their Jewishness—they're spending the summer at Kellerman's resort in the Catskills, after all, and, Bergstein pointed out proudly, milk and meat are never served in the same scene. It's a Jewish film, she explained, "if you know what you're looking at." During that time, Jewish families often traveled to several resorts in the Catskills that catered to Jewish families. Other subtext includes a deleted scene (one that was never filmed) where Jake Houseman refuses to believe Johnny didn't steal the wallet, refuting Baby's argument that he doesn't know him by saying, "Don't tell me I don't know him. I grew up in a neighborhood with people like him...My brothers and I had to pass a line of his kind every day to get to school, and sometimes they beat us up, and sometimes we ran like hell..." According to the website Dirty Dancing Analysis, a Jewish audience would read that saying words like "those people" (in other scenes) and "his kind" in the line above demonstrates that Jake is comparing Johnny to Gentile boys who picked on him when he was a Jewish schoolboy.
Further, the Lift was a symbolic lift for Jewish Women. On the Jewish Women's Archive website, Judith Rosenbaum explains that when gentile Johnny Castle falls in love with Frances Houseman, it was significant to Jewish American girls and young women because film traditionally doesn't show the Jewish girl getting the sexy, non-Jewish guy. She states that in the one film where it does happen, The Way We Were, Robert Redford is not as in love with Barbra Streisand as she is with him and the only man who really appreciates her is another Jewish activist. "Baby's love for Johnny isn't unrequited. Johnny loves Baby back. He recognizes what's sexy about her, loves her despite -- or perhaps because of -- her Jewish nose and frizzy hair and tendency to blurt things out awkwardly. ("I carried a watermelon?!?")," Rosenbaum writes. "Not only does he like her and desire her, he is changed by her, and he acknowledges it publicly. Sure, he gets the big moment of agency in pulling Baby out of that corner, but she's the one who gets to fly in the lift. She saves him as much as, if not more than, he saves her. After all, he has the time of his life, and he owes it all to her!"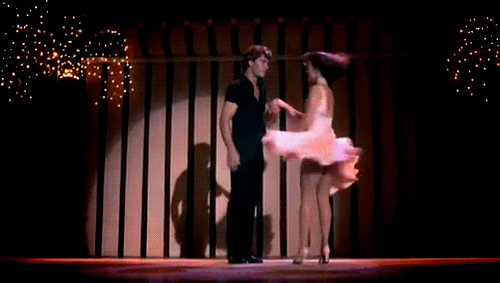 WHY DIRTY DANCING ENDURES
It's a coming of age tale that resonates. In 2012, Jennifer Grey told Parade Magazine, "I think that it's about coming of age. I think it's about that transition between being a child and being an adult; between being innocent and being a daddy's girl, and breaking away enough to be able to figure out who you are outside of your family. It's like turning into a butterfly. You can't turn back into a caterpillar. When Patrick says, 'Nobody puts Baby in a corner' to my character, he's saying, 'You can't go back. You can't go back to where you were. You have to go forward. You have to stay being your most authentic version of yourself.'" 
Dancing brings joy. Five years later in 2017, celebrating the film's 30th anniversary, Grey told Diane Sawyer, "I think that people have a very, very tender spot for this movie. They project when everything was possible, when anything could happen. You know, am I daddy's girl? Am I the bad boy's girlfriend?" Beyond that, "I feel that when people get older, they come to realize how precious and fragile this life is. I think that you cannot be dancing and not be in joy. Joy flows when there's dance." 
Girls relate to Jennifer Grey's performance. Patrick Swayze credited Grey for the film's success and longevity. "If she wasn't as brilliant as she was as Baby Houseman, none of that movie would have worked. She hit that kind of confusion that a girl would be going through at this time and trying to figure out who she is, yet she's very smart – she's got a brain like a steel trap, as does Jennifer Grey in real life," he said. "You got to watch Jennifer really turn into this fabulously sensual, alive woman."
It's the ultimate romance: a graceful, skilled beauty falls in love with one's true self. In 1988, Swayze told Barbara Walters why it's the ultimate romance: "Everybody dreams that somebody would see… past their exterior, and see what they're really like. They may not be the pretty people of the world, but big deal, somebody sees through that and cares for them as a person. This is the biggest thing this movie communicates is a relationship not because of how somebody swings their rear but what's inside."
LEGACY
It's a movie we can watch over and over again. Dirty Dancing was the No. 1 home video rental of 1988. It was the first film ever to sell a million copies on video. 
The music was an award magnet. "(I Had) The Time of My Life" was a No. 1 song, won a Grammy and an Oscar.
Dance classes were full. After the movie's release, dance classes nationwide saw an increase in attendance.
Dirty Dancing is a worldwide phenomena that has had a political impact. Bergstein tells how it made an impact around the world to The Guardian:  'I've heard stories of cities where the situation has become volatile, and they set up film screens in the main square and run it on a loop. A young woman came up to me at a film festival recently. It turned out she was from Sarajevo, and she and a friend had rented the movie at a time when they didn't quite know when the war was coming. They watched it in their basement and then the bombing started. So they stayed there for 72 hours, watching it over and over. When they finally came up, the street had been leveled and they were the only ones to survive. So she said, 'Dirty Dancing saved my life.' And in Russia, it's policy in the battered women's shelters, when a woman comes in for help: first, they wash and dress her wounds, then they give her soup. Then they sit her down and show her Dirty Dancing. When the Berlin Wall came down, there were all these pictures of kids wearing Dirty Dancing T-shirts; they were saying: we want to have what they have in the West! We want Dirty Dancing!'
What seems weird now is that Dirty Dancing didn't have as many box office claims to fame as one might think. It was the No. 11 movie of 1987 and somehow only the 10th  biggest box office of all time for a dance movie.  But, look closer: in 1987 was the Year of the Manly Man. Hollywood was in the middle of a muscle-bound testosterone fest. Several modern-day dance movies have cost it the spot as ticket prices are higher…but still, Flashdance and Footloose place higher. Yet, remember Dirty Dancing wasn't a major studio release and the actors were more "familiar" faces than megastars at that time.
Dirty Dancing is different than most dance movies. Kenny Ortega, who was mentored by Gene Kelly, identified the difference in Eleanor Bergstein's film compared to other dance pictures. "The dancing has a lot more to do with the continuity of the story and the development of the characters. Where in other musical pictures the dancing sometimes and often is separate from the story."
The abortion subplot was effective. Bergstein said about the abortion subplot: "If you do a documentary on coat hanger abortions, the only people who see it will be those who agree with you anyway. If you put one in a wide-based musical with pretty clothes, and lots of romance, it may surprise people and make them think of things they didn't think of before." 
It wasn't just the abortion debate that became relevant again. U.S. News wrote in 2012: "With a national conversation darting from "class warfare" to the "war on women," from the GOP's inclusion of a no exception anti-abortion amendment on its platform to VP pick Paul Ryan's affinity for Ayn Rand, Dirty Dancing's political subtext that explores cross-socioeconomic tensions ("The Fountainhead" reference included) and pre-Roe v. Wade America seems almost canny a quarter-century later. Even Mickey & Sylvia's "Love is Strange" which sets an iconic dance scene, got a 2012 shout-out in "Back in Time," a recent Pitbull single.
SPINOFFS, REBOOTS, SEQUELS & OTHER ATTEMPTS TO REMAKE THE MAGIC
The TV series. In 1988, CBS tried to capitalize on Dirty Dancing mania with a TV series. Melora Hardin played Francis "Baby" Kellerman. Yep, they made some adjustments to the story. In the TV series, Baby is Max Kellerman's estranged daughter who hasn't seen him since he and her mom were divorced because of his infidelity. She decides to return to Kellerman's to spend time with her dad before going to Mount Holyoke College.  She's put in charge of "talent relations," taking the job away from the lead dancer who had the job the previous summer: Johnny Castle. It lasted one season.
The concert tour. Also in 1988, Bill Medley and Eric Carmen participated in a 90-city music tour Dirty Dancing: Live in Concert. It culminated in a concert documentary that appears to have aired on television, distributed by Vestron Television. You can see the entire special on YouTube.
The first attempt at a sequel was nixed by Patrick Swayze. Trying to entice him to do a sequel, Patrick Swayze was reportedly offered $6 million to reprise his role as Johnny Castle. He turned it down, not being a fan of sequels.
Instead of a sequel, they made a prequel 17 years later. In 2004, Dirty Dancing: Havana Nights was released starring Diego Luna and Romolo Garai. It's set in Cuba in 1958 just prior to the Cuban Revolution and follows the story of high school senior Katey whose dad works for Ford and is moved to Cuba for a promotion. Javier is a waiter she meets who introduces her to sensual partner dancing, but when he gets fired from his job, he needs to win a dance competition to make ends meet - and Katey agrees to be his partner. While Swayze turned down the idea of revisiting Johnny Castle, he did make a cameo as an unnamed dance instructor. He was reportedly paid $5 million for the appearance. 
The stage musical. Eleanor Bergstein put together a stage musical. In 2004, "Dirty Dancing: The Classic Story on Stage" was launched in Australia, eventually spreading to Germany and London's West End. The stage musical had record-setting sales all over Europe.
The American reality show. In 2006, WE Network ran an 8-episode reality competition show "Dirty Dancing: Living the Dream" which had 30 women competing for a spot in the Dirty Dancing musical national tour. Cris Judd, Jennifer Lopez' pro dancer ex-husband, was the host.
A remake that never got off the ground. In 2011, Kenny Ortega was to direct a remake that was supported by Eleanor Bergstein and the remaining cast members. However, Lionsgate shelved it in 2012.
A British reality show. In 2007 and 2008, a British dancing competition show titled "Dirty Dancing: The Time of My Life" ran for two seasons.
The Lift made it into another movie, revisited by Ryan Gosling and Emma Stone. In 2011's Crazy, Stupid, Love Ryan Gosling's character Jacob confesses his go to "move" to bed women is to do "the lift" and moviegoers get the satisfaction of watching him perform it with Emma Stone's character, Hannah.
Dirty Dancing themed sitcom episodes. In How I Met Your Mother, Barney Stinson (Neil Patrick Harris) is ashamed of how he lost his virginity, so he borrows the plot of Dirty Dancing and tries to pass it off as his own. In 2016, the ABC '80s-set comedy "The Goldbergs" did a Dirty Dancing-themed episode. In it, the mother tries to help plan her teen's school dance with a Dirty Dancing theme, only to realize that is a super inappropriate idea. The movie is a favorite of the mother of executive producer Adam Goldberg, who said, "Dirty Dancing is a huge '80s cultural touchstone — the music, the memorable lines, and of course, Swayze." 
The made-for-TV musical remake. In 2016, with live Broadway musical events becoming a TV trend, ABC greenlit a remake. Abigail Breslin starred as Baby and "Modern Family's" Sarah Hyland was Lisa. It is not considered to be good.
An NFL commercial. In the 2018 Superbowl, football fans got a good laugh seeing Eli Manning and Odell Beckham Jr. have the time of their lives, dirty dancing to "(I Had) The Time of My Life." They don't have moves like Swayze but the Lift is worth seeing.
United Healthcare won the 2019 Superbowl commercial competition with their Dirty Dancing fail. The ad featured a couple crashing and burning while trying to do the Lift. 
Dirty Dancing: The Video Game. It was made for PC computers. If it sounds cool, it wasn't. 
The home video workout. Jane Fonda had popularized working out on VHS in the '80s. So, of course, the merchandising extended to a Dirty Dancing home workout video.
Kenny Ortega. One of the greatest legacies of Dirty Dancing is the success of choreographer Kenny Ortega. Ortega started as the choreographer on Xanadu (1982) under the tutelage of Gene Kelly. He went on to direct music videos which led to a career in directing, helming beloved films Newsies (1992) and Hocus Pocus (1993). He'd go on to be a part of cinema's most memorable dance films and moments, including creating choreography for Michael Jackson and directing Disney Channel's generation-mesmerizing "High School Musical" films. 
A proper sequel is finally in development. Eleanor Bergstein said she finally thinks the time is right to do the follow-up film about Baby and Johnny. With the absence of Patrick Swayze, it's hard to understand how that would happen. However, the writer said,  "I do have a very clear sense of a very complicated, long future that they have."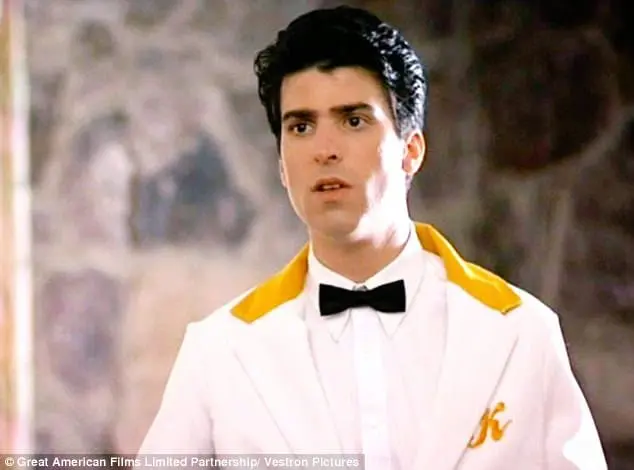 TRAGEDY AND DEATH
IS there a curse??? The production staff started to believe that Dirty Dancing was cursed while filming, as it was plagued with injuries, illnesses, near misses, and setbacks. More than 30 years has passed, and it can be expected, as in life, that ups, downs, and deaths might happen. However, it's hard not to notice the tragedy that has befallen the cast and crew.
Jennifer Grey tragedy, 1987. As noted above, two weeks before Dirty Dancing's release, she was in Ireland riding in a car with her boyfriend, Matthew Broderick, when he struck another vehicle, killing a mother and father. Grey said she's still traumatized and that she consciously took a step back: "My head was never the same, my ambition was never the same."
Vestron Pictures went bankrupt in 1989. Despite Dirty Dancing's massive success, Vestron Pictures subsequent titles were mostly box office flops, including Patrick Swayze's follow up Steel Dawn (co-starring his wife, Lisa Niemi), the Two Coreys movie Dream a Little Dream, and Jim Carrey's feature film debut, Earth Girls are Easy.
Max Cantor OD'd amidst bizarre circumstances at age 32 in 1991.  The son of successful Broadway producer Arthur Cantor, Max was making headway in the acting world as douchebag Ivy League waiter Robbie and a starring role in Todd Solondz' first feature Fear, Anxiety & Depression (1989), and was a part of the Broadway version of "Doonesbury." However, in 1989, he left acting to be an investigative journalist who took a Hunter S. Thompson sort of approach to reporting, investigating a story by inserting himself into the story. He became obsessed with the horrific death of a Swedish dancer Monika Beerle at the hands of drug dealer and aspiring Satanic church leader Daniel Rakowitz. As the story goes, Rakowitz made Beerle into a soup that he served to the homeless and ground her heart up and fed it to her cat. Many other mysterious deaths were happening at the area at the same time, including someone else who'd had contact with Rakowitz, and Cantor was sure he was on to a big story that would be his "In Cold Blood." As a part of research, Cantor began doing drugs, and quickly escalated from pot to pills to coke to heroin.  The coroner reported Cantor's cause of death as "acute intoxication," with a mix of Prozac, cocaine and heroin in his system. To read a detailed account of how Cantor got involved in this world that led to his death, click HERE to read the Esquire article. 
Emile Ardolino died at age 50 in 1993. The dancer's director was openly gay. He died from complications from HIV/AIDS in Nov. 1993.
Patrick Swayze died at age 57 in 2009. If anyone was a fighter, it was Swayze. But he wrote in his autobiography, written after his diagnosis in January 2008, "When my doctor at Cedars-Sinai in Los Angeles said the words 'pancreatic cancer,' a single thought popped into my head: I'm a dead man. That's what I had always thought when I heard someone had pancreatic cancer, and it usually turned out to be true." Swayze was given only a few months to live. He lived for another year and a half.
Producer Aaron Russo died at age 64 in 2007. The former New York club bouncer turned booker turned music film producer turned director turned political candidate died from bladder cancer.
Jerry Orbach died at age 69 in 2004. Orbach was already a Broadway legend when he made Dirty Dancing. He went on to secure his in animated movie history as Lumiere in Disney Animation's Beauty & The Beast (1991). Then, he earned his place as a TV legend as Det. Lennie Briscoe on "Law & Order" in 1991. He was diagnosed with prostate cancer in 1994 and kept it a secret, fighting...and continuing to work on the series and its many spinoffs for another decade.
Jack Weston died at age 71 in 1996. Max Kellerman was just one of many character roles Weston made unique, he ranged from light and funny to sleazy to villainous. Weston suffering from lymphoma for six years before passing away.
Soundtrack
The soundtrack album has sold over 32 million copies, spending 18 weeks at the top position of Billboard's 200 album chart. The oldies were the attraction just as much as the original hits. Before the first single was released, there were a million copies on backorder. The song "(I've Had) The Time of My Life" reached No. 1 on the Billboard Hot 100 (one week) and the Adult Contemporary chart (four weeks). Patrick Swayze's "She's Like the Wind" reached No. 3 on the Billboard Hot 100 and number one on the Adult Contemporary chart. "Hungry Eyes" reached No. 4 on the Billboard Hot 100.
Director: Emilio Ardolino
Screenwriter: Eleanor Bergstein
Release Date: Aug. 21, 1987
Rating: PG-13
Opening Weekend Rank: #4.
Opening Weekend Box Office: $3.9 million
Lifetime Gross: $217.7 million
Budget: $5 million
Production Company: Great American Films
Distributor: Vestron