License to Drive
"Some guys get all the brakes!"
Starring Corey Haim, Corey Feldman and Heather Graham.
Corey Haim is Les Anderson, one of three children of Yuppies (Richard Masur and Carol Kane). His family and his friends (Corey Feldman and Michael Manasseri) are rooting for him to pass his driver's test -- and he has high hopes of being rewarded with a BMW. When his twin sister Natalie (Nina Siemaszko) passes but he doesn't, Les lies and says he, too, got his license – thinking he will try again and succeed the next week and no one will be the wiser. However, he has a date with the girl of his dreams (Heather Graham, in her film debut). He keeps his date, thinking,
what could go wrong?

Could there be anything that better represents the '80s teen movie genre than a film starring the Two Coreys about the struggle of passing one's driver's license exam?
While parents may be appalled that our protagonist Les lies, takes Grandpa's Cadillac for a joyride, drives without a license, and ultimately totals the car – all without any consequences. But, here's what's really messed up:
At a party, Les and his 15-year old friends engage in locker room talk about what kind of car would persuade their female classmates to give up their virginity.
While Les is trying to get his friends to safety, his best friend Dean (Corey Feldman) sits in the back seat with the passed-out drunk Mercedes. Dean takes advantage of the situation, pulling down Mercedes' shirt to take pictures of her in her bra.
To make their lives easier, the unlicensed drivers just throw passed out Mercedes in the car trunk.
High schooler Mercedes boyfriend, Paolo, is in his 20s. Mercedes doesn't appear to have her driver's license yet, so she's likely 15.
Mercedes initially slams an alcoholic drink before confronting her older boyfriend. When she doesn't get the reaction she wants, she goes off with Les and gets drunk.
In a car chase fantasy, Mercedes - the coolest and most beautiful character in the movie - lights up a cigarette.
Duh. Mercedes starts an argument with her Italian boyfriend Paolo, insulting him by saying that in Pakistan and Iran, men control their women, but not in the United States. Paolo storms out and says "Ciao." It's such a weird moment because Mercedes isn't portrayed as being an "airhead" elsewhere in the film. This scene unnecessarily reinforces negative Middle Eastern stereotypes – although, for many '80s teens who might not have been aware of this cliché, this scene may actually establishing that point of view, and of course, it's very confusing that she's saying this to her Italian boyfriend.
Just like his character, Corey Haim didn't have a driver's license while making the film about a character who fails his driver's exam.
While they had worked together in Lost Boys, License to Drive is the film where Feldman says the Two Coreys became best friends.
Even though it's Haim's character Les who is crushing hard for Mercedes, played by Heather Graham, in real life, it was Feldman crushing on Graham. Feldman and Graham eventually dated.
License to Drive producers testified on Feldman's behalf in his trial to emancipate from his parents.
In fact, after shooting, Haim had a falling out with Heather Graham after she told Teen Beat magazine that she didn't want to kiss him in the movie because she thought he had a disease. (During filming, it was believed Haim had mononucleosis.)
Feldman auditioned four times for the lead role of Les, hoping it would be his opportunity to be the solo star of a film (he'd always been part of an ensemble cast). However, Feldman says producers were "slow to respond" and eventually decided he'd be better as Les' rambunctious friend.
Feldman dated Charlie Spradling, who is the girl kissing Paolo, Mercedes' older boyfriend.
The original ending of the film came after Les and his friends are at Archie's Atomic Drive In. The older boys they enrage chase them and trash Grandpa's Cadillac and the boys wind up stealing a similar car from a used car lot. It tested poorly, leading instead to the scenes with the drunk driver and the button-up ending where we learn Grandpa similarly trashed the Anderson family car.
At the age of 16, Corey Haim and Corey Feldman were already world class partiers. In Feldman's autobiography Coreyography, he claims during the filming of License to Drive:

Sam Kinison stopped by the set frequently, where Feldman says they participated in "coke-off challenges" – contests to see who could do the most rails and who could stay up the longest.
Feldman, newly emancipated, moved into his own two-bedroom apartment during filming. He says his apartment became "the staging area for elaborate nights" of drug-fueled parties, where he and Haim got high.
Haim and Feldman stalled production after a night of doing eight balls. They did arrive on set, but only after snorting more cocaine.
Corey Feldman says Jon Grissom, who plays the P.E. teacher, sexually molested him while working together on License to Drive. Grissom was Feldman's personal assistant. The only other movie Grissom acted in was another Two Coreys movie, Dream a Little Dream.
Nina's boyfriend Karl is played by Grant Heslov, who grew up to become George Clooney's partner in their production company, Smokehouse Pictures. He won an Academy Award Best Motion Picture for Argo, which he co-produced.
At the time of Haim's death, he and Feldman were working on a sequel, License to Fly with a possible trilogy with License to Dive.
A remake with two female leads is in the works by Fox and Davis Entertainment. White Girl Problems scribes Alisa Brophy and Scott Miles are doing the rewrites.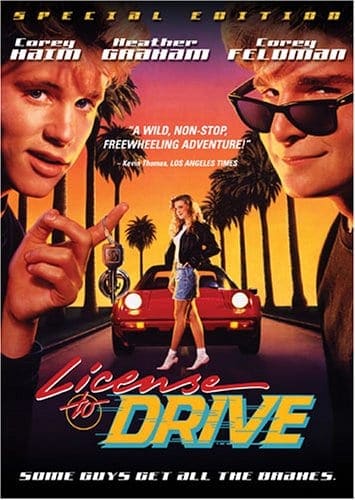 Soundtrack
The most famous song to come from License to Drive is Rush Hour by Jane Weidlen (in a solo break from The Go-Gos). However, that song did not make it to the soundtrack. Here's what did – and notice they got cute with the car-themed tunes:
"Drive My Car" The Beatles cover by Breakfast Club

"Sweet Surrender" by Brenda K. Starr

"I Feel Free" Cream cover by Belinda Carlisle

"Time Starts Now" by Boys Club

"Get Outta My Dreams, Get into My Car" by Billy Ocean
"One More Dance" by Jonathan Butler

"Jazzy's in the House" by DJ Jazzy Jeff & The Fresh Prince

"Touch and Go" by Femme Fatale

"Make Some Noise" by Slave Raider

"Mercedes Boy" by Pebbles
Director: Greg Beeman
Screenwriter: Neil Tolkin
Release date: July 6, 1988
Rating: PG-13
Opening weekend rank: #6, after Coming to America, Who Framed Roger Rabbit, Arthur 2: On the Rocks*, Big and Bull Durham. (new release)
Opening weekend: $3.85 million
Lifetime Gross: $22.4 million
Budget: $8 million
Production company: Davis Entertainment
Distributor: 20th Century Fox