Mystic Pizza
"A romantic comedy with the works."
(1988)
starring Julia Roberts, Lili Taylor and Annabeth Gish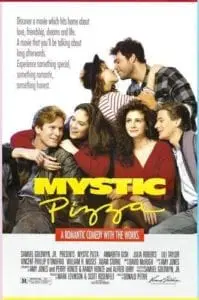 '80s Movies: A Guide to What's Wrong with Your Parents - 
MYSTIC PIZZA: Slut Shamey Flick Marks Marriage-Can-Wait Movement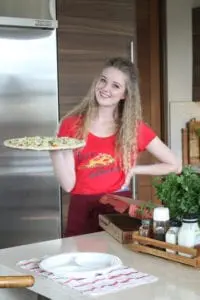 The autumn after high school graduation, three young women who work at a local pizzeria in a fishing village in Connecticut try to figure out their relationships and their future.

Julia Roberts. Her star power explodes in this film - and the entertainment industry took notice.

"Coming of age" films are sometimes an eyeroll, especially in the '80s, but the authentic female dialogue and the phenomenal chemistry between the cast makes this little film about three girls in a pizza place soar.  

The film launched the careers of its top stars: Lili Taylor, Annabeth Gish, Julia Roberts, Conchata Ferrell ("Two and a Half Men"), director Donald Petrie (Miss Congeniality), How to Lose a Guy in 10 Days), and screenwriter Amy Jones (Indecent Proposal, the Beethoven movies).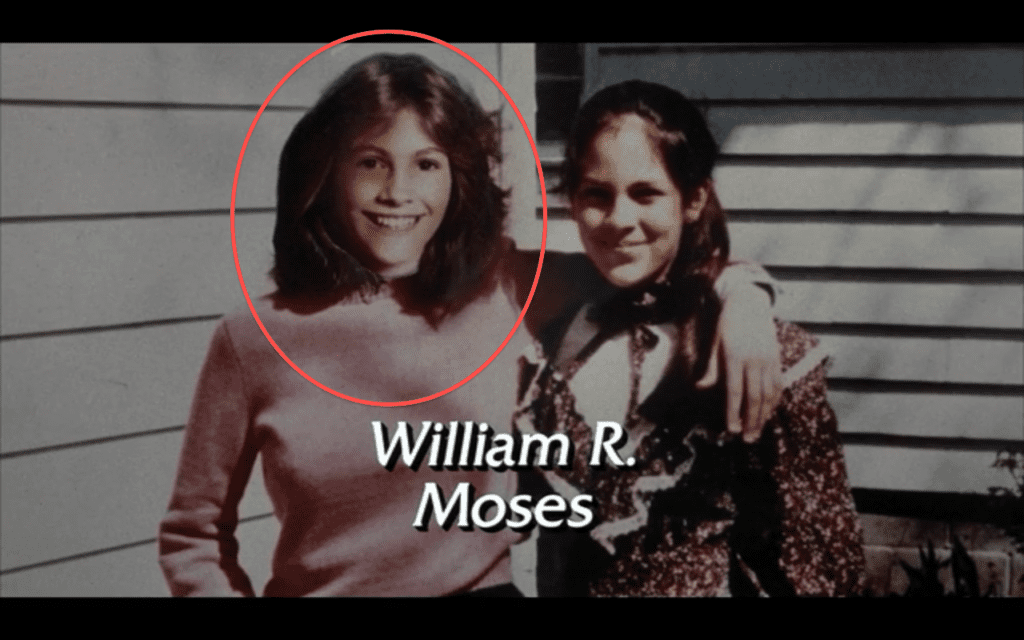 "I don't have to marry an a**hole, it's the '80s!" - Jojo...
...after Bill publicly shames her by renaming his boat "Nympho" (a slut-shaming word that disappeared with the turn of the millennium).
Daisy's fantastically enormous perm.
Photoshop was created in the summer of 1988. The opening credits display what is definitely some Gen 1.0 terrible Photoshopping to make Lili Taylor, Julia Roberts, and Annabeth Gish look like three girls who grew up together.
Kat rides her scooter to get around the Mystic area without a helmet. 
Those Kodak cameras at the wedding! 
Local news programs used to have a restaurant critic (and a movie critic, which is more and more rare).
In the New York Times review, Julia Roberts was described as "voluptuous." If you don't understand how being thin-thin-thin was in, then realize that today voluptuous is a flattering word for "on the fatter side" but in the '80s, it meant one thing: boobs.

In many ways, Mystic Pizza is the exception to the rule of how damaging '80s movies could be for teen girls because the film is about young women contemplating their future. Despite the offensive marketing (see trailer above), the film is really about the scariest time for a teen: high school is over, adulthood has officially begun, so now what?
Thirty years later, very few American girls are contemplating marriage at this age and the '80s were the decade where this started changing. It's also the decade where the question to high schoolers switched from, "are you going to college?" to "where are you going to college?" When Daisy's mother tells her daughter she's worried about her, and Daisy admits she's also worried about her future, that's the summation of the whole film.
Mystic Pizza passes the Bechdel test (contains 1. at least two women who 2. talk to each other 3. about something other than a man), but all three of their stories revolve around a man. Will Jojo marry Bill (or talk about something other than Bill)? Will wrong-side-of-the-tracks and "wrong ethnicity" Daisy and rich Aryan princely f-up Charlie survive the odds? Will Yalies Kat and Tim fall in love, Tim leave his wife, Kat become Mrs. Travers and Phoebe's stepmom and all live happily ever after? 
The film gives the veneer of the girls being independent '80s women, but in the end, (*SPOILER*), they're no different than Cinderella: their futures become secure because of men (and a "fairy godmother"). Jojo marries Bill and it's clear Leona will give her the pizza parlor when she retires. Even with Daisy breaking up with Charlie and making it clear she'll be fine without him and his money, he comes around; the audience know she'll be financially secure and the spitfire of the country club as Mrs. Charles Gordon Windsor, Jr. Kat's bad experience with Izod Dad ensures her future: the burn gave her maturity and jaded wisdom as she steps into the rest of her life; she will become an astronomer and work at NASA, unlikely to fall into another fantasy romance. 
While it might be more responsible if one of the girls wasn't focused on romance (for instance, what if Daisy was trying to do Leona's accounting and took a computer course? Or, in trying to get the Fireside Gourmet to review Mystic Pizza, found she had a knack with public relations?), it's not necessarily unrealistic. 
In the 1980s, young women's lives often did circulate around potential romance. Society applied pressure to have a boyfriend. Talking about boys was a primary source of conversation. The question is: did societal expectations put that on teen girls, is that just naturally what teen girls want to talk about, or did media and entertainment pummel young women with the message that their value was as an accessory to a male? 
It's hard to ignore that Mystic Pizza is also about three young women with no hang-ups about sex. Finding three women who felt like that in the late '80s seems less realistic.
The most promiscuous girl is the oldest among the friends, that makes sense. The pendulum swung hard on sex in the 1980s. At the beginning of the decade, sexual attitudes evolved out of the swinging '60s and '70s - it was a free for all. In the mid-80s, AIDS was a huge pail of ice cold water on the population. The Reagan administration and the Religious Right swung the pendulum the other way toward conservatism, and *boom*, let the slut-shaming begin. In fact, note how much slut-shaming occurs in the film amongst a tight group: Daisy's mom to Daisy, Kat to Daisy, and God bless Daisy for owning it.
Bill renames his boat "Nympho" as a dig to Jojo. She's more angry at his attempt to humiliate her than actually embarrassed. An 18-year-old who loves having sex with her true love in the context of a long-term monogamous relationship - that's accurate, responsible and refreshing! Bill and Jojo's storyline is a joy to watch because it's so unlike what has normally been portrayed on screen. Moviegoers aren't presented with many men who will withhold sex as a means to make their woman appreciate them. 
Then, there's Kat, the 18-year-old who loses her heart, virginity and innocence to a 30-year-old married father.  The fact is, most women have been Kat at some point. Hopefully not hooking up with a married man, but getting involved with a cad -- been there, done that. She rips up the check from Tim in the end - she doesn't need his money! But, of course, she does need the money to pay for Yale. Luckily, fairy godmother Leona steps in to cover it.
By the way, even Leona's storyline revolves around a man. Nonsexual, of course, but Leona longs for the attention of the Fireside Gourmet and ultimately, the food critic's approval. Again, this is historically accurate since restaurant critics were and still are mostly male. But, it doesn't make the assessment any less true.
The lead characters are real. It's the trio of them together that is problematic. It's all three of their male-motivated stories combined without anyone having a non-gotta-have-a-man plot that continued to push the idea that a woman's value is connected to her appeal to men. 
Soundtrack
Mystic Pizza has two different soundtracks: the music used in the film but was never released as a compilation and entirely different music that is not in the film that was released in Germany by Polydor. The music from the film (at least the North American release) is below:
Director: Donald Petrie
Screenwriter: Amy Holden Jones
Release Date: Oct. 21, 1988
Rating: R
Opening Weekend Rank: #9. Other new releases included Halloween 4 (#3) and Without a Clue (#8)
Opening Weekend Box Office: $1.16 million
Lifetime Gross: $12.8 million
Budget: $6 million
Production Company: Night Life, Inc.
Distributor: The Samuel Goldwyn Co.