Planes, trains and automobiles
"What he really wanted was to spend Thanksgiving with his family. What he got was three days with the turkey."
Steve Martin is Neal Page, an executive trying to get home from a business trip in time for Thanksgiving. A snowstorm creates a series of delays and his frustration is exacerbated by the "help" of shower ring salesman Del Griffith (John Candy), an unintentional travel companion he meets on the way.

Planes, Trains and Automobiles is the best Thanksgiving movie to date, identifying the American experience: enduring the un-fun of the most traveled day of the year just to get to the peace of four days of family togetherness.
Additionally, this is quintessential Steve Martin, John Candy and John Hughes, who were all at the top of their game and popularity when this film came out. 
This is the rare '80s movie that wouldn't be Rated R today because the studio would likely insist on changing the one reason it got marked for adults only. Ultimately, it comes down to a one-minute scene where Neal is at the end of his rope and unleashes a profane tirade at a car rental clerk who made a mistake – and he utters 18 F-bombs in a row. The clerk responds with an F-bomb of her own. Other than that, Planes, Trains and Automobiles is more responsible than most PG films. Consider:
Neal's frustration, temperament and  irritability aren't imitable, but relatable. Who hasn't felt like they'd love to unleash on an annoying cling-on or an oblivious clerk? We laugh because it's so wrong and we relate because it's pure fantasy. However, Neil's bursts of rage are also what makes this film so responsible. Viewers recognize that behavior as unacceptable – as does Neal, who always comes to regret venting his anger onto others.

Del is a smoker, not unusual in the '80s. The smoking is used as a lesson, though: Del tosses his cigarette out the window and catches the rental car on fire. What smoker hasn't thought of this scene every time they're in a similar situation?
Before working as a screenwriter, John Hughes worked as a copywriter for the Leo Burnett Advertising Agency. He had a similar experience to Neal Page – he had a pitch in New York on the Wednesday before Thanksgiving. He flew out on the 7am and was scheduled to fly back to Chicago on the 5p. However, a snow storm rerouted his flight and he couldn't get back to Chicago until Monday, spending Thanksgiving alone in Phoenix.

According to the film's editor, Paul Hirsch, Hughes wrote 60 pages of Planes, Trains and Automobiles in six hours. Steve Martin says Hughes told him he wrote the entire script in one weekend.

Of course, who knows if those 60 pages even made it into the film. Steve Martin says the original script was 145 pages long and the first cut of the film was 4 ½ hours long. He says some of the scenes that didn't make the cut are "" Before his death, Hughes said the unused scenes were in the Paramount vault and had probably deteriorated. Only one of the deleted scenes is on the Blu-Ray/DVD release; it shows Neal and Del eating dinner on the plane.

One of those scenes left on the cutting room floor has Del and Neal going into a strip club to make a call after their car catches fire. According to Debra Lamb, who played the dancer Del gets distracted by, the scene was cut because of the nudity didn't fit into a holiday movie.

John Hughes is known for working with the same actors (Molly Ringwald, anyone?) Watch for the many cameos from Hughes collaborators, past and present:

Kevin Bacon doesn't utter a word when he races Neal for a cab. Bacon starred in Hughes' She's Having a Baby the following year, 1988. Watch carefully: when Neal's wife is watching TV, she's actually watching She's Having a Baby which, of course, hadn't been released yet. Moreover, Bacon actually is his character from She's Having a Baby – the same scene with Martin (if you look close) is in that film as well. Incidentally, the scene was reportedly a wink to Bacon's 1986 film, Quicksilver, where Bacon races someone on a bicycle.

William Windom is the businessman who can't decide on the ad campaign Neal pitched, which is how Neal winds up missing his flight. Windom also plays Jake's father-in-law in She's Having a Baby and has a voice-only role in Uncle Buck.

Edie McClurg plays the Marathon Car Rental counter clerk. She's also the secretary in Ferris Bueller's Day Off and the check-out lady in the Hughes screenplay, Mom. McClurg' completely improvised her phone conversation; no surprise, she started her career with legendary improv troupe The Groundlings. Hughes was so impressed, he hired her again for She's Having a Baby and Curly Sue.

Lyman Ward, who plays Neal's co-worker at the pitch John, also played Ferris' dad in Ferris Bueller's Day Off and is also seen in She's Having a Baby. He's also in the TV series version of Weird Science.

Larry Hankin is cab driver Doobie. He shows up again in She's Having a Baby and the Hughes-scripted Home Alone.

Bill Erwin is the senior citizen who falls asleep on Neal's shoulder on his initial New York to Chicago flight. Erwin was also cast in She's Having a Baby, Home Alone and the Uncle Buck TV show.

Ben Stein gets one line, although it's not as memorable as when he takes roll in FBDO, "Bueller...Bueller… Bueller?"

John Candy was Hughes' favorite adult collaborator. He cast him as the security guard in Vacation, and often wrote with Candy in mind, reportedly writing some 30 unfinished and unproduced scripts for the comedic actor. All in all, though, Candy starred in Uncle Buck, The Great Outdoors and the Hughes-produced Only the Lonely as well as cameoed in She's Having a Baby, Home Alone and Career Opportunities.

Planes, Trains and Automobiles marks a transition period for all three of the key players. It's Hughes' first "grown up" film after recreating the coming-of-age teen comedy. Steve Martin was best known for playing dumb characters in slapstick, physical, over the top jokey comedies like The Jerk, Pennies from Heaven and Dead Men Don't Wear Plaid; Planes, Trains and Automobiles is the first time he plays a realistic, grounded character and paved the way for memorable, relatable roles in films like Parenthood and Father of the Bride (one could argue Roxanne is the in between film). Similarly, John Candy was in the transition period to lead roles. Additionally, 80s movies were in a transition as the late 80s ushered in the high adrenaline action film.

Many people who knew John Candy, including Steve Martin and Roger Ebert, say Del was an exaggerated version of himself. They all say the sweetness that comes through Del is the real John Candy.

While the 60-second flurry of F-words is what got this family comedy an R rating (which was appealed…and upheld), perhaps Hughes and the studio didn't change it because that's one of two scenes that Martin sparked to and why he says he took the role (the other is the seat adjustment scene).

Filming in St. Louis took 12 days, mostly around Lambert International Airport. Hughes included St. Louis, or rather, East Louis, in 1983 for the carjacking scene in National Lampoon's Vacation. Filming also took place in Buffalo, New York area, including the "driving the wrong way" scene which was filmed on the not yet opened Highway 219. Filming also took place in Los Angeles. Hughes' original intention was to film entirely in Chicago (particularly because he'd just moved his family back to Chicago) but it didn't work out, ironically, because of a lack of snow.

In the original ending, Del follows Neal home in a cab. However, Hughes realized later that the scene didn't work because, as he said, "He just went from being a pain in the ass to a tragic pain in the ass." Hughes then reconceived the ending, changing it so that Neal is finally heading home on the L, he realizes Del has nowhere to go and goes back to get him. Unable to reshoot scenes since it was July when there was definitely no snow, Hughes recalled that, unbeknownst to Martin, he filmed him thinking through the next scene: "Steve had a really beautiful expression on his face, 'cause what he was doing was trying to learn his lines. He was thinkin' about his lines." Hughes used that scene to show Neal thinking about Del's clues.

Hughes gave several actors their big break. This is the film debut of Laila Robins ("Susan Page"), Olivia Burnette ("Marti") and Dylan Baker ("Owen"), Susan Isaacs ("Marie"), Diane Castle ("Stewardess"), all of whom went on to solid acting careers.
Other cameos include:

Michael McKean, already famous from "Laverne & Shirley" and This is Spinal Tap, as a state trooper.

Diana Douglas, ex-wife of Kirk Douglas and mother of Michael Douglas, as "Peg."

Neal's son is Matthew Lawrence, who at age 6 was already a star in the hit sitcom "Gimme a Break." He went on to be one of the co-stars of "Boy Meets World."

The motel thief is Gary Riley, who was a familiar face to audiences after starring in Summer School, released earlier that year.

John Moio and Victoria Vanderkloot, who play the alarmed couple screaming, "You're going the wrong way!" to Neal and Del are actually stunt people.

The exterior shot of the 707 in flight was recycled, it was original used in Airplane!

While some believe Neal's house is the same later seen in Home Alone, it's not the same. Additionally, the inside isn't even a real house: it was a set consisting of seven rooms and took five months to build. Paramount Pictures was not pleased.

Hughes was going through a rough patch personally and was reportedly often grumpy on set. The constant search for snowy locations to shoot didn't help his mood.

Del's wife Marie looks like a middle-age woman. However, the photo was of Groundlings improv actress Susan Isaacs, who was only 25. IMDb lists "rubberface" as one of her trademarks.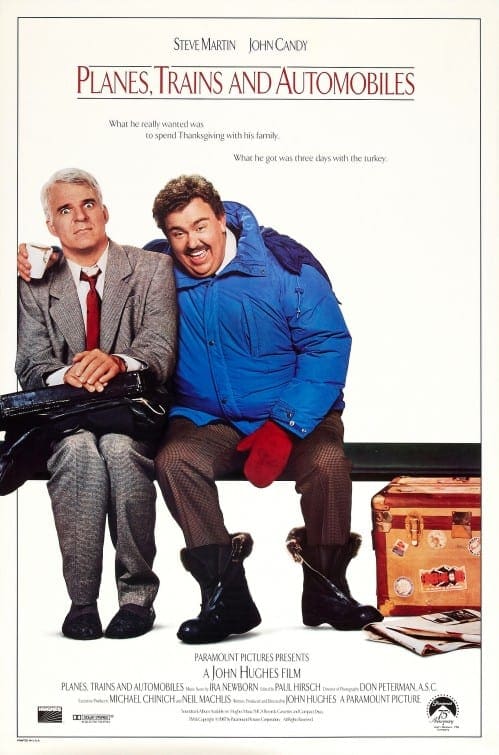 Soundtrack
A great soundtrack is a hallmark of a John Hughes film. However, even film critic and historian Leonard Maltin noted the tunes were lacking in this one. One reason is that Elton John wrote the title song and was a mere two days away from recording it when a contractual issue with John's label prevented the song's inclusion. Planes, Trains and Automobiles was then left with no title song. However, it did have a "love theme." The most memorable song from the film is Ray Charles' "Mess Around," but that is not included in the official soundtrack.
"Ba-Na-Na-Bam-Boo" by Westworld

"I'll Show You Something Special" by Balaam and the Angel

"Modigliani" ("Lost in Your Eyes") by Book of Love

"Power to Believe" by The Dream Academy
"Six Days on the Road" by Steve Earle & The Dukes

"Gonna Move" by Dave Edmunds

"Back in Baby's Arms" by Emmylou Harris

"Red River Rock" by Silicon Teens

"Wheels" by Stars of Heaven
Director: John Hughes
Screenwriter: John Hughes
Release Date: Nov. 25, 1987
Rating: R
Opening Weekend Rank: #3. Other new releases were Three Men and a Baby at #1. The #2 movie was the rerelease of Cinderella.
Opening Weekend Box Office: $7 million
Lifetime Gross: $49.5 million
Budget: $30 million
Production Company: Paramount Pictures
Distributor: Paramount Pictures