Scrooged
"Bill Murray is back among the ghosts. Only this time, it's three against one."
(1988)
starring Bill Murray, Karen Allen and Alfre Woodard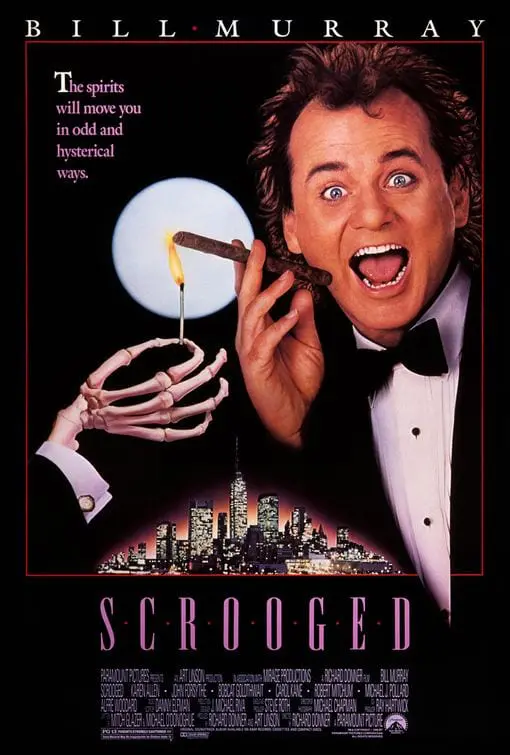 '80s Movies: A Guide to What's Wrong with Your Parents - 
SCROOGED: Why Frank Cross Wasn't Wrong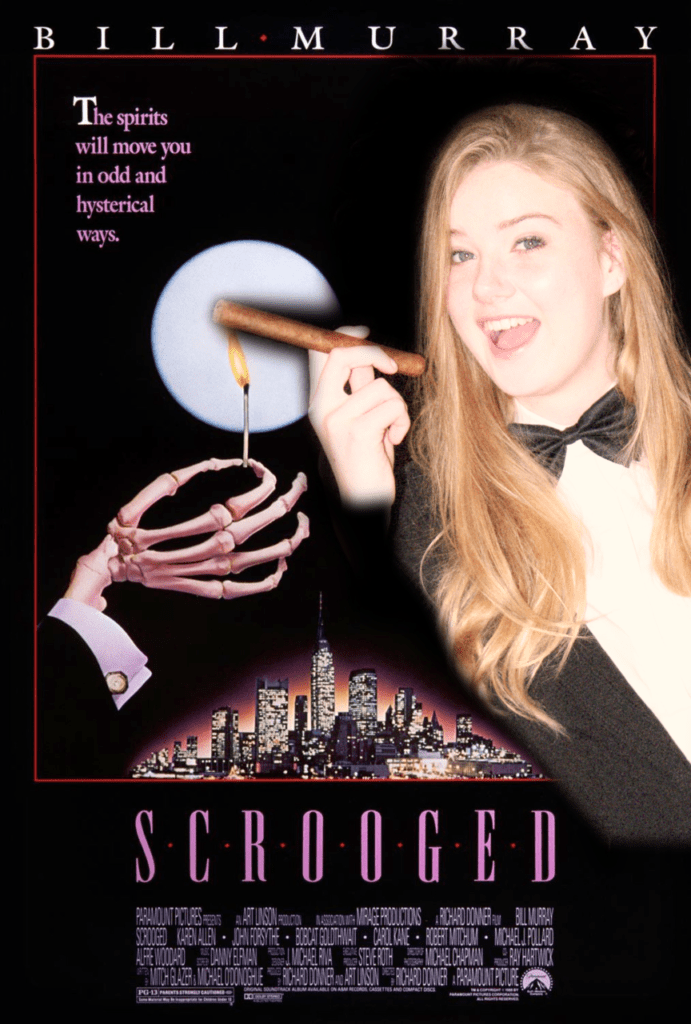 On Christmas Eve, a miserly, cranky television network executive is visited by three ghosts who aim to change his perspective on life.

It's the funniest version of "A Christmas Carol" ever made!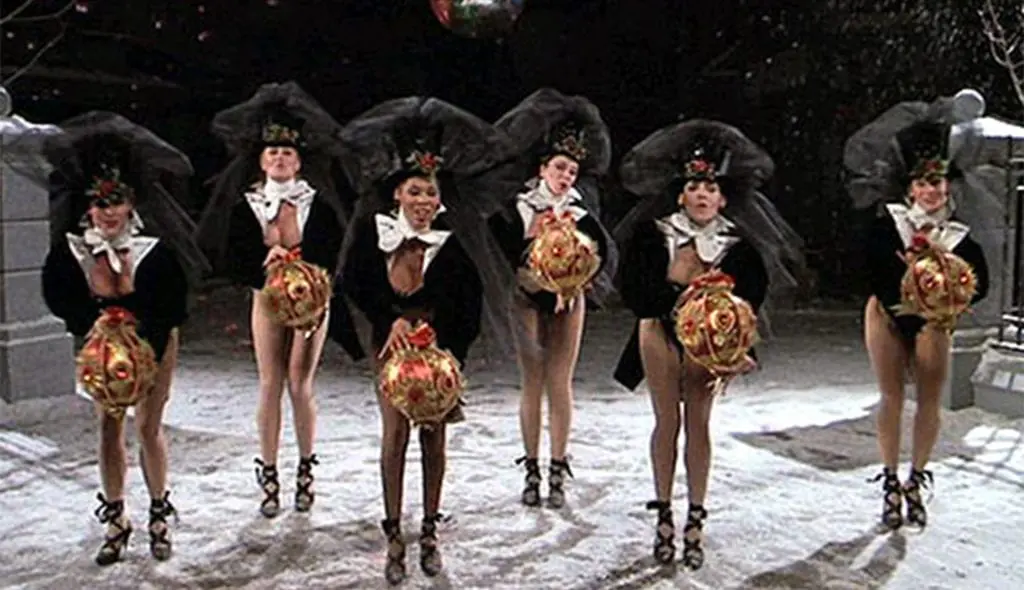 Plenty of '80s to catch in this film, starting with IBC's network programming:
"The Night the Reindeer Died," an uber-violent, action film version of the day "psychos seized Santa's workshop" starring TV star Lee Majors, who was on two loved TV series: the iconic "The Six-Million Dollar Man" and the stuntman series "The Fall Guy."
"Robert Goulet's Cajun Christmas." Goulet was a singer and actor known for his big crooner personality and his mustache. 
IBC's live production of "A Christmas Carol" with talent well known to the '80s crowd: comedian Buddy Hackett, Jamie Farr (from "M*A*S*H"), Olympic gold medalist and America's sweetheart Mary Lou Retton, and that '80s relic: The Solid Gold Dancers (a dance troupe on a hit primetime TV series who sexily performed a Top 10 countdown of that week's hits on the pop charts while barely dressed - so '80s!).
Frank's promo for "A Christmas Carol" features fears of the day: "Acid rain, drug addiction, international terrorism, freeway killers. Now, more than ever, it's important to remember the true meaning of Christmas…your life might just depend on it!" -- accompanied with a cloud from a nuclear explosion. 
Frank Cross' office: black lacquer and chrome...and a giant stationary bike.
Frank's predilection for Tab and Stoli. 
To his most valued colleagues, Frank's Christmas gift is a VHS player.
Keith Haring's Free South Africa poster makes several appearances. Haring was one of the '80s most famous artists and created the art to protest apartheid in South Africa, which was a cause growing concern in America. Director Richard Donner included the artwork in his next film, Lethal Weapon 2 (1989), another film that takes place at Christmas.
Crack about Richard Pryor being on fire. In 1980, after the legendary comedian had been freebasing cocaine for days, he poured 151-proof rum all over his body and lit himself on fire, then ran through his neighborhood; Pryor suffered second and third-degree burns. The LA Times review points out how cruel the line is because director Richard Donner worked with Pryor after the incident in The Toy.  While it is a mean joke, poking fun at the horrific incident wasn't uncommon in the '80s, the charge was led by Pryor himself, who joked about the incident in his 1982 comedy film Richard Pryor: Live on the Sunset Strip. He references a joke that made all the rounds: moving a lit match and saying, "What's that? Richard Pryor running down the street." 
Other quips include '80s pop cultural references, starting with:
Frank saying to his mentor, Lew Hayward: "You're the man who invented the miniseries!"

"We met at Spago!"

"LeRoy Neiman is painting The Wall for us."

When Frank is in the sewer area under the city sidewalks that's frozen over, he sarcastically says, "Well, this is nice. Where are we, Trump Tower?"

Claire's Ghost of Christmas Future look is pure "Dynasty."

...and Dynasty was one of the most iconic '80s TV shows with a cast led by John Forsythe, who played Lew Hayward.
Only in the '80s would greed be used as a way to inspire people to be kind. In Frank's final monologue, his big Aha! Moment, he says, "I get it now! Then if you GIVE, then it can happen, then the miracle can happen to you! It's not just the poor and the hungry, it's everybody's who's GOT to have this miracle! And it can happen tonight for all of you. If you believe in this spirit thing, the miracle will happen and then you'll want it to happen again tomorrow. You won't be one of these bastards who says 'Christmas is once a year and it's a fraud', it's NOT! It can happen every day, you've just got to want that feeling. And if you like it and you want it, you'll get greedy for it! You'll want it every day of your life and it can happen to you. I believe in it now! I believe it's going to happen to me now! I'm ready for it! And it's great! It's a good feeling, it's really better than I've felt in a long time. I, I, I'm ready. Have a Merry Christmas, everybody."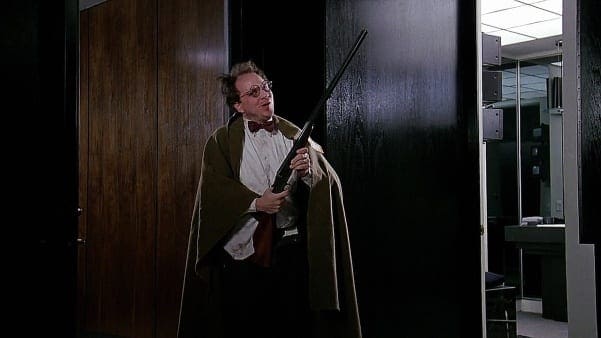 Part of the charm of Scrooged is in how it is so, so '80s. And yet, it holds up better than most '80s films - maybe even better than when it was released. Reviews from 1988 kept coming back to the same word: "mean." Audiences felt that while the film was funny, it was so mean-spirited that it ruined the fun in the theater. Which thing was mean - the suggestion to staple antlers on a mouse? The beating up of a network censor? Firing Eliot on Christmas Eve? Perhaps Scrooged's ability to survive and thrive for three decades is a commentary on how the world has devolved, because now, it feels less mean and more accurate.
Yes, Virginia, Ebeneezer Scrooge was mean, and so was his 1988 counterpart, Frank Cross. Dickens' Scrooge wasn't just miserly, he was crotchety. Both Scrooge and Frank Cross don't see the point in helping those who've fallen or hard times and don't think about the pain they may cause another creature if it helps their own success. (Beating up the censor in a fictional story - well, we just have to give that one as a metaphorical pleasure to Murray and the screenwriters who battled censors relentlessly while working on "Saturday Night Live.") Incidentally, one of the meanest elements in the film is the beating Carol Kane's Ghost of Christmas Present gives to Bill Murray -- and that, the critics praised.
What truly does not hold up is Eliot bringing up a shotgun to the workplace, firing at Frank and threatening his coworkers. While today's audiences might look back and think this was in calmer times when "active shooter" wasn't a term used in schools, clubs, airports, workplaces, and the like. However, 1986 was when the term "going postal" was born - when a postal worker in Edmond, Okla., brought in a gun and fired at his coworkers, killing 14. Unfortunately, this set off a trend among postal workers that continued into the early '90s. So, no, Eliot's shotgun solution was just as uncomfortable in 1988 as it is now. The idea that it's used for comic effect and that Eliot is rewarded for shooting up the office is outrageous.

CHRISTMAS INSPIRATION
As a child, Bill Murray never got toys for Christmas. Murray grew up as one of nine children. He said he never got veal cutlets for Christmas, but said what was found under the tree was still on the practical side. ''Asking for toys was out of the question, they were low priorities. It's not that we were denied anything so much as the fact that we knew not to make requests. For Christmas, you got essentials: school clothes. Whenever toys surfaced at all, they were pretty much inherited," said Murray in a New York Times interview. "Usually the boys got a comb and the girls got a hairnet," he said.
Murray said one year, he was particularly bad at giving gifts - although his heart started in the right place. He said usually someone would give each of the kids a dollar to go get presents, so one year, he got his family peanuts -- the hot ones you see sold by street vendors. He wrapped it in tinfoil and put it under the tree. "About every six hours, I'd get a craving for peanuts, so I'd go under the tree, and take a couple from someone's gift," he said.
Brian Doyle Murray,  who plays the dad who gives the terrible holiday present, is actually "the worst" at Christmas gifts in real life, according to brother Bill. He explains that Brian will go buy a bunch of socks – like 40 pairs – then carry them around all month and hand them out "like he's Father Christmas." 
REVIEWS
The reviews were not good. Gene Siskel was one of the few major critics that recommended the film, calling Bill Murray "absolutely hilarious." Siskel didn't give it all praise, but decided, "It's a close call but I'm giving this movie a thumbs up for it's big laughs early on and a sweet relationship between Bill Murray and Karen Allen toward the end of the picture."
Variety described Scrooged as "an appallingly unfunny comedy, and a vivid illustration of the fact that money can't buy you laughs. Its stocking spilling with big names and production values galore, this updating of Dickens' A Christmas Carol into the world of cutthroat network television is, one episode apart, able to generate only a few mild chuckles."
"A holiday turkey" is how The Hollywood Reporter saw it, but then also called the film "wickedly amusing," "splendidly scrambled story," and Carol Kane "a certified hoot." The review recognizes Murray as the reason the film works: "With his deadpan, cut-through-it style, Murray is hilarious as the network czar. His deadpan putdowns — his voice pulsating with flat disdain and his open glare shooting darts — are scrumptiously condescending. Despite the juicy, on-the-edge craziness, Murray is able to layer his outrageous histrionics with an inner sensibility, making his ultimate transformation not only believable but Christmas-cheer uplifting.
Legendary movie critic Roger Ebert gave Scrooged only one star – and Bill Murray confronted him about it. Here is the exchange that took place as Murray was shaving in the hotel suite where he was meeting Ebert for the interview (that sounds weird…but press interviews are typically held in hotel suites):
"How do you plan to explain your one-star review of 'Scrooged'?"
"I was hoping it wouldn't come up," I said.
"It wasn't that bad," Murray said. "It had some good stuff in it. Watch it on video and you'll see."
The New York Times gave it a mixed review, the headline touting Scrooged as "Meanness' Outer Limits." However, critic Vincent Canby writes that many scenes are very funny. The lede paragraph, though, nails Bill Murray's acting style with precision: 
"Locked deep inside Bill Murray there is a small, hyperactive misanthrope fighting to be heard through the large heavy body that contains him. The misanthrope never sleeps. He's a busy demon, peering out through Mr. Murray's squinty eyes, seeing all and remaining actively unimpressed. By the time his nastiest observations fight their way to the surface, however, much of their sting has been absorbed by flesh, leaving a sometimes revivifying but thoroughly domesticated skepticism.
"Because Mr. Murray is funniest when the big, laid-back, good-natured slob gives in to the furious mini-misanthrope, ''Scrooged,'' an updated variation on Dickens's ''Christmas Carol,'' is best when Mr. Murray is allowed to be his secret self."
The Los Angeles Times critic called it "as funny as a mugging." The piece's headline read, "'Scrooged' a Mean-Spirited Holiday Satire." Sheila Benson wrote that "Scrooged is a mass of sharp, well-deserved paper cuts" and felt that Murray was miscast: "'Scrooged" also seems like a misreading of the qualities on which Murray built his career: the hipster's put-on, the pious mien covering deep insincerity. Frank Cross isn't insincere; he's really and truly a heartless, friendless, useless fleck of pond scum. Wrong reading, guys."
Audiences had an entirely different reading on the Christmas comedy. Perhaps critics didn't like it, but test audiences did. The film rated it a 93 percent "Very Good" rating – the highest Paramount had ever received. 
HOW THE SOUNDTRACK AND SCORE CAME TO BE
Richard Donner originally wanted John Williams to score the film. Danny Elfman was established as the frontman for  Oingo Boingo but was an up and comer in the scoring world. Donner was talked into giving Elfman a shot.
Scrooged helped Elfman find his "sound." At the time he was hired for Scrooged, Elfman was known for his work scoring comedies. such as Tim Burton's Pee-Wee's Big Adventure, Back to School and Summer School. However, Scrooged's horror elements helped him to establish some of the elements that would find its way into the score for Batman, his most iconic work, which was created the next year.
Living music producing legend Jimmy Iovine assembled the soundtrack. AllMusic's Heather Phares' review of the soundtrack reads: "The album's sound, as well as its roster of artists, give it the feel of a time capsule buried in the late '80s, for better or worse. While Natalie Cole's "The Christmas Song (Chestnuts Roasting on an Open Fire)" fares the best, most of the album, including Annie Lennox and Al Green's "Put a Little Love in Your Heart"; Miles Davis, Larry Carlton, David Sanborn, and Paul Shaffer's "We Three Kings of Orient Are"; and New Voices of Freedom's "Sweetest Thing" bring back bad memories of the cold, brassy sound that dominated the decade's pop. Though Scrooged may appeal to fans of the movie, they may be taken aback by how badly the soundtrack has aged." 
The soundtrack produced a Top 10 hit. The movie's primary single, "Put a Little Love in Your Heart," performed by Al Green and Annie Lennox reached #9 on the Billboard Hot 100 on January of 1989 (and #2 on the Adult Contemporary chart). As a result, many now considered it a Christmas song, although it says nothing about the holiday. In fact, it's a remake of a Jackie DeShannon song from 1969. The single came together when Iovine convinced Al Green, considered one of the greatest soul singers of all time, to come out of pop music retirement to record the song. Green had left mainstream music in 1980 to become a pastor and had dedicated himself to making gospel music.  Green requested Lennox to duet with him on the song. It's the highest-charting hit for Lennox without her band, Eurythmics. It should be noted, though, her Eurythmics partner Dave Stewart produced the single. 
The success of "Put a Little Love in Your Heart" resulted in a backlash against Rev. Al Green from the Christian community.  Even members of Green's own Memphis congregation had an issue with his crossover success. Because of the song's "love one another" lyrics, Green was baffled. He said, "I just couldn't understand their (objections). "There is a whole bunch of religious people having such frustrations with love and happiness. . . . And I didn't have any problem with that, otherwise I wouldn't have sung it."
Annie Lennox and Al Green's "Put a Little Love in Your Heart" music video got an MTV Video Music Award nomination for Best Video from a Film. It lost to the U2 and B.B. King collaboration, "When Love Comes to Town," a video taken from the U2 documentary Rattle and Hum – which was responsible for another one of the Scrooged tracks…
The "New Voices of Freedom" was a band created as a result of an idea by U2.   The U2 hit "The Sweetest Thing" is performed by the gospel choir "New Voices of Freedom." But who are they?  Interesting story – Dennis Bell was a music producer who conducted church choirs. Buzz had been generated for a gospel choir version of Foreigner's "I Want To Know What Love Is," and Island Records' A&R executive Joel Webber approached Bell about arranging a church choir to similarly perform U2's "I Still Haven't Found What I'm Looking For." Bell, his pianist wife, and his jazz singer sister-in-law Lynette Washington assembled a group from Bell's high school choir and professional singers, and the final arrangement was one created by Bell and Bono, performed and featured in the U2 documentary Rattle and Hum. Later, the group performed with U2 at Madison Square Garden and after the show, Bono asked if Bell could do the same gospel choir version with "The Sweetest Thing." Once the song was complete, there was a question of what to do with it. Bell brought it to Iovine who put it on the Scrooged soundtrack. Iovine's label, A&M, offered New Voices of Freedom a record deal, but it fell apart, and the group called it quits in 1991.
"Christmas Must Be Tonight" was a cover performed by the original artist.  Robbie Robertson wrote the song for his young son, Sebastian, and put it on the "Northern Lights-Southern Cross"  album of his music group, The Band, in 1975. In 1987, Robertson was having a moment as a solo act with a new, self-titled album. – and working with, you guessed it, U2. Additionally, he was developing a resume for creating soundtracks and scores for film with Martin Scorcese, such as in The Last Waltz, Raging Bull, Carny, The King of Comedy, and The Color of Money. He recut "Christmas Must Be Tonight" for inclusion on Scrooged.
Dan Hartman was a soundtrack hit machine. "The Love You Take" came from Dan Hartman and Denise Lopez. Hartman had a knack for making songs that worked – and would chart – on soundtracks, such as:
 "I Can Dream About You" from Streets of Fire (#6 in the U.S., #12 in the U.K.),
"Living in America" performed by James Brown from Rocky IV,
"Relight My Fire" which became the theme song for the NBC show "Tomorrow,"
"Heart of the Beat" from Breakin'  under the band name 3V,
"Talking to the Wall" from the John Travolta-Jamie Lee Curtis aerobics movie Perfect
"Waiting to See You" from Ruthless People,
"Why Should I Worry" from Oliver & Company
"9.95" performed by Spunkadelic from Teenage Mutant Ninja Turtles
"(That's Your) Consciousness" from Teenage Mutant Ninja Turtles: The Secret of Ooze.
"The Love You Take" was one of Hartman's last contributions to a soundtrack. He told the Mohave Daily Miner in March 1989: "I wish they'd snap out of having rock songs in films to try and sell the film, and go back to writing good scripts and making good films. I think ultimately they don't care about songs anyway. I got tired of cranking out pop songs that end up over the credits at the end. It's territory I moved through and don't want to do anymore." And mostly, he didn't, although after Hartman died of an AIDS-related brain tumor in 1994, his music was tapped for soundtracks once more: 
In 1995, Hartman's version of "Free Ride" -- a song he wrote that was a hit for Edgar Winter – was put on the Mighty Morphin Power Rangers soundtrack.
In 2006, "I Can Dream About You" was featured in the video game Grand Theft Auto: Vice City Stories
 "Relight My Fire" was included in the video game Grand Theft Auto: The Ballad of Gay Tony.
Natalie Cole's cover, "The Christmas Song," was originally written as a visualization technique to cool off in the July heat.  The song was a huge hit for her father, legend Nat King Cole. The lyrics for the song, written in 1945, came from Bob Wells writing down words "Chestnuts roasting…Jack Frost nipping…Yuletide carols…Folks dressed up like Eskimos" in the middle of summer to help him be cool by thinking cool thoughts. Mel Torme said he saw the words written on a pad of paper and finished up much of the lyrics and wrote the music.
David Johansen was a bonafide music star. A kid in the '80s may have found "Buster Poindexter" a novelty act with his "Hot, Hot, Hot" pop hit,  but Johansen had been the lead singer of the glam rock band New York Dolls. In the late '80s, became part of the Saturday Night Live house band...and by the way...
Paul Schaffer and David Sanborn were members of the Saturday Night Live house band in 1975. Schaffer continued on through 1980, therefore overlapping with Bill Murray's time at SNL (1977-80). Schaffer asked Sanborn and Larry Carlton to join him for the street performance scene - jazz icon Miles Davis joined them.
Paul Schaffer wasn't the connection to Miles Davis, it was Bill Murray. Schaffer told Vulture: "Bill Murray was doing Scrooged, and there's a scene in the movie where Billy's character is walking down the street and passes a group of musicians playing for spare change. The music director from the movie studio had the idea that one of the musicians should be Miles Davis. Somehow Miles said yes. Billy called me and told me and I said, 'What?' And he said, 'Yes, I got you an opportunity to play with Miles Davis.'
Miles Davis taught Schaffer how to perform jazz differently during the soundtrack recording. "I was playing a keyboard in that scene, which goes by so fast that you have to freeze-frame it to even realize who's in it — we're playing 'We Three Kings,' by the way. Even though that scene is only a few seconds, we did cut a full version of the song in the studio for the movie's soundtrack. I mean, getting to go into the studio with Miles was incredible. He completely took over the session and started arranging the material. We were working from the sheet music for 'We Three Kings' and he looked at it and told us we'd do it in waltz time and then move to a funk section and then go back and forth between the two. The crazy thing is that I was playing synth bass and Miles was really zeroing in on what I was doing. That's when he unlocked the key to his spacey Jack Johnson, Bitches Brew-style of jazz for me. He told me not to play the root note of the chords on the bass. He said I could play around it or suggest it, but I couldn't play the root. Once you learn that, you understand the secret to the music he made during the second half of his career and why it sounds so free-form. Anyway, when we were finishing the session, Miles said to me, 'We could do this one on Letterman.' Not long after, he came on the show and we did 'We Three Kings.' Working with him was a million-dollar music lesson for me."
Plenty of familiar tunes are used in the film to punch up the atmosphere:
TV tie-ins: "The Toy Parade" (which you know as the theme to "Leave it to Beaver), Robert Goulet's crooning clip of "Silver Bells" to promote his IBC special "Robert Goulet's Cajun Christmas," "The William Tell Overture" used as "The Lone Ranger" theme song, and "It's Howdy Doody Time!" for the children's program when young Frank was watching TV.
"Wooly Bully" by Sam the Sham and the Pharohs plays as the introduction to 1968 when Frank is working in the IBC mailroom, delivering mail during the wild IBC office Christmas party. 
"The Nutcracker Suite" is interwoven into The Ghost of Christmas Present's open, The Ballbreaker Suite. 
"Jingle Bells" plays when frozen Herman's pocketwatch slides down his hand.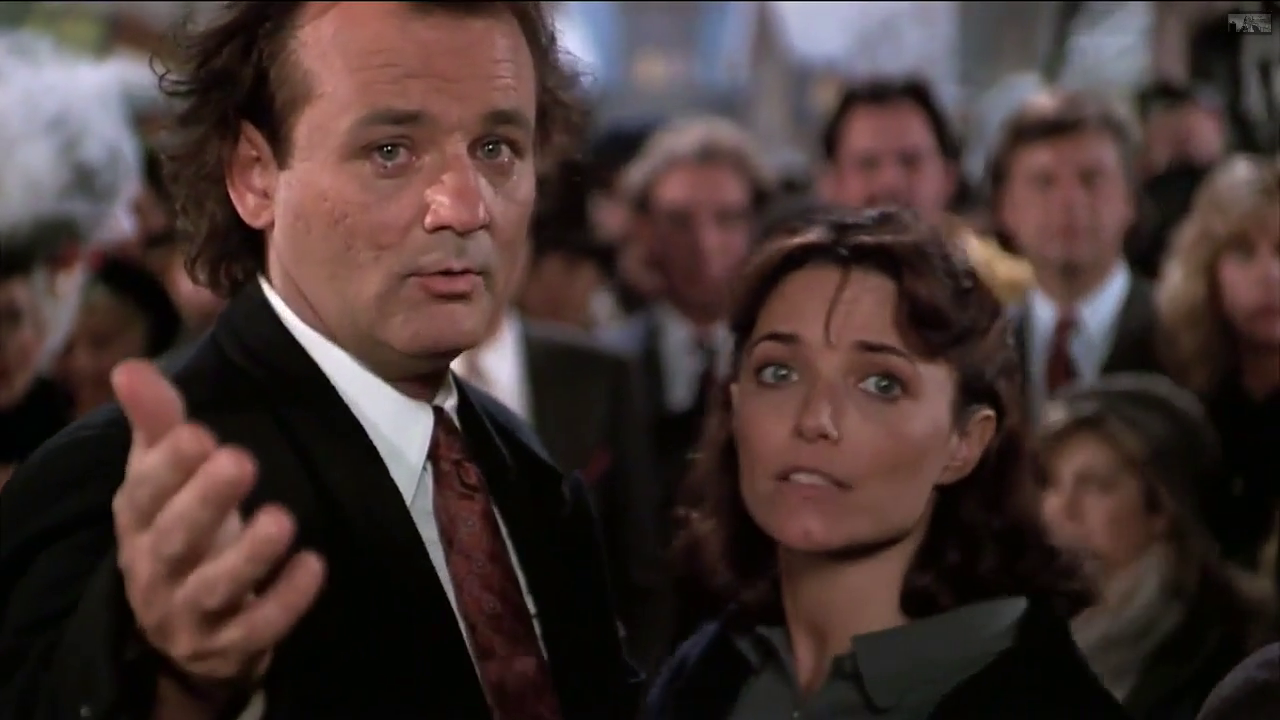 LEGACY
Murray compared his next film, Ghostbusters II to Scrooged, and at the same time, defined  what he intended his own legacy to be, saying they were both "a story about innocence restored, and good values, and the power of faith in ordinary people." Murray said, "Sounds corny but I'd like all my stuff from here on out to be things you wouldn't be afraid to let your kids' kids discover decades from now. Like I discovered 'A Tale of Two Cities' or even Mr. Magoo.'' 
"I think it's become a kind of classic Christmas film and people love to put it in the mix because there all these other wonderful Christmas films that we all watch," Karen Allen said to MonstersandCritics.com. "White Christmas and It's A Wonderful Life, Miracle on 34th Street. A lot of them are beautiful and poignant and sweet and heartwarming but Scrooged is irreverent and wonderful and silly."
Scrooged was a film before it's time, both in reception and predictions:
It was pre-meta. Scrooged is one network executive living A Christmas Carol while producing a live version of A Christmas Carol while the audience is watching a version of A Christmas Carol. To play on this, the font on the TV script matches the movie poster and credits. 
Preston Rhinelander's prediction that pets were an untapped and profitable market. It's a joke in the film, but the rise of Animal Planet, The Puppy Bowl, and cute cat videos would say Preston was on to something. 
Soundtrack
The Scrooged score came from Danny Elfman. The soundtrack consisted of '80s takes on Christmas classics. Annie Lennox and Al Green's take on Jackie DeShannon's "Put a Little Love in Your Heart" remains the big takeaway from Scrooged, but Natalie Cole's "The Christmas Song" still gets play on radio today as well. The jazz quartet of Miles Davis, David Sanborn, Paul Schaffer and Larry Carlton performing "We Three Kings" was lifted from the scene where they performed on the street. "Buster Poindexter" has a track as well -- he's also known as David Johansen aka "The Ghost of Christmas Past."
Director: Richard Donner
Screenwriters: Mitch Glazer | Michael O'Donoghue based on Charles Dickens novel.
Release Date: Nov. 23, 1988
Rating: PG-13
Opening Weekend Rank: #1. The Land Before Time was at #2, Oliver & Co. was #3, and Cocoon: The Return was #4 (and was the only other new wide release).
Opening Weekend Box Office: $13 million
Lifetime Gross: $62.3 million
Budget: $32 million
Production Company: Paramount Pictures
Distributor: Paramount Pictures