Teen Wolf
"He always wanted to be special -- but he never expected this!"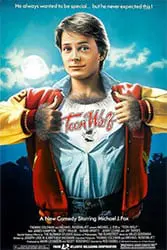 PODCAST:
'80s Movies: A Guide to What's Wrong with Your Parents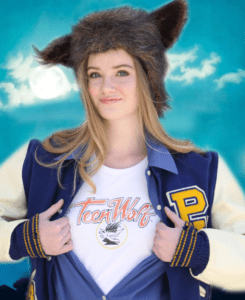 Teen Wolf features the wildest party next to Bachelor Party or The Hangover -- but Teen Wolf was rated PG. Movie critics Riley Roberts (pictured), age 17, and her mother Tara McNamara deconstruct Teen Wolf for why it's a beloved classic...and why it's so, SO messed up.
Scott Howard (Michael J. Fox) is an average high school student until the day he unexpectedly transforms into a werewolf.

Kids of the '80s howled for Teen Wolf: it spawned a sequel, an animated series and a hit MTV series that ran for seven years.
Teen Wolf is an example of just how irresponsible filmmaking could be in the '80s. Families flocked to this PG-rated film that featured America's No. 1 squeaky-clean role model, Michael J. Fox, engaging in underage drinking, car surfing and casual sex. Kids loved it so much, Teen Wolf became a Saturday morning cartoon. 
Scott (Michael J. Fox) successfully buys beer at the liquor store, even though he's underage.

Stiles (Jerry Levine) orders Lewis (Matt Adler) to drive. Lewis says "I don't have my license yet." He makes him do it…so Stiles can stand on the roof of the van and dance.

In fact, Teen Wolf made car surfing popular. One of the writers engaged in "urban surfing" while in college and wrote it into the script. Did it lead to the injury and deaths of teens? Of course.

The party in Teen Wolf is one of the wildest in teen film. Teens are drinking (although in 1985, the legal drinking age was still 18 in some states). They also smoke cigarettes and marijuana. Stiles and a girl wearing only teddy lingerie randomly pair a boy and girl and give them sexual tasks, such as ordering a boy to eat an entire bowl of JELL-O that's dumped inside a girl's shirt and the game 2-minutes in the closet "where anything goes!" Partygoers including Scott and Boof (Susan Ursetti) crowd in a circle and cheer on a nearly naked couple covered in whipped cream who are tied together and writhing on the ground. 

Mick (Mark Arnold) plants his hand on his girlfriend's rear end.

It's implied that Scott's crush, Pamela (Lorie Griffin), may have an inappropriate relationship with the drama teacher. During a rehearsal for the school play, the teacher gives Pamela direction to say her lines, "More sensual, darling. We want to feel you. We want to smell you. Hurt me! Hurt me!" Pamela later brags to Scott, "I have to go study my lines. Kurt -- Mr. Long -- is so demanding!" One of Pamela's lines in the play? "You can ravage my body, but don't take my plantation!"

Without serving any purpose to the story, Stiles tells Scott, "I heard Mr. Murphy -- you know, the shop teacher -- got his dick stuck in a vacuum cleaner."

Curse words fly, not to mention that Stiles wears a shirt (to school!) that reads, "What are you looking at Dicknose." 

In one scene, Stiles is looking for his pot "stash" when Scott says he's got to tell him something. Stiles says, "Are you going to tell me you're a fag? If you're going to tell me you're a fag, I don't think I can handle it." Scott replies, "I'm not a fag." Unfortunately, casual homophobic language was not unusual in the '80s.

Also not unusual: fat jokes. The accepted nickname of one overweight member of the basketball team is Chubby.

The school's most beautiful and desired girl, Pamela, takes off her bra and seduces Scott with the intention of having sex with the wolf. At school. She is successful...leading viewers to have uncomfortable thoughts about bestiality.
Werewolves were top of mind in 1985:

The Howling, 1981 - Joe Dante's horror classic that sparked four sequels during the '80s

American Werewolf in London, 1981 - a horror comedy from John Landis

Wolfen, 1981 – Albert Finney starred in this crime horror

Silver Bullet, 1985 - based on a Stephen King novel starring Corey Haim

"Thriller," 1985 – Michael Jackson's iconic music video directed by John Landis

Stiles was played by Jerry Levine, who never became a superstar, but has consistently worked as an actor and TV director ever since. In the sex comedy genre, he played Victoria Jackson's love interest in Casual Sex? and was a recurring character in "Will and Grace."

Susan Ursitti's feature film debut was in the teen sex comedy Zapped, best known because it featured two of TV's biggest heartthrobs at the time, Willie Ames from "Eight is Enough" and Scott Baio from "Happy Days." (Later, the two would star again together in "Charles in Charge"…and Ursitti guest starred in one episode…with Jerry Levine….who handed her the script for Teen Wolf.)

Director Rod Daniel was a TV director, Teen Wolf was his first feature film. He was selected over two other more high profile directors because he's the only one who understood it was a story about a boy and his dad. With Teen Wolf's success, he went on to direct other furry family films, such as K-9 and Beethoven's 2nd.  His IMDb page lists him as a dog lover. Appropriate.

Matt Adler ("Lewis") made appearances in a couple of memorable '80s films, such as Flight of the Navigator and the Two Coreys film Dream a Little Dream. However, he's gone on to a successful career as a voice-over actor.

Scott's nemesis Mick was played by Mark Arnold, a soap opera actor. He reportedly asked to be killed off "Santa Barbara" so he could promote the film.

Doug Savant plays Beavers basketball team member #23. He's not given any lines but he's the guy who is put out when the Teen Wolf hogs the ball and later is deliberately shoved by Nick, presenting the opportunity to put human Scott into the final basketball game. Savant became famous seven years later on "Melrose Place," playing one of TV's first gay characters in a starring role. He starred in another long-running hit TV series, "Desperate Housewives."

Opened at No. 2 at the box office. No. 1? Back to the Future.

Levine married one of the most powerful executives in TV, Nina Tassler, who ran CBS Entertainment for a decade. They have two children.

Teen Wolf was filmed BEFORE Back to the Future. It was intended to be released in 1984 but when the distributor learned Fox was starring in a Steven Spielberg film, they opted to hold their film until after Back to the Future's release.

Fox learned about Back to the Future (then starring Eric Stoltz) while filming Teen Wolf because the BttF crew was checking out the Old Pasadena house being used as Scott Howard's home. In fact, Scott Howard's home and Lorraine's 1955 home in BttF are indeed the same house.

Fox agreed to the film because they could shoot it while on hiatus from his hit TV show "Family Ties" because his co-star/TV mom Merideth Baxter-Birney was on maternity leave. Fox: "Looking back, I have no idea what I was thinking…I begged my friends for reassurance that this choice of role wasn't a surefire career killer, and with kind hearts and straight faces, they lied, 'Don't worry about it. It'll be great.'"

The script included a scene where Scott Howard has reached celebrity status and is a guest on "The Tonight Show" with Johnny Carson. Director Rod Daniel felt this was taking the story too far and never filmed the scene.

The studio originally wanted Scott Howard to be a Jeff Spicolli-type stoner/surfer dude. Fox fought and won against this characterization.

The absolute final shot, in the bleachers, is a guy who exposes himself to the camera and then zips up his pants. Writer Jeph Loeb said during a reunion screening Q and A, "No, none of us saw the guy in the bleachers that pulled his d*** out at the end. But if you're here, I hope your mom is very proud of you."  The moment had gone unnoticed until it aired on VH1. Then, writer Jeph Loeb says, "Well, I definitely noticed it this time." After closer examination, it is believed it was a girl who buttons and zips up her pants on camera - she'd undone her too-tight pants to sit on the bleachers.

The line, "With great power comes great responsibility," is a hat tip to Spider-Man, which introduced the phrase in 1962. Similar statements have been made from world leaders like Winston Churchill and both Presidents Roosevelt. However, the first place the advice was written was in The Bible, Luke 12:48: "From everyone who has been given much, much will be demanded; and from the one who has been entrusted with much, much more will be asked." Either way, Jeph Loeb also wrote for the Spider-Man comics, so that's where the tip of the hat is directed.

Jerry Levine based the characterization of Stiles on the film's director, Rod Daniel. Daniel pulled up to his first meeting with Levine with music blaring, wearing dark sunglasses and a cigarette dangling out of his mouth.

Michael J. Fox trained with a basketball coach for two weeks, but the entire cast and crew agree, he was terrible!

It's hard not to notice and wonder why the unusual nickname of Scott's girlfriend, Lisa "Boof" Marconi. That was taken from real life – it was the real name of the high school girlfriend of one of the writers.

Fox hasn't spoken kindly of Teen Wolf, but when he accepted the job, he was just completing his second season of "Family Ties," which had just become a huge success. While released later, Teen Wolf was actually Fox's first movie role.

Michael J. Fox became famous playing high school students. However, Fox dropped out of high school to move to Hollywood to pursue acting. He obtained his G.E.D. in 1995 at the urging of his then 4-year old. Moreover, he was well out of his teen years by the time he booked these roles: age 21 when he started playing his break out role as Alex P. Keaton in "Family Ties," age 23 when played Scott Howard in Teen Wolf, and age 24 when he starred as Marty McFly in Back to the Future.

Fox wasn't the only one many years from high school: Jerry Levine (Stiles) and Mark Arnold (Mick) were 27, Chubby (Mark Holton) was 26.

The Wolf dance the student body emulates at the prom has a similar wolf claw move to Michael Jackson's "Thriller" dance. The "Thriller" video premiered on MTV in December 1983 and became an instant sensation. Teen Wolf was filmed in the summer of 1984.
Soundtrack
Teen Wolf missed out on the soundtrack trend - songs from the movie are fairly lame, but then again, sound very '80s.
Director: Rod Daniel
Screenwriter: Jeph Loeb, Matthew Weisman
Release Date: Aug. 23, 1985
Rating: PG
Opening Weekend Rank: #4. At #1 was Back to the Future, #2 was Weird Science, #3 Pee-Wee's Big Adventure.
Opening Weekend Box Office: $6.1 million
Lifetime Gross: $33 million
Budget: unknown
Production Company: Wolfkill Productions
Distributor: Atlantic Releasing Corp.