June 15, 2018
/
/
Comments Off

on BULL DURHAM: Tim Robbins Nearly Fired After First Day
BULL DURHAM: Tim Robbins Nearly Fired After First Day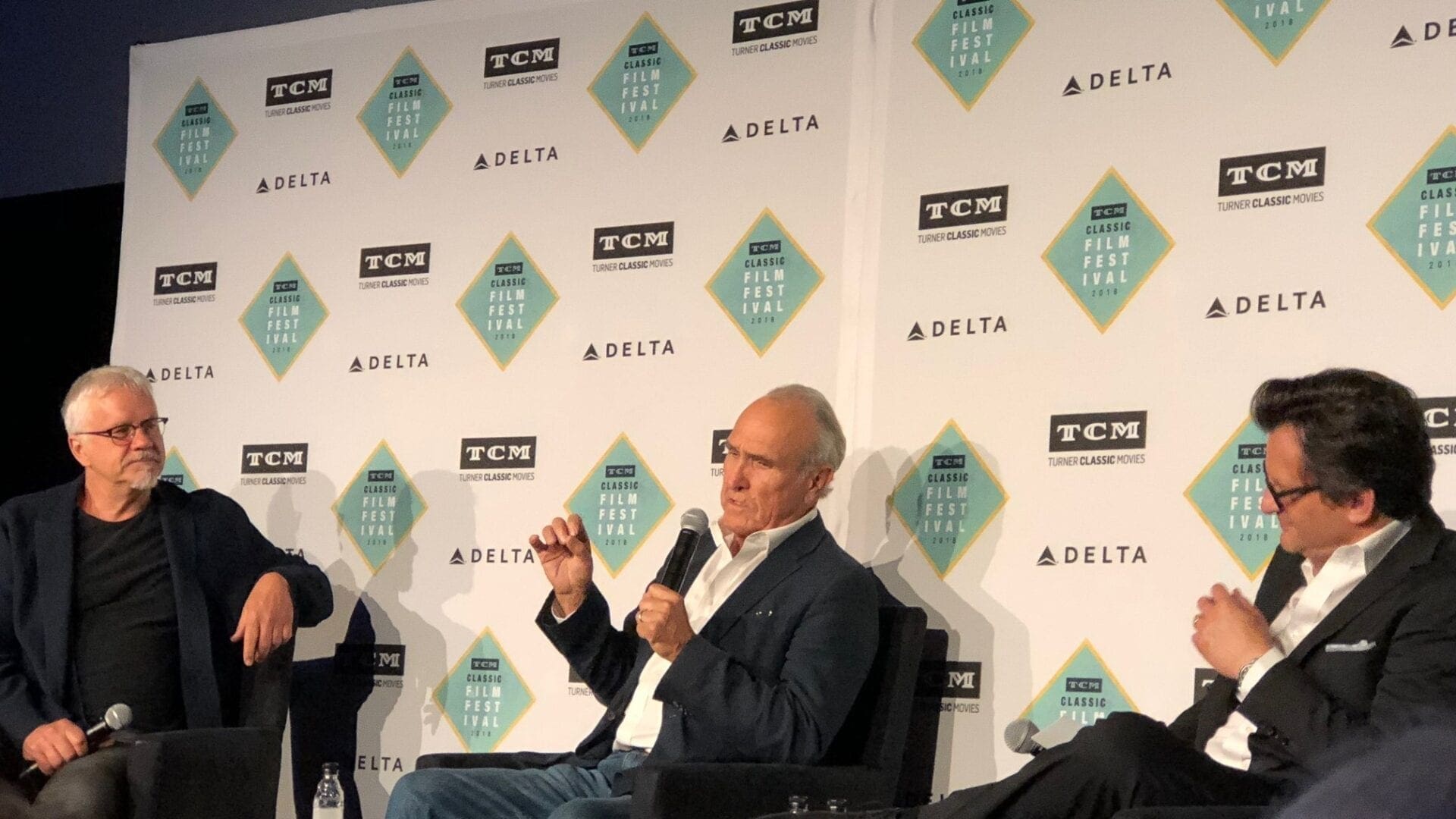 It's been 30 years since Bull Durham hit theaters, which is widely considered the best sports film ever and one of the best comedies of all time. Bull Durham is about aging catcher Crash Davis (Kevin Costner) demoted back to the minor leagues to coach promising pitcher "Nuke" Laloosh (Tim Robbins) and encounters Annie Savoy, a fan who is also mentoring Nuke with an entirely different approach (Susan Sarandon).
At the 2018 TCM Classic Film Festival, TCM host Ben Mankiewicz sat down with Robbins and Bull Durham's writer-director Ron Shelton.
One of the interview's biggest revelations is that Robbins says the studio wanted to fire him after his first day of work. "This was my first big movie," Robbins says. "It was the scene where I had just returned from a road trip and she's trying to teach me pitching in the backyard. So, I'm supposed to be tired, right? The studio gets the dailies and they call Ron up and say, 'This guy has no energy. I don't know if this guy is going to be funny, he's got no energy.' Ron just told them, 'Yeah, that's because [his character] was on a road trip and he's an actor.' But, I think they wanted to fire me. Ron stood up for me."
Robbins shared his observations of how Shelton operated to then make sure that situation didn't repeat itself. "So, the next day, we're at dailies and I'm sitting next to Kevin and we hear this commotion behind us. We see Ron has a significant member of the production high, up off his feet, holding him up against the wall, saying, 'Don't ever talk to any of my actors again, I'll f—king kill you.' Kevin leans over to me and whispers, "Cujo…Cujo!"
Robbins says from then on, Cujo – the rabid St. Bernard in Stephen King's 1983 movie of the same title – was the nickname for Shelton.
The moment stayed in Robbins mind. He says he was so impacted by Shelton's behavior on his behalf that it informed his future career as a director. "What Ron was doing on the set the third day of shooting was drawing a line, saying I'm going to make my movie. You can fire me if you want, but I'm going to make my movie, and you're not going to mess with it. That was a big lesson for me when I started to direct. If you care what you're doing, sometimes you have to put it all on the line and say no."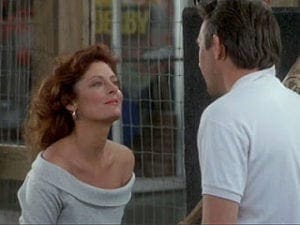 Another time Shelton had to say no was one of his favorite scenes – which happened to be one of his star's favorite scenes. It's a scene where Annie Savoy explains herself and how she came to pick a player to sleep with and mentor each season. "There's a scene missing that Susan has not forgiven me cutting out from the movie, because it was her Oscar speech," Shelton says. "It's the old 'kill your darling' scene: there's a point which your favorite scene is actually hurting the movie. There's a scene in which Crash asks her 'why baseball?' and she tells him how she came to baseball. Every time we'd screen the movie… the air was going out of the room during the scene, in which Susan was great. We kept asking, 'why, why, why?; and we kept trimming it, and trimming it, and trimming it. We finally said, 'Well, take it out and we'll see what happens.' And, the movie just soared. What I think we've learned, 30 years later, is that [in the scene that is set early on in the film] there was such intimacy between them [Crash and Annie], that the movie was over. We still had a story to play out. It was the way people would talk when they are really trusting and have fallen in love, not before. But, Susan still has not forgiven me."
Annie's big speech isn't the only scene to land on the cutting room floor. Crash's pool hall brawl with Nuke toward the end of the film was completely reshot after the film was completed and turned in. "It was originally shot in a whorehouse in Durham with Kevin playing the piano. [Crash] was hanging out there because the owner of the place was an old ballplayer," says Shelton. "It made me nervous when we shot it. It made me nervous when we cut it. After I showed the director's cut to the studio, they said, 'We don't like it. What can we do about it?"
Shelton says he convinced the studio to let him reshoot the scene in a Los Angeles pool hall – and it worked. "I don't think there was a line of dialogue that changed. Instead of playing the piano, they're playing pool."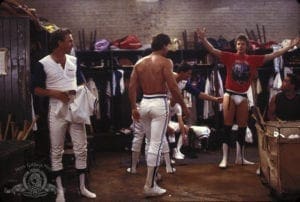 Another challenge Shelton ran into was that the story takes place in the summer in the South. However, they filmed Bull Durham in winter, which created one big visual problem. "You can see people's breath," says Shelton. "I asked the actors to put ice cubes in their mouth because I was told that would negate it."
Robbins said another "fix" was that they put oil all over him so Nuke looked like he was sweating in the North Carolina sun. And one thing to watch for? Shelton says, "When [Robbins] did the scene with the garter on the mound, he's freezing."
The garter belt scene comes at a time when Nuke and Annie's relationship has come to a place where he really trusts her – and Annie's guidance is what she believes is her mission in life. Nuke does come off in the film as, well, dumb. Robbins says, "After the movie came out, I got so many offers to play stupid people."
Even though Crash refers to Nuke as dumb, that's incorrect. "Annie says, 'He's not dumb, he just lacks wisdom and it's my job to teach him," says Shelton. "Nuke is not dumb, he really is just young and immature. Tim brought such dignity to the part that we remember Nuke, we care about Nuke, and Nuke actually grows. At the end of the movie, he's teasing Crash with clichés, he knows how to get under Crash's skin, and his whole manner has changed.  He's moving on, he's learned his lessons."
At the time, the studio was nervous that audiences would not believe sexy-smart Susan Sarandon would fall for young, lanky Tim Robbins, especially in the packaging of arrogant Nuke Laloosh. "Nuke could compete with Crash in any way except with a woman," says Shelton. "I remember getting a call from the studio who said, 'Are we gonna believe it?' I said, 'Oh yeah! You're going to believe it!'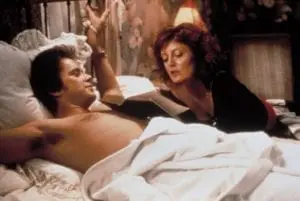 Robbins and Sarandon fell in love while filming Bull Durham, got married, and made a family of five. Their marriage lasted 23 years.
Sports Illustrated named Bull Durham the No. 1 sports film of all time – which is interesting because Shelton hated the genre.  Shelton says, "I never liked sports movies. Nobody hits a home run in the bottom of the ninth to win the World Series. It's happened once or twice in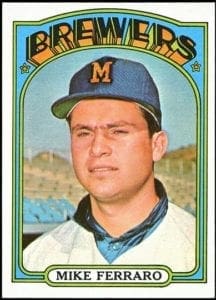 history. A game – and life – ends with a weak groundball to third base."
So, Shelton gave his sports film authenticity, creating a work of fiction based on experiences he'd had and witnessed when he was playing in Baltimore' farming system. "There were a number of guys I'd played with in the minors who were turning out to be career minor-leaguers, but they were great," says Shelton.
However, there was one player who is the closest to the genesis of Crash Davis. "We played with a guy in the Triple-A named Mike Ferraro who was four years in a row International AAA All-Star Third Baseman. He never got to the big leagues* because he was backup to Brooks Robinson.  They didn't want him sitting on the bench in Baltimore where he would be rusty in case Brooks got hurt, and Brooks never did. By the time Mike got to the big leagues, he was 32 and he was injured," says Shelton, who retired at the age of 26. "There were a number of guys like that, and I have great admiration for them because they were complete professionals. I admire the professionalism of guys who would show up every day and did the job at a high level – even when it galled them to have to teach people like Nuke."
Shelton got out of the game when the 1972 baseball strike was looming. But, he says leaving is a tough call: players are in it because they love the game. He says, "There is always the hope, and it's somewhat delusional, that you'll get the call when you're 31 or 32. It happens once in a while…but it's very rare that you get the break that way."
The authenticity Shelton brought to the film famously followed into casting. The former infielder didn't want what he calls a "Tony Perkins" situation that plagues sports films: great actors who are terrible athletes. Shelton made everyone audition. Robbins said he had the background for the role and actually had an offer on the table to star in another baseball movie that was going into production at the time, Eight Men Out. "I had played ball and played third base, so I had a pretty good arm. But, I'd never pitched before, so I had to learn all the mechanics of that."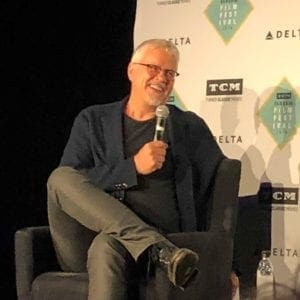 For Robbins, deciding which baseball movie to take wasn't a hard choice. "The part of Nuke was so beautifully written and so funny, I leapt at the opportunity."
Shelton added, "In a perfect world, I'd have cast a left-handed pitcher, because left handers are all insane. Left handers are goofy, so he's a right-handed 'lefty.'"
Shelton's desire to create a different kind of sports movie provoked another kind of out of the box thinking. Shelton says he didn't write it as a sports film, a romance, or a comedy. He wrote Bull Durham as a western. "[The script] was a western model when I started writing it. You don't know where [Crash] is from, you don't know anything about his background, you don't think about his parents or his upbringing or his schooling. He's just a professional, his "guns" are really the tools of his trade – in this case a catcher. And, he goes from town to town wherever he's hired."
Bull Durham is currently playing on Hulu and Epix on Demand. Check out our Bull Durham page for more insider info, fun facts and fresh analysis on the film: https://80smovieguide.com/bull-durham/