Father's Day Giveaway: See FIELD OF DREAMS on the Big Screen with FREE Tickets!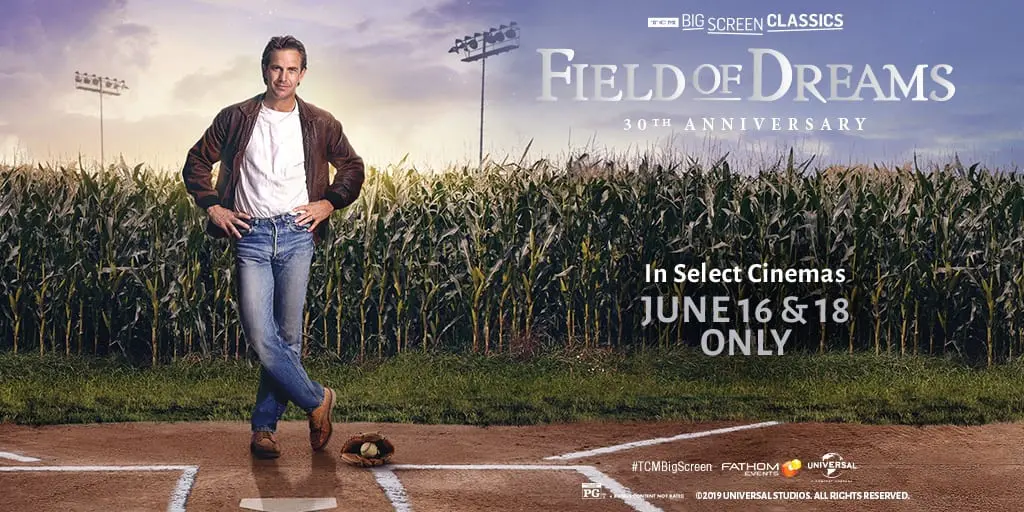 Coming up with Father's Day gift ideas gets more challenging every year, but here's what most dads want: quality time with their kids, a shared experience, to create a memory. Seeing Field of Dreams on the big screen makes for a perfect Father's Day outing, and a special opportunity for dads to introduce a new generation of sons and daughters to a film that, pretty much, all dads love. What makes the day even more special? When you WON tickets! That's right, we're giving away FIVE PAIRS OF TICKETS!
Field of Dreams returns to theaters for two days to celebrate its 30th anniversary, which is also near the 100th anniversary of the infamous 1919 Chicago "Black Sox" World Series scandal that is so pivotal to the film, stirring Ray's desire to set right the wrongs of the past.
On Sunday, June 16 (Father's Day), at 1 p.m. and 4 p.m., and Tuesday, June 18, at 4 p.m. and 7 p.m. (local times), more than 600 theaters will screen the Kevin Costner classic. It's all a part of the TCM Big Screen Classics series and TCM's Ben Mankiewicz will provide insights before and after the film. Of course, you can get tickets at the theaters, the Fathom Events website, or RIGHT HERE BY WINNING A PAIR!
To enter, Follow Us and/or ReTweet/Repost at @80sMovieGuide (no limit on entries) on Facebook, Twitter and Instagram. Leave us a message about why you love or want to see Field of Dreams! Five winners will be selected to win a pair of tickets good at the AMC or Regal Theater of their choice and on the date and time of their choosing (subject to availability) on June 10. Enter now …and good luck!