Overboard
(1987)
starring Goldie Hawn and Kurt Russell

'80s Movies:
A Guide to What's Wrong with Your Parents 
OVERBOARD: Kidnapping, Fraud, White Slavery and Rape -
It's So Adorable!
An entitled, filthy rich heiress suffers amnesia after falling off her yacht. A handyman she had mistreated and refused to pay decides to get revenge and make her work off her debt by claiming she is his wife. He brings her to his house of squalor where she cooks, cleans and takes care of his four wild boys –  all while being tricked into believing they are her family and this is her identity.

Overboard is one of the treasured romantic comedies of the 1980s. It stars one of Hollywood's real-life enduring couples, Goldie Hawn and Kurt Russell – themselves a national treasure.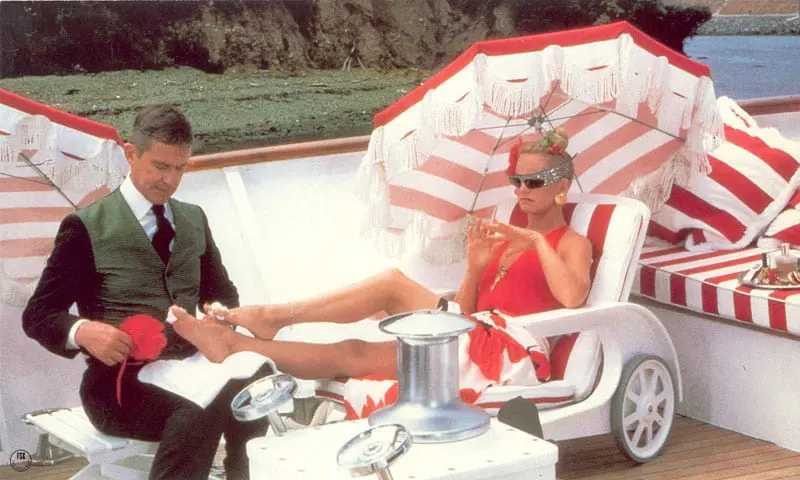 Oh, those sunglasses. Both Joanna and Grant Stayton's giant, plastic over-the-top "new wave" sunglasses are so, so '80s. Other '80s fashions:
·         Joanna's ridiculous, sequined, over shoulder-padded Dynasty-type captain's jacket/bathing suit wrap.
·         Her high-cut swimsuits, zebra prints and the metallic overcoat are all indicative of '80s fashion.
One of Dean's children, little Joe, alters his voice to speak like popular '80s children's show host Pee-Wee Herman. At the time of Overboard's release "Pee Wee's Playhouse" was airing on Saturday mornings.
While Joanna is complaining, she declares "you don't have to sit here, with your perm frizzing!"
While mini-golf courses are still popular, the Wonders of the World mini-golf course the Proffitt's build are reminiscent of the kind of "goofy golf" courses that are a part of every '80s kids' childhood.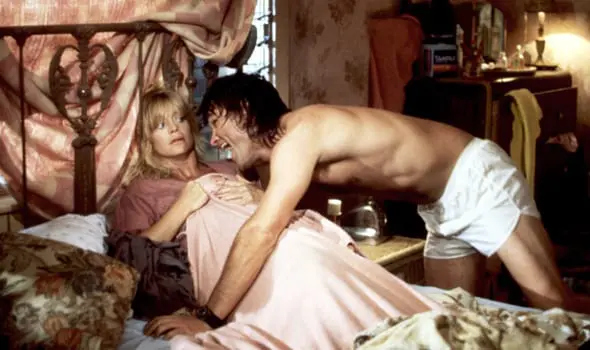 As charming as he is, Dean Proffitt kidnaps, rapes and enslaves Joanna.
Dean Proffitt falsely claiming Joanna Stayton is actually his wife and making her cook, clean and babysit definitely is against the law. The state of Oregon may charge Proffitt with fraud, kidnapping and forgery (documents are faked to show the two are married).
It's hard not to feel like the fact that widower Dean forcing Joanna into domesticity is sexist. However, name a woman who doesn't occasionally fantasize about having someone come in, clean the house, and taking care of their kids! 
Reviewers at the time did recognize the premise had its flaws. The Orlando Sentinel points out that viewers are "supposed to like Dean for taking unfair advantage of a woman with a serious medical problem. What a rascal!"
The LA Times review included this: "…Dixon manipulates sexual fantasies with an overslick, buttery hand--and here they seem a little pathological, coldly sadomasochistic. Joanna becomes captive in a world of men and boys, gratifying their every desire, turning into a slave--while her rotter of a husband cavorts with scantily clad doxies on their yacht."
Of course, viewers can probably get past all the illegality of Proffitt's actions to trick Joanna. She is so arrogant, condescending and awful, that the movie's joy is in watching Joanna's comeuppance. However, the moment that goes too far is when "Annie" and Dean consummate their "marriage." Annie is, of course, Joanna – who is married. Even though we see Grant cheating on her, it doesn't change the fact that before her amnesia, Joanna doesn't seem unhappily married to Grant. Since Joanna is being gaslighted, she is fraudulently misled to believe Dean is her husband, she is tricked – and, therefore, the sex is actually rape (this scenario comes up again and again in '80s films).
After Joanna learns of the entire scheme, she still believes she is in love with Dean. Stockholm Syndrome, anyone?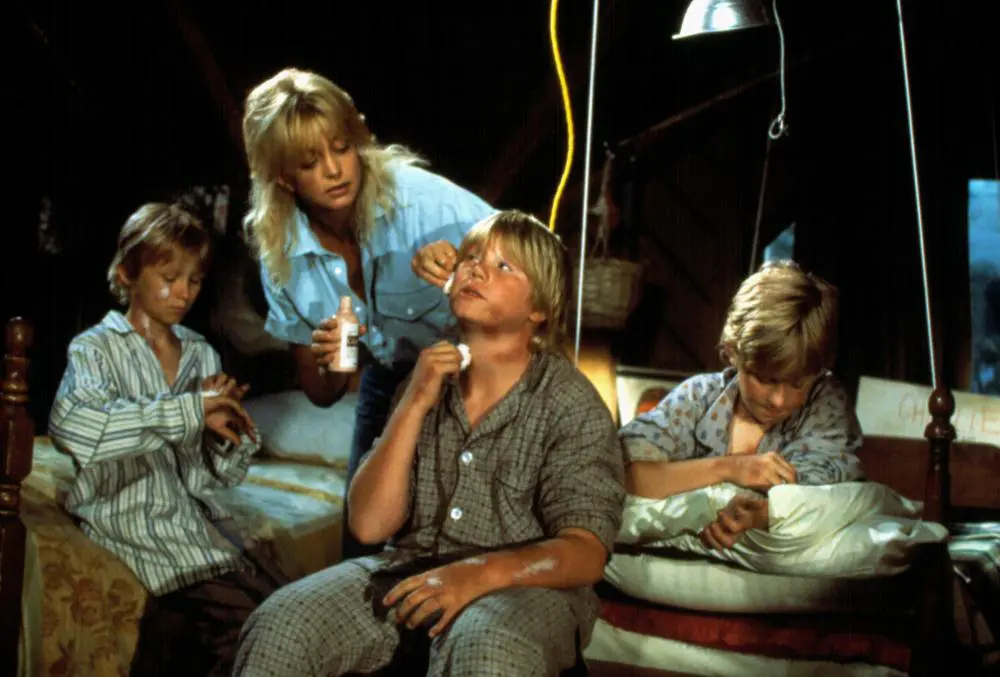 Some of the four Proffitt boys have familiar faces. Here's why:
·         Jared Rushton, who played Charlie, is particularly memorable because he played Josh Baskin's best friend in Big. He was also in Honey, I Shrunk the Kids as the bullying neighbor who also gets shrunk.
·         Jeffrey Wiseman, who played little Joe who speaks like Pee Wee Herman, showed up again in Home Alone. He's the neighbor that gets counted as Kevin. While shooting Overboard, Wiseman was reportedly as rowdy as his character, with Garry Marshall being heard constantly shouting, "Jeffrey! Stop it!"
The kids reference "Dr. Death." It's also the nickname of Kurt Russell's character in a movie he'd made the year before, The Best of Times.
Best known as an actor (especially in The Planet of the Apes), Roddy McDowell was the executive producer of Overboard. He had been hired by MGM to find abandoned scripts from the Old Hollywood era to see if they could be revitalized. However, instead, he connected with the script for Overboard. He didn't take one of the lead roles, but instead, Andrew the Butler. It was a role that well represented McDowell, who was known as the keeper of Old Hollywood's secrets. He was a child actor who'd grown up with the biggest of movie stars. He was known as a great listener and a loyal friend who could keep a secret. He's the guy who knew all of Hollywood's secrets, had the keys to the scandals, and knew where the bodies were buried. And when he died, all the secrets died with him.
Dr. Norman Korman is played by Harvey Allen Miller, a writer on Goldie Hawn blockbusters Private Benjamin and Protocol. He was also a close friend of director Garry Marshall.
Hector Elizondo makes a cameo as the captain of the garbage barge. He is one of Garry Marshall's favorite actors and has appeared in Marshall's movies like Pretty Woman, The Princess Diaries, Runaway Bride, The Flamingo Kid, Beaches, Raising Helen, Exit to Eden, Dear God, etc.
Garry Marshall himself cameos as the drummer at the bar.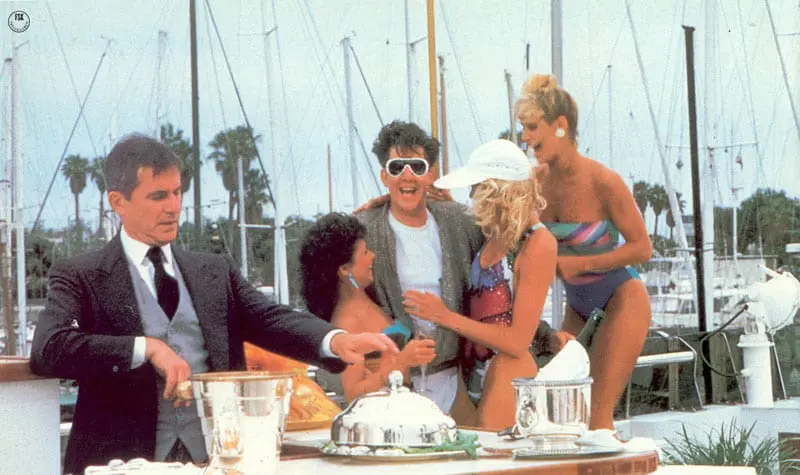 One of the more odd cameos is Rielle Hunter, who was a part of the '80s lit brat pack but became notoriously known as 2008 presidential candidate John Edwards' mistress and baby mama in one of the 2000s biggest political sex scandals. Going under the name Lisa Hunter, she was one of the women partying with Grant (Edward Herrmann) on the yacht. Hunter was an actress in the 1980s and '90s. However, in 2010, Hunter (who has a history of changing her story) claimed she is not one of Grant's girlfriends.
While amnesia is a screenwriter's trope, the concept of Overboard came from a true story: a woman in the 1980s who suffered from amnesia after falling off a boat in Florida. Leslie Dixon (Outrageous Fortune) thought the plot device was "hokey," but she was hired to write it…so she did.
Leslie Dixon wrote Overboard with Hawn and Russell in mind. When the roles were offered to them, Dixon says it was a quick yes. Russell thought the characters were written to the show off their talents.
Overboard was reportedly influenced by the 1974 Italian movie Swept Away about an insufferable wealthy woman who is shipwrecked on an island with a poor sailor.
Dixon did not write the Arturo-Katarina legend that explains why boats honk three times. She has said, "it embarrasses me to this day." In the remake, they take advantage of the legend by working those characters into a telenovela employees at the pizza place where Kate (Anna Faris) works.
Joanna's high-end bathing suits were written into the script, including the barely-there thong. Costume designer Wayne Finkelman made the script's concepts a reality.
Goldie Hawn looks fab in a high-cut thong bathing suit. Just a year earlier, the 41-year old gave birth to Wyatt Russell, her baby with Kurt Russell.
Overboard was a family affair – Hawn and Russell's children were with them during filming. The baby, Wyatt, took his first steps on the set.
Kate Hudson told People Magazine that she was 8 years old during the filming, and it was a wonderful time in the family's life. "Overboard was such a family set because it was almost like this movie where it had all the kids and we lived in Mendocino," she said. "They shot it in Mendocino, and my mom had Wyatt and Wyatt was about 10, 11 months old, and so it was great."
Hudson went on to star in Marshall's Raising Helen and Mother's Day. Marshall has said he loves working with both Hawn and Hudson. "They're pretty much the same [person]…both funny, have a fun time on the set and help me a lot with my gag reel!"
Kurt Russell's father, Bing, plays the sheriff.
Garry Marshall's son, Scott, plays the Coast Guard spotter.
In 2015, Hawn tweeted that she and Kurt Russell watched Overboard all the way through for the first time. In 2017, she recounted the story, saying the couple was about to have sex when it came on…so, that got put on hold. She said watching the film brings back all the memories of how and why she fell in love with Kurt Russell. 
The film was shot in Fort Bragg and Mendocino, Calif. The Wharf Restaurant and Captain Flint's are two local restaurants used for the business meeting and birthday night scenes. 
According to a contributor on Fast-Rewind, there's a scene where Billy Pratt (Mike Hagerty) is drinking beer with four of his Coast Guard friends (a necessary relationship given the film's conclusion). Real Coast Guardsman from Fort Bragg were used – and they gave them real beer. By the end of the day, they were smashed!
John Candy was the first choice to play Billy, but he was already committed to Planes, Trains and Automobiles. 
Soundtrack
Overboard's score is from Alan Silvestri, who had also scored Leslie Dixon's hit Outrageous Fortune. The movie didn't issue an official soundtrack. Below are the popular songs that are heard in the film.
"Can't Help Falling in Love" by Elvis

"Something Special" by Randy Newman

"I Love You Madly" by "Dr. Korman"
"Semper Paratus" by U.S. Coast Guard Marching Band

"Shot Down in Hot Blood" by The Wright Brothers

"Jim Dandy to the Rescue" by Black Oak Arkansas
Director: Garry Marshall
Screenwriter: Leslie Dixon
Release Date: Dec. 16, 1987
Rating: PG
Opening Weekend Rank: #8.
Opening Weekend Box Office: $1.9 million
Lifetime Gross: $26.7 million
Budget: $22 million
Production Company: MGM
Distributor: MGM/United Artists