Splash
"She was the woman of his dreams... she had large dark eyes, a beautiful smile and a great pair of fins."
(1984)
starring Tom Hanks and Daryl Hannah

'80s Movies:
A Guide to What's Wrong with Your Parents 
OUR TAKE ON SPLASH:
A LOVABLE DISNEY MOVIE WITH CHILD NUDITY, BESTIALITY & A SEX CRIME.
Allen Bauer falls for an unusual, beautiful woman who rescued him from drowning, not realizing she's a mermaid.

Splash was a fantasy come true – girls dream of being a mermaid, boys dream of having a mermaid girlfriend. 
Splash was The Little Mermaid five years before Ariel pined about being "a part of your world."
The film made a star out of Daryl Hannah, but, most importantly, it took an affable, well-liked TV star named Tom Hanks and turned him into a movie star, for which the world will always be grateful.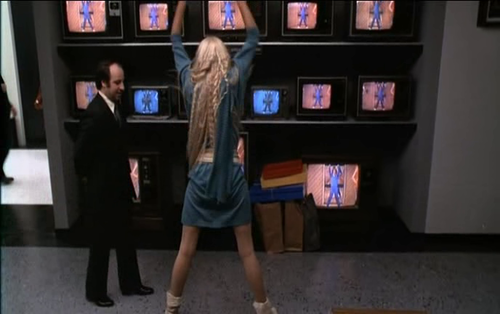 '80s fashion includes Madison's slouchy boots and the Anne Klein ads for Bloomingdale's.
When Madison is learning to speak English in Bloomingdale's electronics department, she watches teeny tiny '80s TV sets and sees classic '80s commercials and does aerobics with '80s icon Richard Simmons to Donna Summer's  1983 hit "She Works Hard for the Money."
Freddie's Trans-Am, the cool sports car of the '80s.
Madison and Allen walk past several cinema marquees promoting films from 1983: Raiders of the Lost Ark, The Outsiders and Lone Wolf McQuade. A poster for Flashdance is in the background at a movie theater. The Evil Dead (1981) is on a different cinema marquee (next to some XXX-rated films of the era). 
Allen says he and Madison need a blood test before getting married, something that is no longer necessary. 
When Madison tail emerges, paparazzi swarm, with a reporter from People Magazine asking, "Is it true she's also seeing [iconic '80s sex symbol] Burt Reynolds?"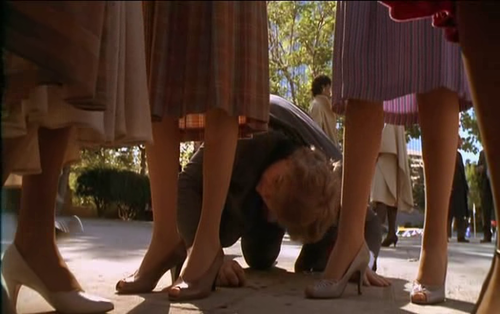 In some ways, Splash can be admired as a film that throws the typical '80s messaging out the window. It's the upside down of rom-coms.  (SPOILER next!) Instead of the fair maiden riding off with the handsome prince into the sunset, leaving her home behind to live in his world, Allen gives up everything to follow the woman he loves - Madison guiding him through her world. Additionally, Madison is a woman in charge of her own sexuality with no hang-ups (how nice to grow up in a society that does not body- and slut-shame, even if it is a society of fish people).
Cringeworthy '80s filmmaking moments are present, mostly Freddie. The film opens with 10-year-old Freddie dropping quarters by women's feet so that he can get down on his knees and then look up their skirts. When his mother catches him, she tells her husband so he will discipline him. Freddie's dad just gives him a light smack in the side of the head. Yep, dad, that's the way to handle a sexual predator! Freddie grows up to be a womanizing, cheating lout whose only moral standard seems to be looking out for his brother (including successfully getting a client by telling him Allen is a war hero with a disability). None of Freddie's behavior really matters, he is successful in business and gets the women. Freddie's only consequence, it seems, is that he is unable to keep love - but it's hard to feel sorry for him. This is the guy "brought a date to [his] own wedding."
Freddie aside, the most appalling and '80s moments happened in the making of Splash. 
Brian Grazer conceived the idea of what it would be like to fall in love with a mermaid in 1977. He would spend the next seven years pitching it to every studio in town before he realized the reason behind the rejection. Grazer was pitching it too much from the point of view of the mermaid – literally, a fish out of water story, but still, not relatable (READ: to male film studio execs). He adjusted the pitch to focus on the love story – about the MAN who falls in love with a mermaid, shifting the story from her perspective to his. Of course…that was the needed switch.
So, first, let's give credit to Grazer for thinking from the female point of view and being so green that he never dreamed Hollywood was only buying male-driven stories.
Okay, now let's examine how that switch changed the subconscious messaging of the movie. Madison became male fantasy fulfillment:
·         She's physically perfect.
·         Unlike Allen's previous girlfriend, Madison doesn't need affirmations of love or even conversation – she just wants to get nasty. 
·         She has no expectations of Allen whatsoever. In fact, when he gives her a gift from Tiffany's, she's thrilled with just a box.
·         She rejects Allen's marriage proposal…which means she was just planning to have wild, nonstop sex with him for 8 days and then leave, never to be heard from again – no strings attached.
·         Allen blows up and speaks cruelly to Madison. She runs off, but she returns with the answer he wanted to hear. He didn't have to "pay" for his outburst with a thousand apologies, cold shoulders, or worse – a long conversation.
·         When they're reunited in the lab, Madison tells him he doesn't have to feel bad about not loving her anymore – no guilt trips.
·         Basically, Madison was willing to give everything up for Allen (from her necklace to her family) without ever asking for anything in return.
The other part of the troubling part of Splash is also behind the scenes. Daryl Hannah didn't want to bare her breasts through the film. Ron Howard was bent on having a naked, gorgeous mermaid. He said Hannah talked him out of it, persuading him it would be more sensual if her breasts were not exposed. However, Grazer has said it was the deal with Disney that forced their hand to keep her breasts from being seen. (Details below under "Nudity".)
The more revolting and heartbreaking part is that Howard insisted the 7-year-old model who plays Madison take her top off for filming; Shayla Mackarvich, now an adult, has said that she was adamant about not wanting to be topless. She details how Howard had even enlisted Hannah to talk her into being comfortable with being filmed with no shirt. When it was time, she was made to remove her top, which caused her great emotional distress. When the camera captures her crying because Allen is taken away, she's really crying because she wants her mother to come get her out of the situation. 
GETTING THE GREENLIGHT
The inception of Splash begins as a humiliating meeting between producer Brian Grazer and iconic studio head Lew Wasserman. At the time, Grazer was a recent USC grad who had more or less conned his way into a job as a law clerk for Warner Brothers. He used his studio title to get meetings with people, with a goal of meeting a new person every two weeks – this is how he'd met Ron Howard, by calling down to him from his office when Howard was on the WB lot, and then going downstairs to meet him. Using this strategy, Grazer had succeeded in getting an appointment with Wasserman and then unexpectedly encountered him in the elevator on the way up to the executive's office. Grazer put on his usual charm and tried to get the conversation going. Wasserman shut Grazer down, declaring, 'You don't have much to say." Grazer said Wasserman basically kicked him out, but first handed Grazer a notepad and a pencil. "He says, 'Put the pencil to the paper, and it's worth more than it is at separate parts...Okay, now get out of here!'" said Grazer, who added that he realized, "What he meant was you have to own your own ideas." Thus, Grazer said, "[Splash] was birthed out of that moment that I had with Lew Wasserman kicking me out of his office!"  
The specific idea of Splash came to 25-year-old Brian Grazer when he was driving along Pacific Coast Highway near Malibu – a stretch that is pure ocean view – and reflecting on the day he'd had before, the day he met his wife: ''I saw this great girl in a bathing suit running down the beach and we stayed up all night and drank champagne. For the first time in my life, I realized you can have true love. And I thought, 'What if a guy meets a mermaid and has to give up everything to get her?'''
He would then pitch that idea to studios for the next seven years. Most studios rejected it, thinking it too silly. Grazer said, "I probably had 500 turndowns. I'd have turndown after turndown, and then people would say, "You just pitched this," or, "You just submitted it, but now it's from the guy's perspective." Or now I have this, or I just got John Candy, and some people would say, "Who cares," some people would say, "Great, now who's going to be the lead?" 
Finally, United Artists was in and funded development.  "I wrote the first couple of drafts of the movie Splash, but it actually got really good when Lowell Ganz and Babaloo Mandel wrote it like professional writers," Grazer told The Hollywood Reporter in 2016. "I was just writing something to survive, so that I could say, "Hey, I have a script," and then tell the entire story. And then somebody would say, "Let me read it," and I'd say, "Oh, you don't need to read it. What I'm telling you is what it is." 
With the funding from UA,  Bruce Jay Davidson (Stir Crazy, Doctor Detroit) was hired to write the script. By 1980, Stan Dragoti (Mr. Mom) was signed to direct.
It turned out that Splash was the little mermaid in the big ocean – there was a great white nearby eating up the interest: Mermaid, a $30 million (read: big budget for 1984) film with commitments from a host of heavyweights: Warren Beatty as star, Robert Towne (Chinatown) as writer, Herbert Ross (Footloose, The Goodbye Girl) as director, Ray Stark (Funny Girl, Annie) as producer, and Carlos Rambaldi as mechanical designer (he created the actual E.T.!) Jessica Lange was in talks to play the mermaid, but the 1981 writer's strike loomed ahead. "It was its own little David and Goliath story," said Grazer. "I was very resourceful, kind of crazy, and connected to some source that made me believe in what I was doing greater than what they were doing." 
Grazer zoomed in to hire Alan Mandel (Smokey and the Bandit) to do a rewrite, but he didn't care for it. United Artists was ready to go with Mandel's script, but Grazer preferred the Friedman script so UA – and Dragoti - let the project go.
Starting over, Grazer looked to his the team that made his prior (and first ever) film, Night Shift, successful. He teamed up with Ron Howard – also just building a name for himself in the directorial world – and they took the project back to Night Shift production company, Ladd Company. Still trying to compete with the behemoth Mermaid project, Grazer and Howard brought back the writers from Night Shift, Babaloo Mandell and Lowell Ganz, to rewrite the Friedman script. Then, Ladd Company passed. Disney was looking to get away from simply being kids stuff to creating more adult fare – Splash was a great first entry. The Touchstone label is specifically for Disney movies with more mature content (such as Something Wicked This Way Comes). ICM agent Jeff Berg connected the two and made the deal for Splash to be made for Touchstone. 
In the end, Mermaid never surfaced. Robert Towne was hired to do the rewrite (in which the Oscar winner was paid half a million dollars) in April 1983 – one week before Splash started principal photography. Howard said, "Beatty and those guys didn't build their careers by racing to beat strike deadlines…We, on the other hand, were happy to win a footrace." 
The thing is, though, that after they finally got the greenlight from Disney – who decided they didn't care about the other mermaid movie – Ron Howard quit. He believed Disney would force him to make a family film instead of his naked sex-crazy mermaid love story. Grazer said, "I had to appeal to the Board at Disney to say, 'You can't recut Ron Howard's movie or he won't make the movie, he'll quit as he said. I know you have a thing about the nipples, but I'll cover up the nipples up. She just can't wear a bathing suit top! Eventually, the movie got made, and I made it faster than Ray Stark – thank God! - and it gave birth to my career, Ron Howard's career, Tom Hanks and certainly Daryl Hannah's."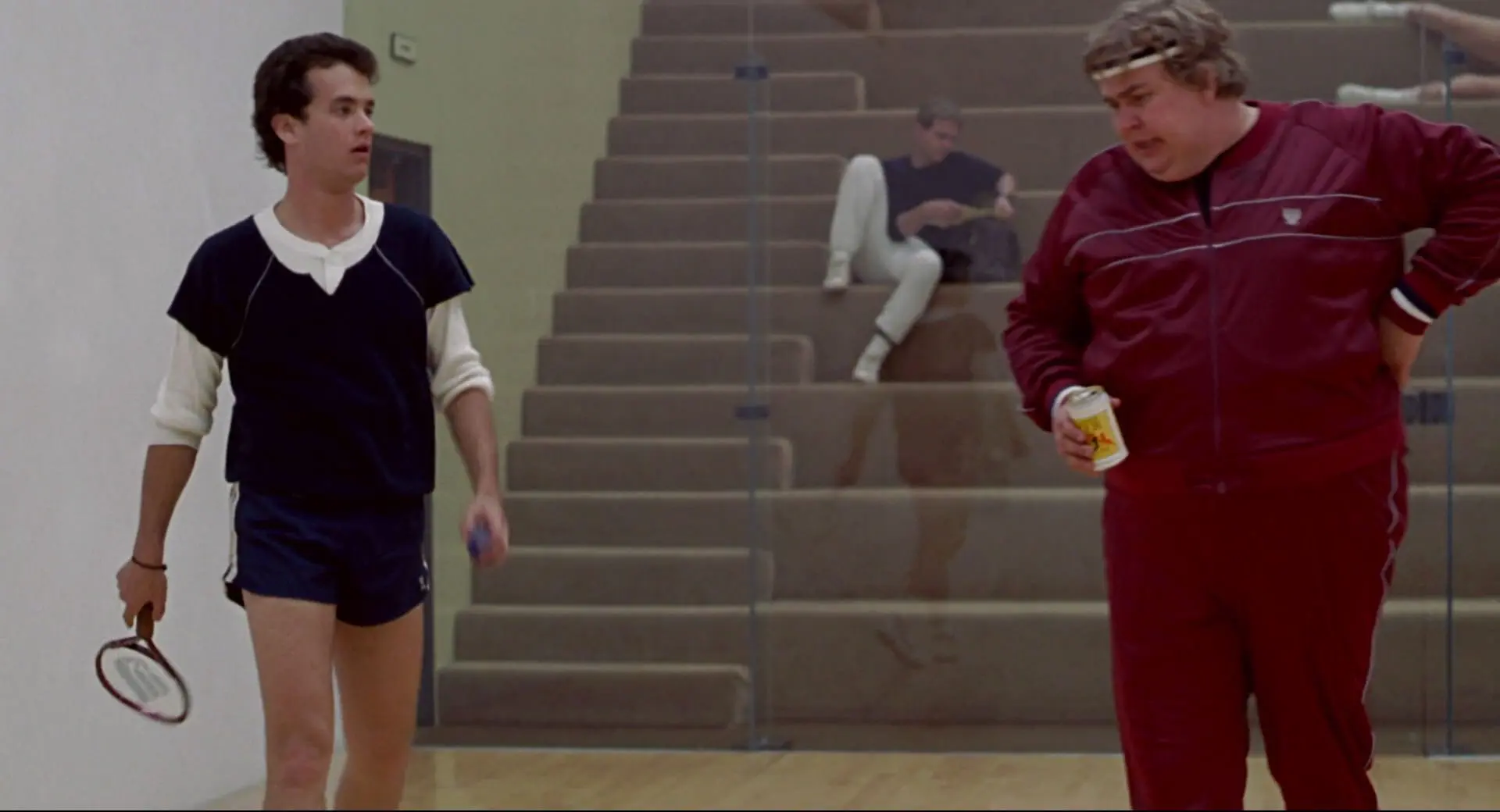 FUN TIDBITS
Brian Grazer said Splash is really about self-respect.
Ron Howard is a Pisces, the sign of the fish.
Howard turned down directing Mr. Mom and Footloose to helm Splash.
Steven Spielberg sent Ron Howard a note after Splash, congratulating him on the film.
More concerning elements of nature tried to interfere with shooting in the Bahamas. "I remember Ron Howard giving me the sign to go to the bottom," Hannah told Empire Online, "and thinking that there's either some big sharks around or a storm. It was a storm passing over – we were right in the Bermuda Triangle – but we did have a shark once." 
Howard's initial cut was 2:40. He edited out nearly an hour, some with the help of preview audience feedback. He told Starfix magazine he cut a scene "in which Tom Hanks and John Candy evoked their youth" as well as an "underwater scene where we saw the mermaid Madison exchange dialogue - subtitled - with an old witch who had once followed a sailor who had been banished because she had failed to return on time. I thought that if we had from the outset another mermaid next to Madison, this story would trivialize it a bit."
John Candy and Darryl Hannah became good friends, and Hannah said they grew to have a fun "thing" that they'd do. "I used to sit on his lap all the time and he would talk for me and I'd mime what he was saying like a ventriloquist doll. He'd answer questions for me in interviews."
The scene where John Candy gets taken down by a tennis ball was done in one shot. Thankfully so because he really got hit by a tennis ball! 
That was useful for Hannah, who has Asperger's Syndrome. She said doing the publicity was hard on her. "I would try to avoid those things at all costs," she said. "I wasn't trying to be difficult; it was just that those things really scared me. These days I have little tricks that I do to help me cope. As long as I remember to do them, then I am OK." 
Hanks and Hannah have palatable chemistry, but don't read anything into it - it's all acting. At the time of Splash, Tom Hanks was married to Samantha Lewes with two young children: Colin, age 6, and Elizabeth, age 2.
Candy also had a young child. His daughter Jennifer was then 4. After Splash, Candy signed a three-picture deal with Touchstone to develop, write and star in films for them – no films materialized from the deal.
Hannah already had The Pope of Greenwich Village in the can by the time Splash premiered, but it buoyed her to get her next role: The Clan of the Cave Bear.
On opening night, Howard and Grazer rented a limo and drove past all the theaters. "[Brian] was directly responsible for the most wonderful night of my life,'' said Howard. We saw all the lines and had pizza and drove to more theaters. It could have been a disaster if no one had showed up.'' 
It was a memorable night for Grazer as well. ''When Splash opened and people were standing in line, that's the moment I felt successful,'' he said.
LEGACY
Splash was a huge success from opening day. By the way, no one saw it coming. Hanks told People Magazine, "I didn't think it would be a stinker, maybe a little cartoonish, but the first weekend I get a call: 'Six million bucks at the box office.' You're in your first big film. It's beyond my comprehension. That's a lot of money. You can't get it much better, right outta the box. It's perfect."
Hanks, though, probably did identify why it connected with audiences. He told Entertainment Tonight, "I think everyone was perfectly willing to blow any sort of semblance of reality away when they're talking about a mermaid. Mermaids are so deeply rooted, as far as folklore is concerned, that they're almost like Tinkerbell. Okay, alright, we know it doesn't happen, we know it's not possible, but c'mon, let's have a little bit of fun here and just let reality slip, and get into the knowledge that mermaids exist and are as beautiful as Daryl Hannah is, and that they can fall in love with mortals just like us. It's a nice way to approach going to the movies, the same way as seeing a little extraterrestrial eat the little candies, you know it's not going to happen, but gosh it's so neat, let's just suspend disbelief, it's only an hour and 40 minutes, there's plenty of time to deal with the hard edge of reality for the rest of our lives."
Howard credits Hannah with the movie's success: "Very few actresses could have done what Daryl Hannah did," said Ron Howard to Starfix.  "She is perfectly at ease in water, and is the key to the magic of Splash."
Hannah's character is named Madison. It was a joke in the movie because she's named after the famous New York City street, Madison Avenue. The character inspired new parents to name their baby girls Madison. By  2001, it was the second most popular girl's name in America. In 2017, Madison was the 17th most popular girl's name, most people today it came from Splash.
Disney made a sequel in 1988, the made-for-TV movie "Splash, Too."
The Little Mermaid had been in development for a while at Disney Animation, but the success of Splash inspired them to move forward with the animated film. According to IMDb, Ariel was given red hair so that she didn't resemble Madison.
Ron Howard, a beloved child actor, was garnering respect as a director after 1977's Grand Theft Auto and Night Shift. However, Splash's box office success helped him get to the next level. He told People he was in the "lunch with Steven" club – meaning, he could now get a lunch meeting with director Steven Spielberg who commanded Hollywood in the 1980s. He also was able to raise his fee, getting $1 million for his next pic, Cocoon.
Hanks predicted great things for Howard, joking to People at the time: "Ron will be huger than all of us, and we'll really be bitter about it in the future. Ron's the king."
Of course, Hanks, Candy and Hannah would all become household names. Hanks' next movie was Bachelor Party, which he committed to before he knew Splash would be a big hit. He reunited with John Candy just one year later in Volunteers, an unmemorable film except for one important footnote: its where Hanks met his future wife, Rita Wilson.
In Paddington (2014), there's an homage to Splash. When Allen asks Madison her name, she says it in her language, a dolphin-type pitch that shatters the TV sets. When Mr. Brown asks Paddington his name, he responds with a bear roar.
Denzel Crocker in Nickelodeon animated series "The Fairly Oddparents" is based on Dr. Kornbluth. Crocker also (correctly) believes in a mythological creature, but is treated with skepticism and mockery.
A remake is scheduled for (May 2019) with a gender switch twist: Jillian Bell will play the landlubber and Channing Tatum is a merman! Tom Hanks told the Associated Press that the remake is playing it too safe. "I figure if they were really going to be bold, I would come back as Allen Bauer, and I would go off with Channing Tatum. That would be a bold movie, and I am suggesting it right now!"
Stars of the remake say they're game for it, too. Jillian Bell, who will play the land-based human, told Us Magazine, "I would personally love if some of the old cast came back. I was a huge fan of it as a kid. I think it was a movie that every kid watched a million times and just totally fell in love with both of those characters and the idea of mermaids being real. That was something that was exciting for us and we thought that could be brought back around today." She added, "My favorite scene is where Daryl eats the lobster."
All kidding aside, Grazer said the gender switch will be powerful: "It actually deals like with the power dynamics in favor of the feminine and by appreciating the feminine dimension.
The original is pretty powerful! Just ask Charlize Theron, who said, "I learned everything about love, watching Splash. That's why I'm still single, so thanks Tom Hanks and Daryl Hannah for that." 
Soundtrack
The original soundtrack released in 1984 by Cherry Lane Records Ltd. on vinyl and cassette consisted of 14 tracks of the score written by Lee Holdridge and performed by the Royal Philharmonic Orchestra. In 2000, a 26-track version was released by Super Tracks, but only for a promotional purpose - the CD was never offered for sale. Those 26 tracks included all of the music in the film as well as a few interpretations of the songs that were not in the film. Some kind soul did upload it to YouTube and you can listen HERE. 
The Super Track compilation includes the film's love/theme song, "Love Came to Me" performed by Rita Coolidge, which was never released as a single. 
Director: Ron Howard
Screenwriters: Brian Grazer, Bruce Jay Friedman, Lowell Ganz & Babaloo Mandel
Release Date: March 9., 1984
Rating: PG
Opening Weekend Rank: #1. #2 was likely the rerelease of Pete's Dragon. Footloose was #3, Against All Odds was #4. Other new releases were Children of the Corn (#8) and The Hotel New Hampshire (#13).
Opening Weekend Box Office: $6.2 million
Lifetime Gross: $69.8 million
Budget: $8 million
Production Company: Touchstone Pictures
Distributor: Buena Vista Pictures