Shipwrecked and marooned on an island paradise alone, two children grow up to create a life and family together. 

Brooke Shields graduated from supermodel superstar to bonafide movie star.
Top 10 film at the box office in 1980 (No. 9, to be exact).
From the cinematography to the score to the stars, it's possibly the most visually beautiful film ever. 
It certainly got people talking about cinema.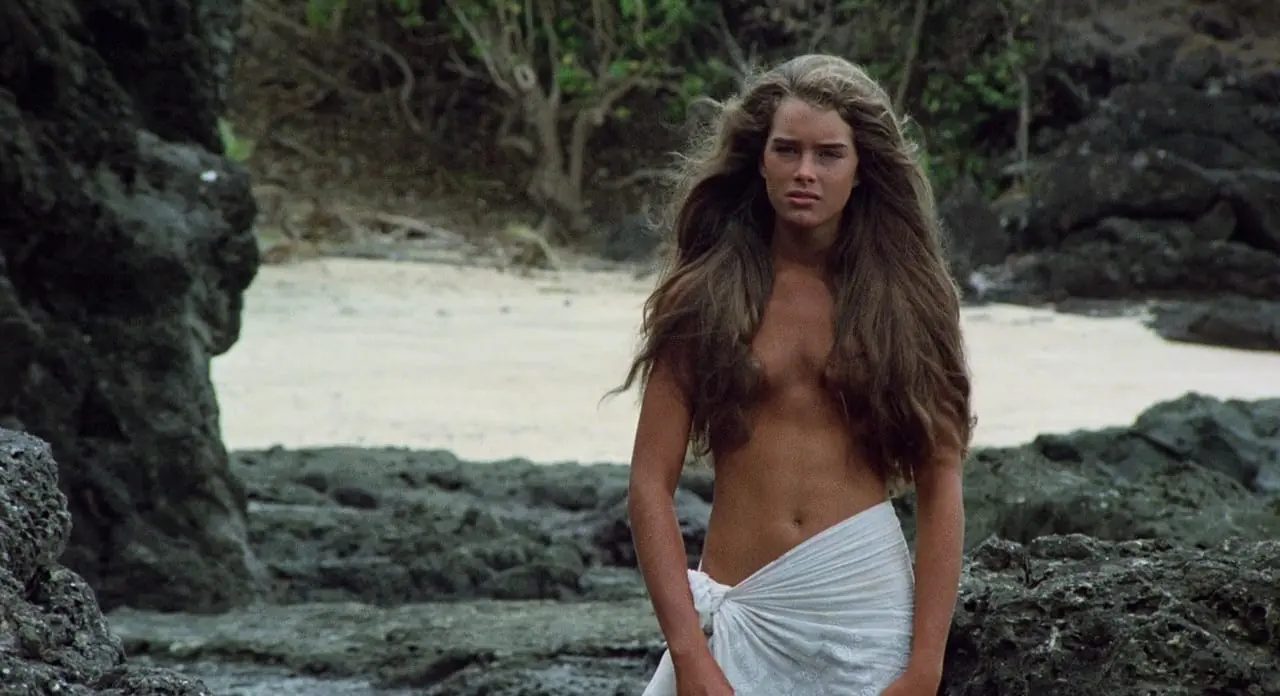 Brooke Shields was a crucial part of the '80s. Not only was she a key personality, she helped shape early '80s attitudes through her provocative yet virginal Lolita brand and her eyebrows. Everyone wanted bushy brows like Brooke's.
Other than during the dawn of cinema, there's almost no other moment in time when The Blue Lagoon could be made with this cast. While society was shocked, the male nudity alone wouldn't have passed The Hays Code. When Hollywood finally began rebelling from the self-regulated Code, the envelope pushing began in the late '60s using adults. By the late '80s, a depiction of a barely pubescent teen barely clothed and having sex would've been outrageous. What would be interesting to know -- and we never will -- is what if the of-age actresses who were offered the role had accepted (like 24-year-old Carrie Fisher), would the movie have been as controversial or as memorable? 

Brooke Shields. The model had been on the job since she was 11 months old. Shields says in her book and in interviews that her mother would always say, "work generates work," saying no, it would seem, to nothing. Even if that meant her child became a pedophile icon. Playboy published photos of her wearing full makeup and no clothes standing in a bathtub at age 10 in one of their publications. At age 12, she was full on naked as a prostitute in Pretty Baby. At age 14 she depicted nude and sexually desirable in The Blue Lagoon, which is soft erotica. At age 15, she's in the provocative Calvin Klein commercial where her shirt is undone and she rolls on the floor uttering the words, "What comes between me and my Calvins? Nothing." Her whole image was being very sexually provocative in a "who me? I'm just a child" kind of way. But, don't blame Shields: she's a victim of sexual exploitation led by Hollywood and Madison Avenue, her mother-manager, who made her decisions for her, the enabler. The few interviews on YouTube from the era show Shields having to defend herself, her mother, and the films while giggling away lewd come-ons from grown male reporters. It's icky, unfortunate, and she's written about the confusing position it put her in to be both America's virgin sweetheart and a sex symbol when she didn't truly understand what that meant.
An acceptance that young, pure, and beautiful is sexy -- and there's nothing wrong in thinking young girls are hot. The image Shields was generating was actually already popular. A perfume called Love's Baby Soft promoted this notion (well documented by Mondo Molly) and whose packaging resembled a penis. This wasn't a novelty item found in Spencer's Gifts. This was a mainstream, mass marketed item. No one raised an eyebrow at the time because this was the mindset of "The Permissive Era." The images of a young girl sucking on a Popsicle or licking a lollipop: this is the origin story. When you hear the horror stories of Roman Polanski, Roy Moore, Jeffrey Epstein, and Donald Trump molesting, assaulting, raping, or hitting on young teens or having underage sex parties, this is the origin story. Pedophilia in Hollywood? This may very well be the origin story: stories of child actors being molested and raped from others in the industry seem to be prolific starting in the '70s and grew in the '80s. Stories from previous eras are less frequently heard, but that could be that it's only because the secrets are starting to spill now.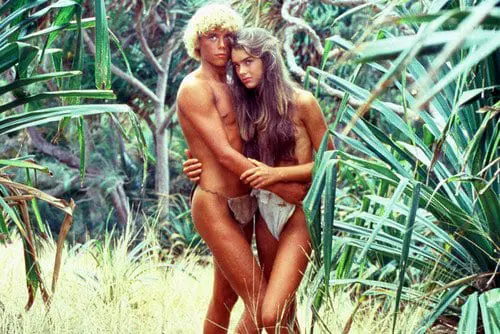 Sexualizes kids. The film isn't so much about how kids would survive on an island – which is fascinating – it's all about when are they going to start boinking? From showing them cuddled up as kids to Emmeline saying "I'm having these strange thoughts about us" … it's all about when are they going to figure out how to have sex. The Blue Lagoon is erotica featuring minors, plain and simple.
The child nudity. Whether it's a penis floating during a sea swim or Emmeline's constantly exposed breasts, there's a whole lot of naked. An argument might be made that it shows a purity, their lack of self-consciousness reflects a beautiful innocence. However, this isn't two children that you stumbled upon running on a South Pacific beach, it's a Hollywood movie made by the director of Grease who is fully aware that he's putting naked children on the big screen for adult consumption. There's no need to include a scene where preteen Emmeline walks around topless next to 10-year-old Richard, who is wearing a tank top, except to be titillating. 
Encourages pedophilia. A coming-of-age teen romance is one thing. Portraying a real life 14-year-old as an adult object of desire by putting her in sexual situations and positions is quite another. Her exposed breasts are caressed. She's shown swimming in the nude almost constantly. She's often topless or covered only by her hair, sometimes breast-feeding, and one time with an implication her mate is suckling on her breast as well. The sex scene has Shields and Atkins completely naked: we may not be able to see the actual goods, but we see her entire side body exposed and intertwined with his. In 1980, adults at the age of 30 were often portraying teens (for instance, Olivia Newton-John playing high school senior Sandy in Randal Kleiser's previous film) so it's not like society was insisting on some kind of age accuracy. It doesn't matter if an adult body double stood in for the shots behind the scenes, it's what was on the screen that mattered. The film was pushing a pubescent child as a sex symbol, and the film's very commercial existence gave subliminal permission to adults that it was okay to desire children.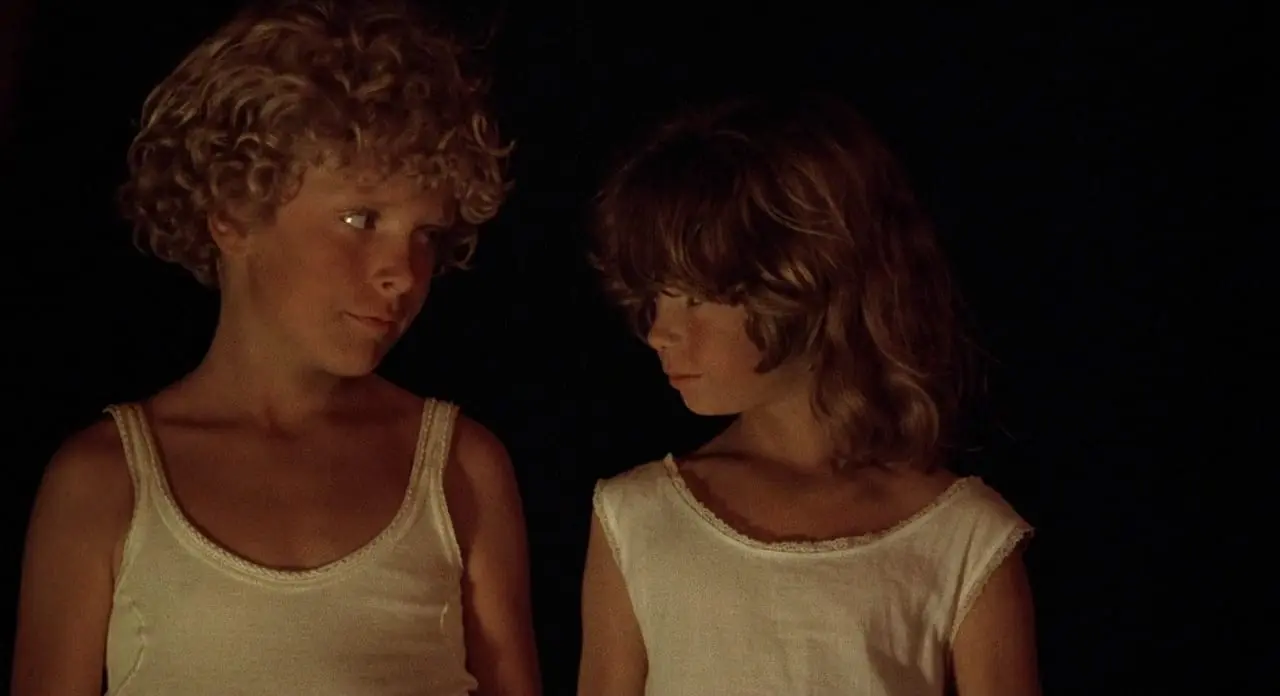 ANSWERS TO THE QUESTIONS YOU HAVE AFTER WATCHING THE BLUE LAGOON.
Where are they and can I go? Fiji. Specifically, Turtle Island and Vitu Livu.
How old are Emmeline and Richard? In the novel the film is adapted from, the children are 7 years old when they are stranded on the island. The screenplay puts them at "eight or nine." Paddy dies two and a half years later, so we'll assume they're 10. Neither the book nor the movie make it clear how many years have passed, just that "Richard and Emmeline have grown up beautifully."
How old were the actors? Brooke Shields was 14 and Christopher Atkins was 18-19 during filming. They were both models.
Is Brooke Shields, an eighth-grader, really naked in the film? The official story is that it's an adult body double, mostly a 30-year-old Australian diver. Shields testified to Congress they used a body double in some shots, and apparently they were satisfied with that answer (she wasn't brought before Congress to testify about that – it was about her anti-smoking PSA being pulled because Congress said she wasn't a good role model for kids). But, "some" shots is an interesting choice. And in at least one shot, you can see both Shields' face and her breasts.
What kind of fish does Emmeline step on and can stepping on a fish really kill you? She steps on a stonefish, which is poisonous and it could potentially kill a human. 
What are the never-wake-up berries? In the book, it's called the arita berry, which doesn't appear to be a real thing. However, berries do exist which are poisonous, however, they don't resemble the ones in the movie.
What is the ritual the natives do? Human sacrifice. The novel's author, Dr. Henry De Vere Stacpoole, served as the ship doctor for several South Sea voyages, so the inclusion of the native rituals that include human sacrifice may be based on truth. The ritual that's on screen is performed by local Fiji natives, but on the commentary track, Kleiser said the natives weren't clear on if it was a real ritual or not, or he had no idea how the words they use in the scene translate - they could be insulting the crew or speaking nonsense for all he knows.
Who is Randal Kleiser and why would he make this movie? Well, Kleiser said he thought he knew teens pretty well. This was his follow up to the blockbuster Grease (1978). Of course, in real life, the actors playing Danny, Sandy and Rizzo were in their 20's and 30's.
How does Emmeline has a pretty extensive all-white wardrobe? Conveniently, Paddy and the kids are able to grab a floating hope chest that's bobbing by their lifeboat. Bridal trousseau's were popular in Victorian times and contained lingerie, clothes, linens and towels that a new bride would want for her wedding night and setting up her new home.
How do the very pale skinned Richard and Emmeline never burn without sunscreen? Right?
MAKING THE MOVIE
Randal Kleiser's follow-up to Grease. As the director of the third biggest movie of the '70s decade, it would seem Kleiser had the cache to make any movie he wanted. He'd fallen for Henry De Vere Stacpoole's 1908 novel and was passionate about turning it into a film.
The idea was to adapt the film more closely to the book.  "I absolutely love the book and I thought it would be fun to do a movie that was closer to the novel," Kleiser told Illeana Douglas on the "I Blame Dennis Hopper" podcast. "The movie made in the '40s with Jean Simmons didn't follow the story because it couldn't. They couldn't get into the sexuality of children growing up without any instructions, so they had subplots about pirates coming in and making them dive for oysters, and things like that.
Kleiser had pitched The Blue Lagoon all over town before he made Grease and he says "every studio turned it down." In an interview with Xecutives.net, the director said, "They said no one will go see a movie with only two people in it." Of course, this was before he directed Grease and was just known as a TV movie director. Columbia Pictures' studio head Frank Price finally said yes, Kleiser said, because he'd seen Kleiser's college thesis film, Peege -- although it seems hard to believe that he didn't say yes due to the fact that again, Kleiser had just directed a pop cultural sensation that brought in millions. 
As soon as Kleiser got the greenlight, he hired an old colleague to write it. Once Columbia was in, Kleiser said he called one of his last collaborators. "I hired Douglas Day Stewart, who wrote [TV movie] "Boy in the Plastic Bubble," and he and I began working on the script."
Kleiser's vision was to have the cast be completely naked after they land on the island, all the time. The pushback didn't come from the studio, it appeared no one said, "hey, maybe you shouldn't depict naked kids and teens and put them in sexual situations." Rather, he couldn't find any teen actors or actresses to take the role. For the record, the script has lines with Paddy telling them they didn't need to wear clothes to swim, and in the next scene, telling them later it's not proper to run around the island without clothes. Other indications of clothing is only when they are wearing specific items that relate to the story.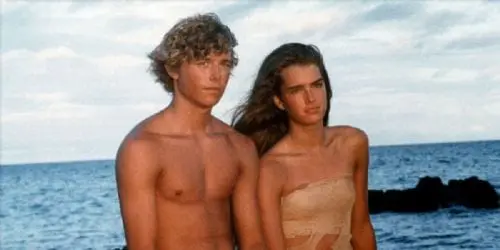 CASTING
John Travolta was offered the role first.  Kleiser had a history of successful work with Travolta. Travolta was the breakout star of the TV sitcom "Welcome Back, Kotter" when Kleiser hired him for his TV movie, "The Boy in the Bubble," which wasn't just successful, it introduced Travolta for his first, great love, Diana Hyland, who died from cancer four months after the show aired. Following the TV movie, Travolta starred in Saturday Night Fever, which was a massive hit. He signed on to do Grease and requested Kleiser. However, then 26-year-old Travolta wisely passed on The Blue Lagoon - can you imagine Travolta in the role? 
Brooke Shields was "devastated" she wouldn't star opposite Matt Dillon. Shields wrote in her memoir "There Was a Girl" that she was thrilled about the casting of Dillon, but it wasn't to be: "Matt's mother was against the idea and they turned it down. I was devastated because I knew Matt and thought he was cute and talented. He was very sweet about the whole thing and made it a point to tell me that his decision was in no way a personal affront to me."
Jennifer Jason Leigh was offered the role, but her dad made her turn it down. Leigh came from Hollywood parents: actor Vic Morrow (Cimarron) and writer Barbara Turner (Pollack, Hemingway & Gellhorn). She was 18 and just started her career, doing small roles on TV series. Morrow told her she couldn't take the role. 
Carrie Fisher also turned the part of Emmeline but not because of the nudity. The then 24-year-old actress hadn't worn a gold bikini yet, although she had played a sexually aggressive teen who beds her mother's lover in Hairspray -- so it did seem like excellent casting. Fisher reportedly passed because the shooting schedule conflicted with Star Wars IV: The Empire Strikes Back.
Dana Plato, Charlene Tilton, Isabelle Adjani, and Lori Loughlin also passed on playing Emmeline. The 22-year-old "Dallas" actress and the 16-year-old "Diff'rent Strokes" actress turned down the part because, like Fisher, it conflicted with the schedule for their primary acting gig. Similar to Shields, Loughlin was a teen model whose face was brightening up TV commercials, she'd just landed her first consistent acting job on the soap opera "The Edge of Night." Adjani, 25, had just had a baby. Both Adjani and Plato had previously turned down the role of Violent in Pretty Baby, a role which was then given to refusal turned into an opportunity for Brooke Shields.
The actresses who auditioned or were considered for Emmeline was a who's who of young Hollywood. The list includes (with the work they were best known for at the time):  Michelle Pfeiffer ("Delta House"), Sarah Jessica Parker (Broadway's Little Orphan "Annie"), Jodie Foster ("Freaky Friday"), Jamie Lee Curtis ("Halloween"), Tatum O'Neal ("Paper Moon"), Kim Basinger (model), Kathleen Turner ("The Doctors"), Melanie Griffith (a model who was doing quite a bit of nudity in films), Darryl Hannah ("The Fury"), Kelly Preston (just starting out), Rosanna Arquette ("Shirley"), Amy Irving (Carrie), Mariel Hemingway (Lipstick, Manhattan), Ally Sheedy (TV commercials), Bridget Fonda (related to all kinds of Hollywood royalty), Angelica Huston (daughter of John Huston, The Last Tycoon), Kristy McNichol ("Family"), Justine Bateman ("Family Ties"), Melissa Sue Anderson ("Little House on the Prairie", Linda Blair (The Exorcist), Ellen Barkin (off-Broadway), Delta Burke (former Miss Florida who was booking TV roles), Jill Schoelen and Kay Lenz. Molly Ringwald ("The Facts of Life") had several callbacks, including screen testing with Lou Diamond Phillips.
Diane Lane and Willie Aames accepted the roles and were all set. Apparently they met with Kleiser on the Friday before shooting was to begin. It seems during that meeting, Kleiser explained the extent of the nudity (again, the script doesn't make it clear). Lane and Aames spoke after the meeting and decided they were out. Kleiser then had to scramble, telling Ileana Douglas, "They both called on Friday and said they didn't want to do the nudity, so I had a crew waiting in Fiji." Incidentally, Aames told My Devotional Thoughts there's a different reason the duo backed out: "Diane couldn't get out of some commitment, and I couldn't get out of Eight Is Enough."
Desperate, Kleiser reached back out to Brooke Shields and made some concessions. He said Shields was always his top choice (although, obviously, that seems like the right thing to say), but she wasn't available. He reportedly agreed to scale back the nudity, cover up the 14-year-old, and get a body double. Teri Shields, the original "momager," also negotiated that she and Brooke could have family and friends join them on the island during filming as well as to have the studio pay for Brooke's stepsister to join her during the trip to Los Angeles for the press junket. He got a yes.
Kleiser poured over the auditions tapes. He thought Christopher Atkins could play the part if he permed his hair. The thought was the wilder curly hair would make Atkins look more "savage." Gotta notice that the perm made Atkins look more like Willie Aames, whom Atkins would be replacing. 
Christopher Atkins went through a whirlwind. "They whisked me off out of New York, sent me to LA, met studio heads in Los Angeles at Columbia Pictures, and before I knew it, two days later, sent me on to Fiji on to Turtle Island," he reflected in a promotional video for the Turtle Island resort.
Casting an unknown wasn't the plan. Christopher Atkins was a newly signed Ford model who'd never acted before. In fact, the 18-year-old was headed to college when the spring before he began, a photographer urged him to go to Ford modeling agency. They signed him on the spot and he started working immediately. Shortly after, he was cast in the lead role, with no acting experience whatsoever.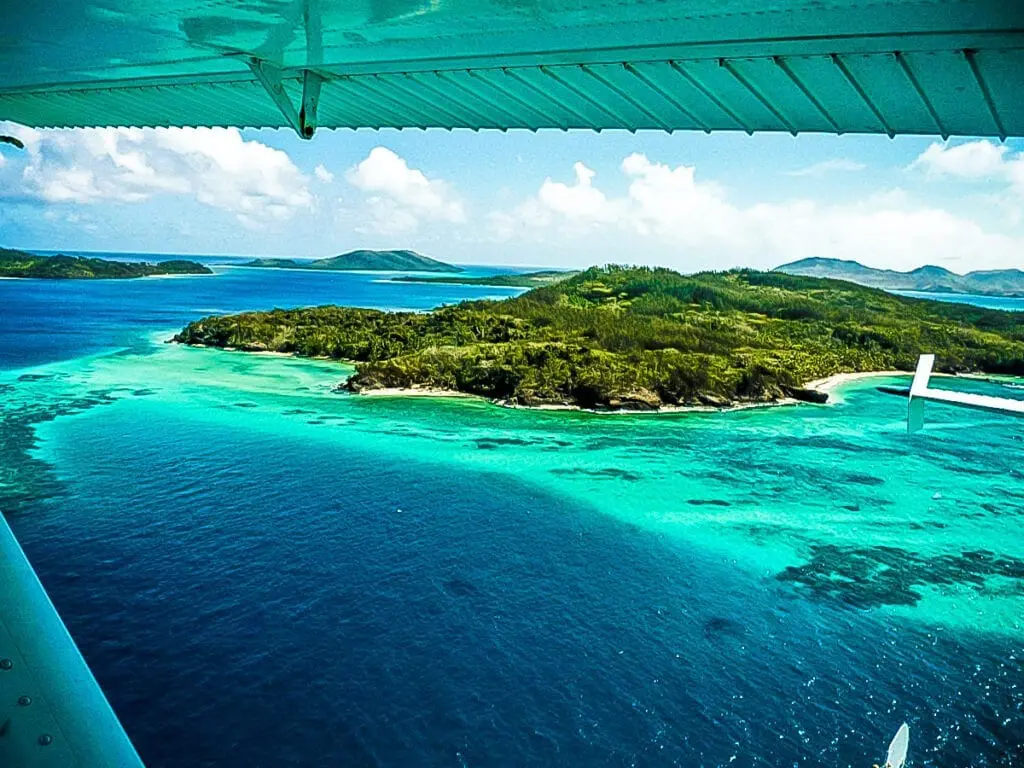 PRODUCTION
The island was easy to identify, hard to find. Randal Kleiser knew the perfect location to shoot The Blue Lagoon: the same island where the 1940 version was shot! Unfortunately, locating Vitu Livu wasn't easy. Kleiser told Ileana Douglas on her podcast, "I was trying to find it. I saw the movie and I got into a seaplane going to his little cove with an island to the side."
Just like in the movie, it takes place on two islands. Kleiser wanted to shoot at the original film's location, but he said that occurs, "Only in the scene where the children enter the lagoon. We used the same beach as they did 30 years ago. I felt it would be a nice kind of cosmic link to the past."
Most of it was shot on Turtle Island, Fiji. Kleiser said he discovered Nanuya Levu while searching for the original film's location.  "We shot on an island called Nanuya Levu [also called Turtle Island]. It is six hours by boat from the main city of Nadi, or 45 minutes by sea plane. The island is owned by Richard Evanson.
Turtle Island's owner was a retired businessman who was living alone on Nanuya Levu. According to a promotional website, Evanson had founded a global media company and retired (by buying) the island. "He reforested the land, protected its wildlife, and created family by befriending the nearby villagers." He allowed the film shoot and then immediately following, Kleiser said in 1980, opened the Blue Lagoon Lodge. "People can go there and have tours of our rapidly-decaying sets. After people see the film it will become an interesting tourist attraction, like the Disneyland of the South Pacific. Visitors can stay in the hut where Richard and Emmeline first made love." In fact, it's now become the Turtle Island Resort. 
The film crew was a little different for a Hollywood movie. Hiring an Australian crew makes good sense to filmmakers shooting down under, but in 1979, it just wasn't done.  Randal Kleiser told Cinema Papers, "I ran into [Australian director] Richard Franklin, who was in Hollywood exploring the possibility of working as a director in Hollywood. He told me about the Australian film industry and also showed me Patrick. I was very impressed by its technical level which compared favorably with many American productions. I then began thinking about using an Australian crew. Basically, they are more youthful and enthusiastic than our American crews."
When he saw the work of Néstor Almendros, Randal Kleiser knew the project would work.  "I was about to give up on Blue Lagoon because no one would let me do it. Then, I saw a 70mm print of Days of Heaven at MGM Studios, and I just said, wow, this is the look I want for Blue Lagoon. I said, who is this young guy who shot this? It turned it wasn't a young guy, it was a middle-age guy who had done a lot of Truffaut's films. SO, I tracked him down, went to New York, met him, and he inspired me to not give up and to make it happen. He's the best artist I ever worked with in any way, every movie he'd do he based on a painter of some kind. He has a book called A Man and a Camera, and each chapter is on the painting he used. We used Paul Gaughan's images for Blue Lagoon.
Almendros and Kleiser used nature's trick to beautiful cinematography. The cinematography is so gorgeous in The Blue Lagoon it was nominated for an Academy Award. It started with a pretty great canvas: remote Fiji, the clear Pacific Ocean, and two gorgeous model-actors in Brooke Shields and Christopher Atkins. But, there's a trick most directors of photography like to employ. "We did a lot of magic hour photography, where you rehearse the days work all day long and then right at magic hour, you shoot your days work with several cameras," said Kleiser. "You get this amazing look -- which is very dangerous because if you miss it, you've missed a whole day."
Almendros employed another trick: making everyone get up at 4 a.m. Since the cinematographer was using only natural light and fire, he wanted talent to be available during those key hours. "Néstor came up with the idea of pushing our clocks ahead. Everyone working on the film synchronized his or her watch to a new time. Each morning I had to get up at 5 a.m. or even earlier. So, while my clock said 5 a.m., for my body it was actually 4 a.m.," Shields wrote about what the crew dubbed Bula Time.
WE NEED TO TALK ABOUT...CHRISTOPHER ATKINS & BROOKE SHIELDS
Creating chemistry. The casting created a couple of issues. First, Atkins had zero acting experience. Second, 14-year-old Shields didn't have too much, if any, experience with real life romance. So, Shields' mom and director Kleiser hatched a plan of questionable thinking. 
Randal Kleiser and Teri Shields plotted for 18-year-old Christopher Atkins and 14-year-old Brooke to fall in love in real life. Before they met, Kleiser taped a photo of Brooke over his bed so he'd look at her every night.  "Naturally, by the time she arrived he was in love with her."
Brooke resented the expectation that the two couple up: "God forbid we just act!" In her memoir, she wrote Atkins' overeagerness to be her boyfriend was off-putting. "I began to feel standoffish. I have never been good with people forcing themselves on me, or acting too gung-ho about becoming my closest buddy. The moment I sensed the push, I put up a wall so tall that my mother had to tell me to give the kid a break and not take it out on him," Shields wrote. "But he really was so sweet and happy that I would eventually develop a crush on him." 
Teri Shields invited Christopher Atkins to spend the night with Brooke in their bungalow. Atkins was given his own tent, but instead, Atkins spent the night in the larger hut built for the mother daughter. Atkins told People Magazine, "I kissed them each goodnight before I got into my own bed."
And, romance did bloom...temporarily. Teri Shields told People that the kids "were in love -- they're all goo goo." 
It's worth noting that Atkins already had a girlfriend: Cynthia Gibb. Atkins was dating the 17-year-old model, who didn't feel too confident about her guy being marooned on an island with a young supermodel. She sent letters and packages to her boyfriend on the island, including a collage which read: "DON'T INDULGE YOURSELF -- TABOO."
The young couple drove each other crazy. The puppy love ended in less than two weeks. As teens are known to do, after their interest in each other wore off, the were over it and done with each other. Here's the People Magazine reporting from the time: "They were fighting like cats and dogs," Teri reports. "Brooke got tired of me," sighs Chris. "She thought I took acting too seriously. I was always trying to get into a mood while she would be skipping off to joke with the crew." Brooke agrees their acting styles (neither has ever taken a lesson) conflicted. "I wouldn't suffer and carry on for days," she says. "That doesn't mean I'm a bad actress, I hope."
Atkins says the love scenes were real. Remember, she's 14 and this is her first on screen kiss. He's 18-19. Here's what People Magazine wrote. Try not to throw up: Chris worked hard to create a romantic atmosphere, no easy trick since Brooke and [her stand-in] Kathy  had to keep switching places for the more explicit entanglements. "I tried everything I had to turn her on," Chris reports. "I touched her softly. It felt good. We weren't acting."
Uh. No they weren't. Brooke Shields wasn't feeling it, she was concerned with the technical aspects of the sex scene.  "As far as the love scenes go, it was just like another job," she said in an interview. "I didn't have to worry about it all because of the way it was shot. In order to get Chris' closeup, to get under me, we had to dig a hole and Randall had to hold me back. So I was being held by Randal [Kleiser] during this love scene."
In reality, the inappropriate relationship may have been the director's obsession with Christopher Atkins. The film focuses on Atkins bare body with loving attention, and Brooke Shields indicates that she and her mother found Kleiser's attention to Atkins concerning.  In fact, Brook writes there was a different reason why Teri invited Atkins to stay in their tent, one they couldn't tell the press: "Mom insinuated that she saw something she thought was inappropriate, and that it best if he stayed closer to us because nobody would mess with him if she were around." Teri told Brooke that Kleiser was probably in love with Atkins, Brooke clarifying, "I am not saying it was romantic, but the director was seemingly infatuated."
Kleiser's adoration of Atkins is what actually caused the friction between the two young leads. Shields wrote that she was jealous of the attention given to Atkins by their director. "I was frustrated by how obviously enamored the director was with this Adonis. I felt constantly disregarded. No matter what I did, or what my mom said to me to make me feel better, I hated it. The attention remained on Chris. Christ would be doing a take and the director would marvel at how extraordinary his talent was. He'd say, 'You, Brooke, you're the pro, but look at him: he's a natural!'"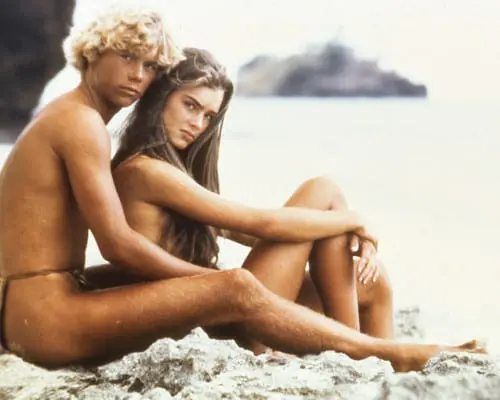 THE EXCESSIVE NUDITY
The teen's official story was she no longer wanted to do nudity. A 12-year-old Shields was shown completely naked when she played a first-time prostitute whose virginity is being auctioned off in Pretty Baby. She told People Magazine in 1980 about why the change:  ""I was not very developed, and I didn't care much about taking off my clothes. Now I do." 
Brooke Shields didn't want to be in the middle of a firestorm again. "She had been hurt by publicity from Pretty Baby and did not want to feel exploited," Kleiser said at the time of release to explain that the minor is less naked than she appears. 
The truth may be that Teri Shields didn't want to be in the middle of a firestorm again. Brooke's mom took a lot of heat for allowing her daughter to be filmed completely naked in Pretty Baby with accusations that she was a terrible mother profiting off her daughter's exploitation. In her memoir "There Was a Little Girl," Shields wrote that Teri Shields: "Mom insisted on a body double...After all the controversy surrounding Pretty Baby, I am sure that Mom was even more adamant about not having her daughter be nude. Mom loved reiterating this fact to the press."
Brooke Shields' hair was glued to her breasts. Shields hair and makeup artist gave her a wig and they glued her hair to her "buppie pads" -- flesh-colored pasties. Shields wrote that the "tuppy tape" (taken from the word "toupee") created an OCD-like behavior: "Every day when I took it off I'd stretch each strip as far as it would go...I'd have to stretch every strip or I got superstitious."
A stand-in was used for "some" of the nudity. A 33-year-old professional diver was Brooke's stand in for the nude shots. The question is, how much? Shields testified that there was an adult stand-in for "some" of the shots. But, at times, you can see her face pretty clearly. Shields wrote that the agreement was that a double would be sued for the full-nudity scenes and she was to be "somehow covered" for the semi-nude moments.
Two different women are credited as Shields' nude body double. Shields writes that the film's underwater cinematographer Valerie Taylor, age 30, was her underwater stand-in. However, also credited is Kathy Troutt, a fairly famous model and skindiver in Australia. Troutt's website makes it all the more confusing. Troutt writes: "Kathy Troutt was hired to search Fijian waters for dolphin that might be trained to appear in a major feature film. At Dunk Island, Kathy was hired to do nude stand-in for the leading female actor. At the last moment this plan was changed and the actor performed her own nude underwater sequence." THEN, along with photos of Troutt nude with the caption "photographed by Valerie Taylor" the page says, "Kathy did nude stand-in scenes and especially all the diving for main teen actor, Brooke Shields. Some film crew members later estimated that Kathy is in much of the finished movie!"
Conversely, that is the full Atkins. Christopher Atkins was of legal age and didn't use a stand-in. That's him. All of him, full frontal in the swimming scenes.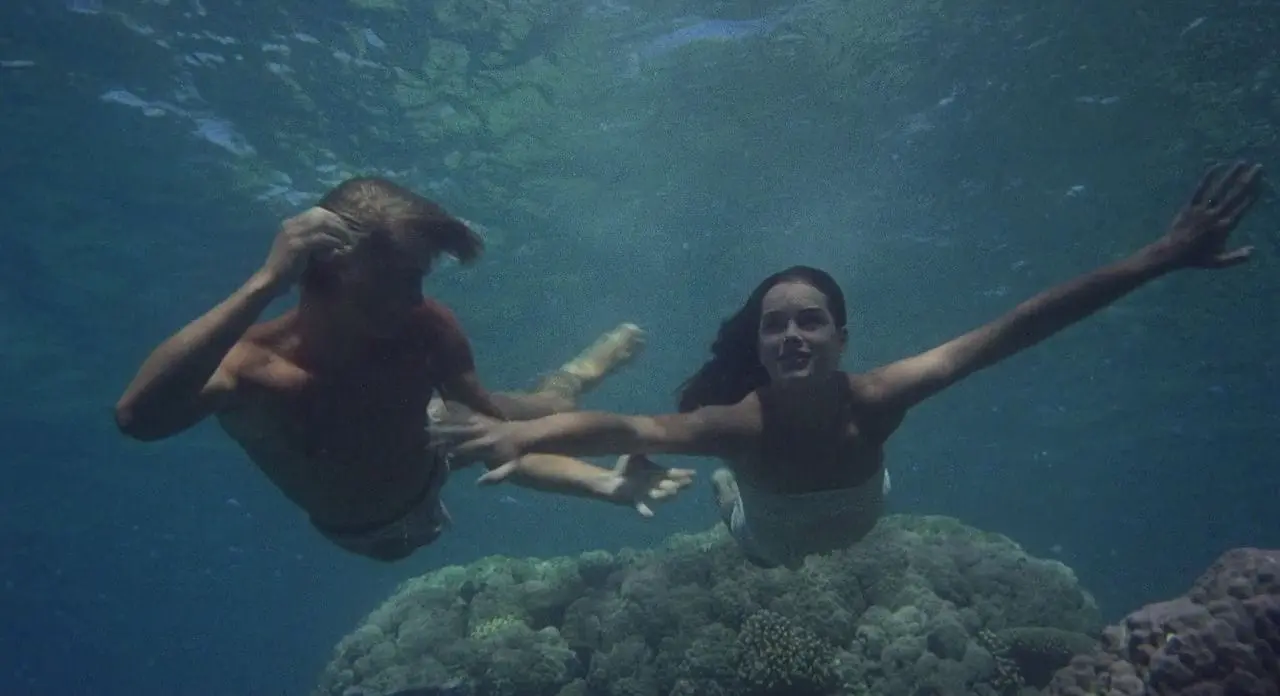 FILMING
Tanning was a crucial part of preproduction. Upon arriving on the island, Brooke Shields said she was taken to a specifically marked tanning area. "I was told I needed to start to build up enough of a tan so that it looked as if I had been living on an island my entire life. The tanning space consisted of two small areas enclosed by mats of woven palm fronds. I was to take off all my clothes and being that day by getting a base," she wrote in her memoir "There Was a Little Girl." "Chris had already been on the island for a week so he was darker than I was. I would have to catch up." 
Achieving a tan would become one of the most unpleasant experiences of Shields' life. "Patches of white began appearing, so to avoid looking like I was starring in The Jungle Book as a leopard instead of in a love story about sun-kissed teenagers, I had to get up even earlier than everyone else so I could be sponge-painted with makeup mixed with iodine. The makeup lady used big natural sea sponges and spread the liquid all over my body until I was the desired color. I was only allowed to take limited showers, and then only on days when we had finished the sequence the day before," Shields wrote. "The feeling of being painted by wet, cold sponges before dawn every morning was, to this day, one of the worst feelings I have ever experienced."
Filming underwater took some work. "I knew how to swim, but I had to learn how to keep my eyes open underwater, and to smile, and to hold my breath for a long period of time," Brooke Shields said. "The more I did it, the better I got at it."
Australian couple Ron and Valerie Taylor were known for their underwater photography. "Richard Franklin and Randal Kleiser came to my home to have a look at some of my stock footage. I had about 10,000 or 12,000 feet of 35mm footage. They selected a couple of things and liked my work, so they asked if I would consider doing the underwater shooting on the picture," Ron Taylor told American Cinematographer Magazine.
Underwater shots were captured a bit willy-nilly. "We had to fit in with the first and second units, which were usually working with the two younger kids, Glenn Kohan and Elva Josephson, or the two older ones, Chris Atkins and Brooke Shields. We had to work as third unit and just grab whoever was available at the time. We'd study the script and find out which scenes we could shoot," Ron Taylor said. "The problem was that sometimes we could only have the kids for a few hours, but on other occasions we could have them for a whole day. So it took a bit of juggling to work out where we would go and who we could take and how long we could have them for."
They had to film five miles away. "In one place where we worked the water wasn't clear enough. So we had to work away from the main island, which meant traveling in a boat and taking a lunch. The kids liked it because it was a picnic or an adventure for them," said co-cinematographer Valerie Taylor.
The underwater photographers taught the kids how to dive -- and made it fun for them to learn.  Valerie Taylor told American Cinematographer Magazine: "When I first arrived on Turtle Island I said to Ron, 'We'd better get these children good masks, snorkels and fins, so that they can swim around over the corals and in the ocean and realize that nothing down there is going to hurt them.' We were very fortunate, because the best brand of snorkeling equipment for children -- made in Italy -- was available in Fiji. They took to it straightaway and we just let them play around for a while. Then, when we wanted them to perform a scene, Ron would say what he wanted and they would swim through the action and do their scene with the masks, snorkels and fins on. I had taught them how to hyperventilate (which is deep breathing), so that they could stay under the water for a long time. They'd do it several times and if Ron wanted an alteration in their action, he would come up and say, 'Now, go to this side of the coral or that side.' Then they'd practice and take big breaths and do the scene without their equipment. They were terrific, even when they were cold."
Island "natives" posed a threat.  "We had to be careful because the stonefish was around and it could kill you. A lady from one of the neighboring islands did step on it and she had to come to our doctor. We saved her life," said Shields in an interview with Jim Ferguson. "And there were sea snakes. But, the sea snakes aren't really going to bother you. If you don't bother them, they won't bother you. The natives used to swing them at me!"
Minor swimming accidents did occur. Ron Taylor explained once the kids were filming, they ran into issues, "They were diving without any equipment and with their bare eyes they couldn't see very clearly underwater. So there was a little bit of a worry that they might bump into the coral and cut themselves, which they did once." In fact, Shields said she still has the scar from the incident.
The cast and crew didn't have it much easier than Emmeline and Richard. "There was no water on the island, and there was really no place to live," Atkins told Oprah. And, he told Studio 11, "We were actually living almost like the character, at least I was. I was staying in a tent and we had outhouses and the rest of the stuff. It was just a tiny little island." 
Cast and crew could choose between staying on a ship or in a hut. Shields wrote she and her mother were told their accommodations were either the ship featured in the film or a bure on the sand: "At first, I was sure I'd choose the ship. I had this fantasy that I would have a quaint little cabin where I would write in my journal and be rocked to sleep nightly. I would stick pictures on my wall and write letters to my friends back home and it would be as if I was part of an expedition a hundred years ago. But after getting off the scary seaplane that sat only three people and being confronted with the real-life version of my fantasies, I took one look at the ship and changed my mind. It was ancient and had rats and creaking planks."
The Shields two-bedroom oceanfront hut was infested with rats. Brooke wrote a local made a Fijian sword for her mother to beat the rats away that took up residence on their roof. "They were really terrible and seemed to come out mostly late at night. I hated rats and slept with blankets over my head. I pictured them landing on my head in the middle of the night and chewing my face off. I'd hear Mom leap up and start whacking at the thatched-roof ceiling after hearing a scurry." 
They lived sparsely for three months. "We all got used to living on a deserted island and dealing with everything that came along with it, such as rats, bugs, sewage issues, mail once a week, storms and sunburn" wrote Shields.
Atkins and Shields felt they became islanders within weeks. "I was never bored. I was always doing something, making something, making necklaces, getting shells," Brooke Shields said. She later wrote, "Within two weeks I could climb palm trees in bare feet, dive for coral and shells without a tank and without making bubbles, and weave palm fronts into bowls and small boxes for catching rainwater." She was taking Atkins' lead, learning what it was like to live off the island from the natives: "Chris learned to spear fish, skin-dive, build a thatched hut, and start a fire with sticks."
The locals often invited the interlopers to participate in their drinking ceremonies. Brooke Shields wrote that the native men had a nightly ceremony where they'd drink kava, a root she describes as being crushed and placed inside a man's tube sock and then soaked in water. "[It] makes a liquid resembling dirty dishwater that tastes like mud. It is served in half a coconut shell and if offered, cannot be be refused. It was considered rude and unlucky to refuse the call of "Kava, kava, bula kava!" she wrote. "Whenever I passed the ceremony, I'd try to go unnoticed, but I often failed and was forced to accept a cup. You are supposed to swallow the liquid from your coconut in one gulp. After ingesting this disgusting, lukewarm substance, you had to clap three loud, hollow-sounding claps with cupped palms before passing it on to the next willing victim. I never learned what the claps symbolized but it was part of the ceremony. Kava numbs your mouth and throat and gives you a sedated feeling. The effects did not last too long, especially if you drank only one cup, but the taste was so disgusting and I hated it so much that I tried to avoid the torture whenever possible."
Parties helped to pass the time. "We had wild parties. We had gangster parties where we all dressed up like gangsters... "said Christopher Atkins. "– And molls," added Brooke Shields. "We had costume parties where you had to make your own costume." 
The kid had to teach her older co-star how to work on a movie set. Atkins and Shields told Merv Griffin that she had to show him the ropes, tell him what certain terms meant, and guide him through the movie making process. "It was his first movie, so I had to help him," Shields said. "They'd queue him different ways, and he'd say, what am I doing? I'd just help him and teach him about the lights and camera."
Director Klesier took Christopher Atkins under his wing. "Randal and I became best friends on the island," Atkins said. "I had a lot of dumb questions because I had no idea what was going on, I'd never even seen a film crew before." That sounds magnanimous of Kleiser. Or, given Teri Shields concerns, well, concerning.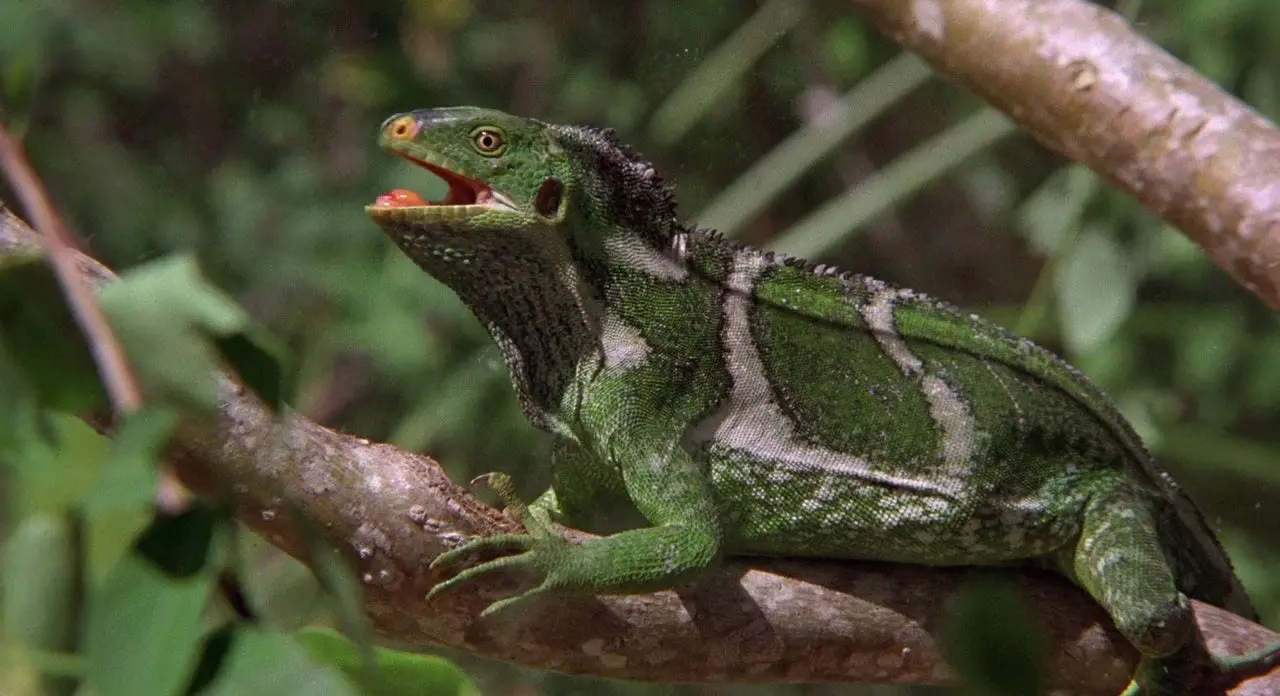 A NEW SPECIES
The film accidentally discovered a new species. A Crested Iguana is basically a featured extra – he preens on a rock and you just can't miss him. Neither could herpetologist Dr. John Gibbons, a professor at the University of South Pacific, who'd never seen a lizard like that  before. He saw an early screening of the film and traveled to Fiji to find and identify it. Which led to…
The island being closed to the public. Forever.  No one can visit Yadua Taba because of The Blue Lagoon. The Crested Iguana is critically endangered due to habitat destruction. Dr. Gibbons presented his findings to the country's leaders along with his scientific analysis that the species' best chance for survival is on the island. The National Trust of Fiji named the volcanic inlet a wildlife sanctuary and it's against the law to step foot onto it without permission from the government. lligent direction are spirited and on-the-mark."
REVIEWS
"Kiddie porn, they called it," Randal Kleiser said in an interview with Ileana Douglas. "It didn't hurt the box office. Columbia took a full page ad talking about how its natural. It never even occurred to me there was anything salient about it because I shot it in a way which was beautiful. It was sensual, yes, but there's no real erotic stuff in it."
Kleiser thought The Blue Lagoon was a family film. He told People Magazine, "It's an R-rated film I hope parents take their kids to see.".
Roger Ebert: "This movie made my itch." The Chicago Sun-Times critic also called it "the dumbest movie of the year."
The Washington Post's Judith Martin: "One can only conclude that the filmmakers know as little of the facts of life as the children." She writes: "From the time child-actors Elva Josephson and Glenn Kohan are replaced with the equally pretty but more self-conscious adolescents, Brooke Shields and Christopher Atkins, the film turns dirty. This is not a matter of visual sexuality, even though there's almost nothing but nudity from then on -- it's the dialogue, with its silly double entendres, insisting on a relentlessly filthy chuckle to accompany the children's discovery of each other."
New York Magazine did, indeed, call it kiddie porn. The review described it as "exquisitely photographed soft-core kiddie porn." 
TV Guide gave it only one star. "Beautiful-to-see but excruciating-to-hear remake of the 1949 picture of the same name."
Variety is the one positive review. Rotten Tomatoes only reflects bad reviews -- except for the entertainment industry bible Variety: "Their romance is enhanced by Nestor Almendros' exquisite photography (and Basil Poledouris' score), as is the stunning beauty of the Fiji island where it was filmed."
Brooke Shields was awarded the Razzie for Worst Actress of 1980. It was the first year of the Golden Raspberry Awards and Can't Stop the Music "won" Worst Picture. Laurence Olivier was awarded the mean-spirited "award" for Supporting Actor for The Jazz Singer, so hopefully Shields took it a with a grain of salt. As famous as she was, Shields was 14 years old, probably the most emotionally precarious time for a young teen girl – so, the negative recognition was particularly cruel.
Brooke Shields wrote that she didn't read the reviews, and she now doubts if that was the wisest course of action.   Many of them mentioned her lack of craft. "Perhaps if I had read the reviews, I may have chosen to steer my career differently. Perhaps I could have made better choices or might have given it all up entirely. I will never know."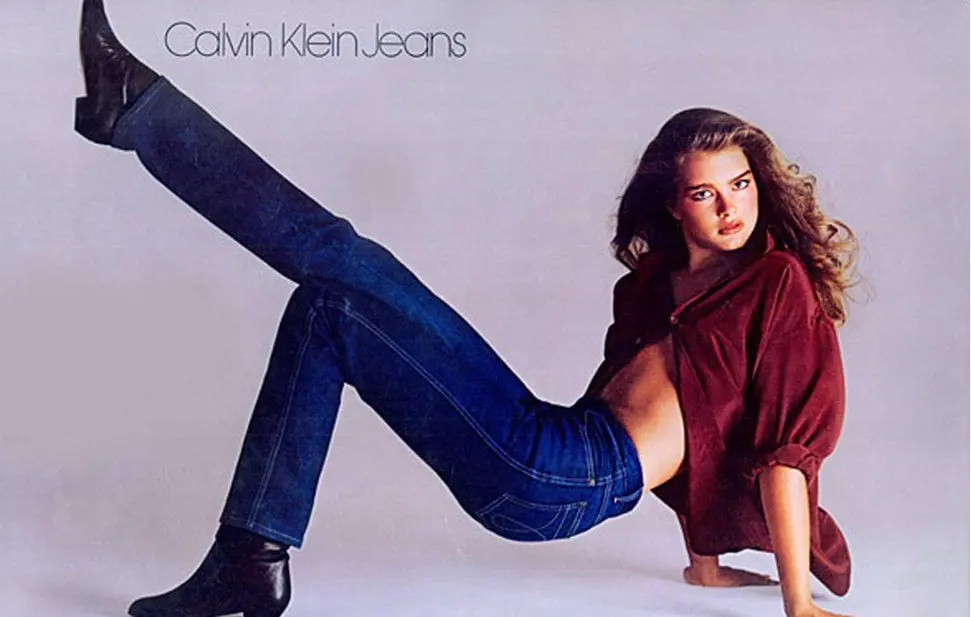 LEGACY
An Academy Award nomination. Whatever knocks The Blue Lagoon gets/deserves, it must be lauded for its gorgeous cinematography. It feels like an IMAX film well before IMAX was invented. Néstor Almendros delivered the closest thing to virtual reality paradise moviegoers could have experienced 50 years ago. However, he lost the Oscar to the directors of photography for Tess.
Two sequels.
In 1991, Return to The Blue Lagoon was released, starring Milla Jovovich. It's unanimously panned with a 0 percent rotten score on Rotten Tomatoes. Kleiser wanted to make a sequel that was the second book of Henry Stacpoole's triology, but said, "The studio wanted to just rehash the first movie, so I wasn't that involved with it."
In 2012, Blue Lagoon: The Awakening was made by Sony Pictures Entertainment for Lifetime TV. It's a modern version with a similar story. Another name model turned actress was cast – Denise Richards – who plays the mother of "Emma" (Indiana Evans).
It was a Top 10 biggest box office hit of 1980. With a box office gross of more than $58 million, it ranks No. 9 for the year, according to BoxOfficeMojo, in between Smokey and the Bandit II and The Blues Brothers. The New York Times wrote that according to receipts from film rentals (how much the theaters gave back to the studios), it placed No. 11, giving the studios a profit of $28 million. 
Brooke Shields was buoyed to super stardom. Shields was famous before The Blue Lagoon, having made seven films, known as a successful model, and a conduit for controversy. Yet, in her memoir, she says when the film came out in 1980, her fame reached dizzying heights -- including her next role in Endless Love (1981) and the notoriously suggestive Calvin Klein commercial.
The Turtle Island resort. Cable TV executive Richard X purchased the Fiji Island of Nanuya Levu with a dream to build it into a resort. He was living on the island with his wife, the only non-natives, when fate brought Kleiser his way. He capitalized on the offer to film there and created a luxury resort for the wealthy (a stay doesn't cost thousands of dollars, it costs tens of thousands of dollars). The resort plays the movie every week. The remnants of the statue Emmeline believes is God and the waterfall that was created for the film are still there.
Film tourism. As audiences have become more fascinated about the behind the scenes information in films, their interest in locations has increased as well. The Blue Lagoon helped thrust the idea of movie locations as vacation destinations.
Christopher Atkins.  Atkins found instant fame as beefcake. He followed up his feature film debut with The Pirate Movie with Kristy McNichol (1982) and A Night in Heaven (1983), both of which flopped hard. He famously was supposed to play Ren in Footloose but producers lost interest when he showed up to their first meeting after "partying." Atkins got sober soon after and while his career hasn't matched that of Shields, he's worked consistently as an actor.
Christopher Atkins as a gay icon. Whatever "infatuation" director Randal Kleiser may or may not have had for his lead actor, there's no doubt that the "male gaze" is on Richard's physique throughout the film. Atkins says 90 percent of his fan base is gay, and that he's been told by many men that seeing him in the film helped them to realize they were gay. He told Out in Hollywood, "I'm actually very lucky in that respect because I am able to have that crossover so I have both straight and gay fans," he said. "The '80s was a big time for the gay movement and here came a movie where it was male nudity being prominent rather than female nudity and so [I] became sort of an iconic poster child at that time. To me, it was kind of flattering. America is the most prudish country on the face of the Earth. If that movie was made in France, it would be a G-rated movie."
Score
Basil Poledouris was known for big, powerful scores with dramatic use of percussion, brass and chorus for films like Conan the Barbarian (1982) and The Hunt for Red October (1990). But this is early Poledouris in a lyrical mood far removed from the epic sound he would soon be famous for. The Blue Lagoon, despite a few elements introduced to create tension, was basically an Edenic fantasy that called for music that was light and beautiful and Poledouris provided it.
Basil Poledouris had grown up in southern California and attended USC where he met many students who would later be film directors including John Milius and Randal Kleiser. After years of scoring documentaries and short films, a place where many film composers learn their craft, he was asked by Milius to score his surfing film, Big Wednesday. Poledouris, himself an avid surfer, took up the assignment readily and produced a score evocative of the ocean in which he used orchestral techniques that he would develop further for The Blue Lagoon. This established him as someone capable of scoring a full-length motion picture and because of his capturing the mood of the sea so successfully in Big Wednesday, Randal Kleiser, coming off the success of Grease, tapped him to score his next picture, The Blue Lagoon, in which sea and beach would play an important part.
The score he came up with fit the film perfectly. The love theme is sweet, tender and romantic without overdoing it. The Main Title, clearly calls up images of the sea and sailing ships. There is also a small waltz, some eerie and dissonant strings for moments of tension and danger, and an especially thrilling and triumphant theme when they first sight "The Island" that is one of the really memorable moments of the score. The lightness of the score in general as well as its instrumentation suggest the Impressionism of Debussy, something acknowledged by the filmmakers. The orchestrations are Impressionistic but not the harmonics which are those of the Romantic Era.
(Written by "JohnF," a Top Classical Music Contributor on Amazon Music. He wrote this so well and clearly knows his stuff, so we're quoting you JohnF!)  Below are two of the tunes most associated with the movie.
Director: Randal Kleiser
Screenwriter: Douglas Day Stewart based on the novel by Henry De Vere Stacpoole
Release Date: July 2, 1980
Rating: R
Opening Weekend Rank: #4. At #1 was Back to the Future, #2 was Weird Science, #3 Pee-Wee's Big Adventure.
Opening Weekend Box Office: unknown
Lifetime Gross: $58.9 million
Budget: $4.5 million
Production Company: Columbia Pictures
Distributor: Columbia Pictures