FREEBIES! We're giving away THE GOONIES & BEETLEJUICE in 4K Ultra HD Blu-Ray!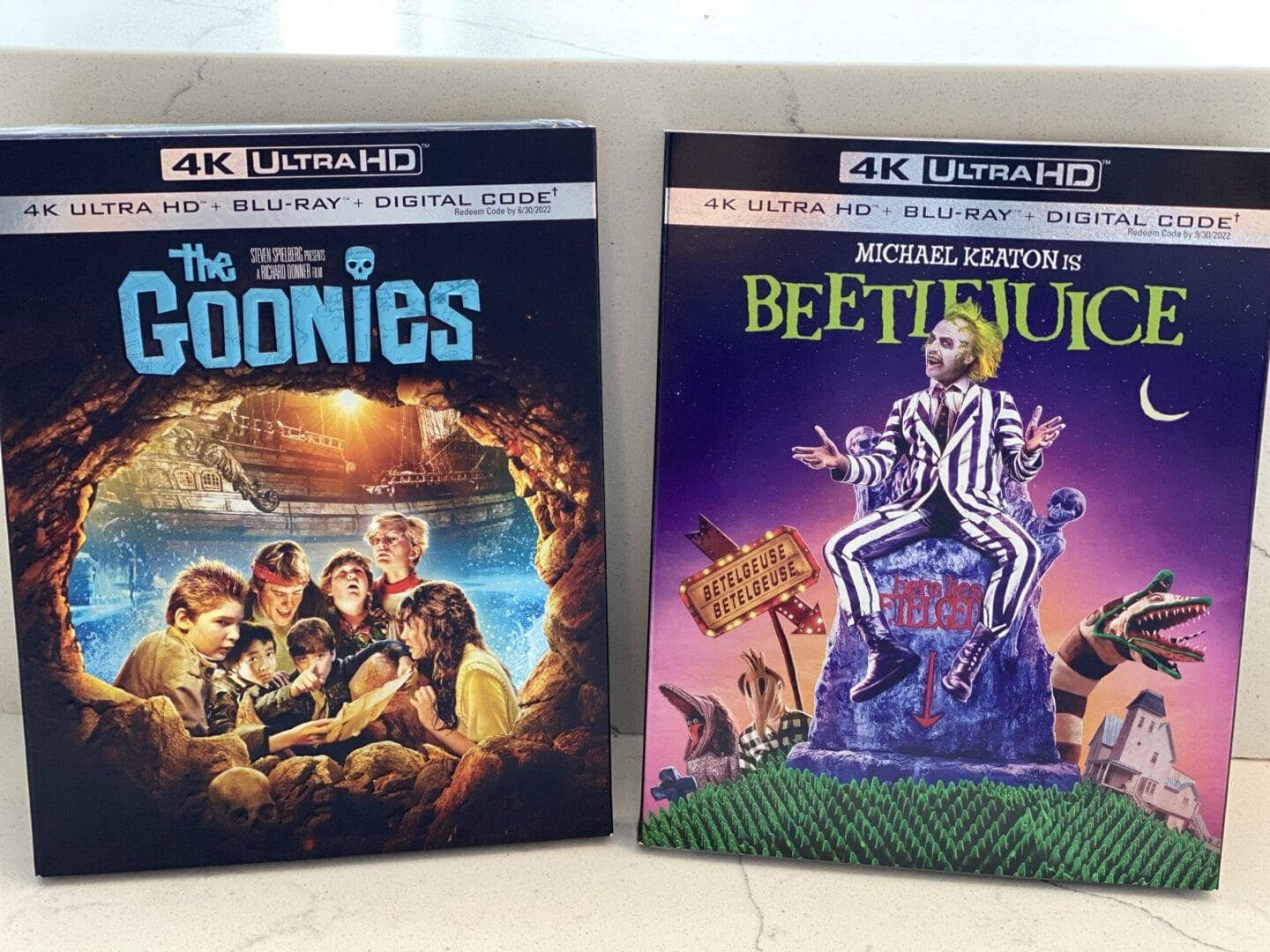 UPDATE! We have winners! Mark Perry who entered through Facebook and @KylotheCardigan from Insta. Thanks everyone who entered! If you didn't win, these 4KUHD Blu-Ray Combo Packs are now available in stores and digital retailers!
Warner Bros. Home Entertainment is releasing The Goonies (1985) and Beetlejuice (1988) in 4K Ultra HD Blu-Ray tomorrow — and we're giving away a copy of each! You get an entry for a Like, a Follow, and a Comment here and on our social media channels (@80sMovieGuide on Facebook, Twitter, Instagram, and YouTube). We will pick the winner the day of release, tomorrow, at 2p – so this is a 24 hour giveaway!
What makes this Blu-ray release of Beetlejuice and The Goonies different? Well, it's all about options. For each Combo pack, you get:
an Ultra HD Blu-ray Disc with the film in 4K with HDR,
a Blu-ray Disc with the film and special features in HD, and a
Digital HD version of the film.
Then, each disc has a little something EXTRA.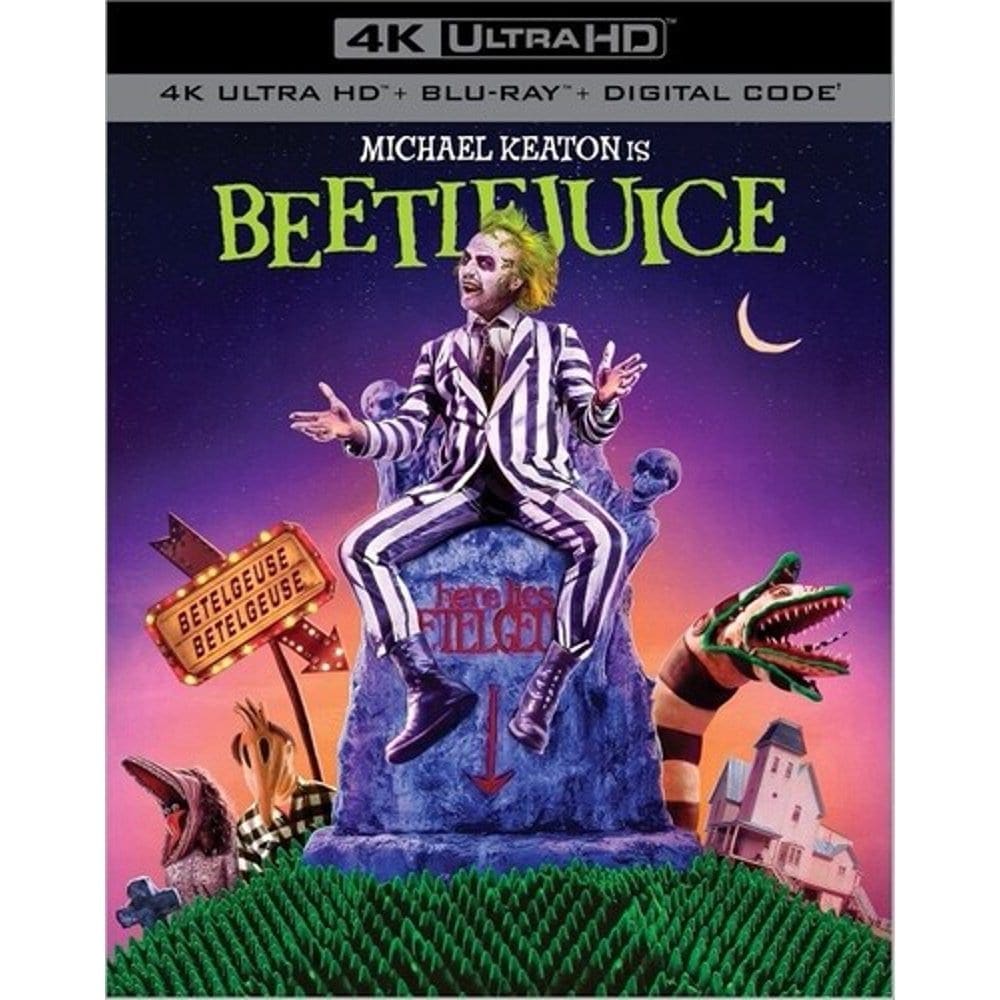 Beetlejuice is about a kind young couple who die in a car accident and, now ghosts, try to figure out how to scare off the family of jaded New Yorkers who move into their beloved home.
For those who have a Dolby Atmos system, this special edition of Beetlejuice will also feature a Dolby Atmos soundtrack remixed especially for the home theater, which places and moves audio anywhere in the room, including overhead (no worries if you don't have this, it works normally with other audio situations).
The special features consist of three episodes of the "Beetlejuice" animated TV series and the theatrical trailer.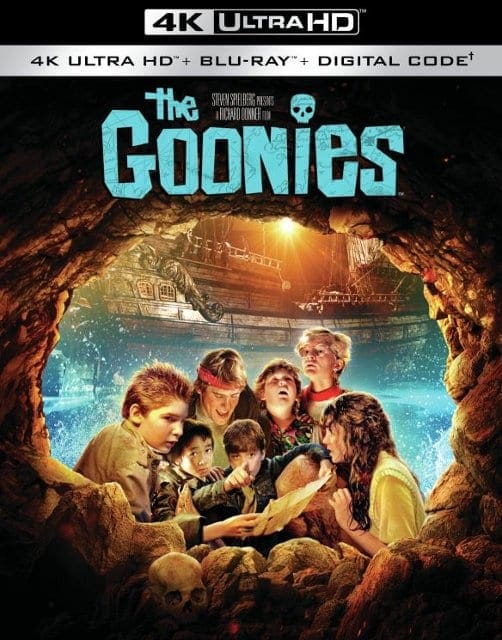 The Goonies is about a Steven Spielberg production about a group of friends whose find a map of a lost legendary treasure and go on an unforgettable adventure. The special features consist of:
Commentary with director Richard Donner and some of the cast members — including Hidden Video Treasures
"The Making of The Goonies" featurette
"The Goonies 'r' Good Enough" music video by Cyndi Lauper
Outtakes
Theatrical trailer.
The 4K Ultra HD Blu-Ray release of The Goonies and Beetlejuice are available at stores and digital retailers on Sept. 1. And, you can win a copy here! We're giving a copy of each, to enter just like, subscribe, follow, or comment here or on social media – an entry for everyone (and, we're small mom and daughter site, dudes, you have a great chance of winning – you should definitely enter!). Two winners will be selected Sept. 1 at 2 p.m. We will contact you through the social media outlet where you contacted us so be sure we can reach you. Winners must live in the U.S. The first winner selected will get first pick of the movie of their choice. Enter now!
We are not being paid to host this giveaway, but Warner Bros. Home Entertainment provided us the items to give to you. We are paying for shipping.