THE KARATE KID
"He taught him the secret to Karate lies in the mind and heart. Not in the hands."
(1984)
starring Ralph Macchio, Pat Morita and Elisabeth Shue

'80s Movies:
A Guide to What's Wrong with Your Parents 
THE KARATE KID:
Why it Matters and What High School is Like Today
Daniel LaRusso (Ralph Macchio) moves from New Jersey to the Valley and meets the girl of his dreams (Elisabeth Shue). However, things aren't sunnier in California when he gets on the wrong side of her jealous ex-boyfriend, a black belt whose dojo Cobra Kai is known for its motto: "No Mercy." Daniel may not have a dojo, but he has Mr. Miyagi (Pat Morita),  his building's elderly super who teaches Daniel how to fight through unconventional methods.

It's a very relatable story for young people. The idea that you can actually face and defeat your bully is big. - Howard Zwart, director of 2010's The Karate Kid remake. 
The Karate Kid is the definitive film of Generation X. While adults were labeling them slackers, young Gen X'ers saw themselves as underdogs:  latch-key kids, trying to figure out how to overcome bullies and obstacles all alone…and willing to put in the hard work to get it done.
The film has had quite an impact with three sequels, an animated series, a 2010 remake starring Jaden Smith and Jackie Chan, and now, YouTube Red's first megahit, "Cobra Kai."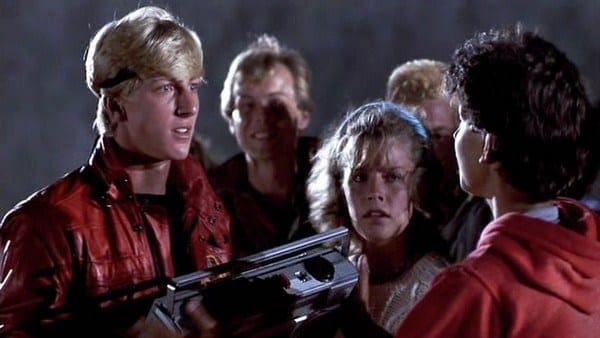 The entire course of events in The Karate Kid  is set into motion over a boombox, an item of intense value to '80s teens.
Ali invites Daniel to the arcade: "I have this new game I want to show you!" Of course, where do they go? Golf n' Stuff! Putt-putt golf with themed courses were so, so '80s (see Overboard). 
Daniel pays for Ali's school lunch. In the '80s, this is how a gentleman behaved. That's why Ali doesn't even say thank you (although, let's all agree, she should have).
Looking for '80s fashion? How about Ali's sweater vests and headbands, her Princess Leia Halloween costume, Daniel and Freddy's tee-shirts and, the most '80s item of all, Johnny's red Cobra Kai jacket.
Daniel's mother, Lucille, is an accurate indicator of '80s parenting. Women's lib had kicked in the door to allow women to join the workforce. The result was a bunch of latch-key kids with parents who had no idea what was going on in their kids' lives and weren't around to do anything about it. And boy, did we resent it. When Daniel says to his mother, "You didn't ask me if I wanted to move here…" that says a lot. It's hard to imagine a teen in any prior generation would feel it was his place to say something like that to a parent because, of course, a kid would've had no say in such a major life decision. But, Gen X rebelled against parents who "just don't understand" and kids felt left to their own devices. Maybe it was being tormented by an older sibling, maybe it was the bullies, maybe it was not doing well in school, maybe it was just feeling like parents didn't care or couldn't be bothered. But, the result of this? Helicopter parents. Everyone loves to make fun of the helicopter parenting that exists now, but what happens to Daniel is EXACTLY why Gen Xers grew up to become helicopter parents: they know firsthand what can happen to kids who have no supervision and no guidance.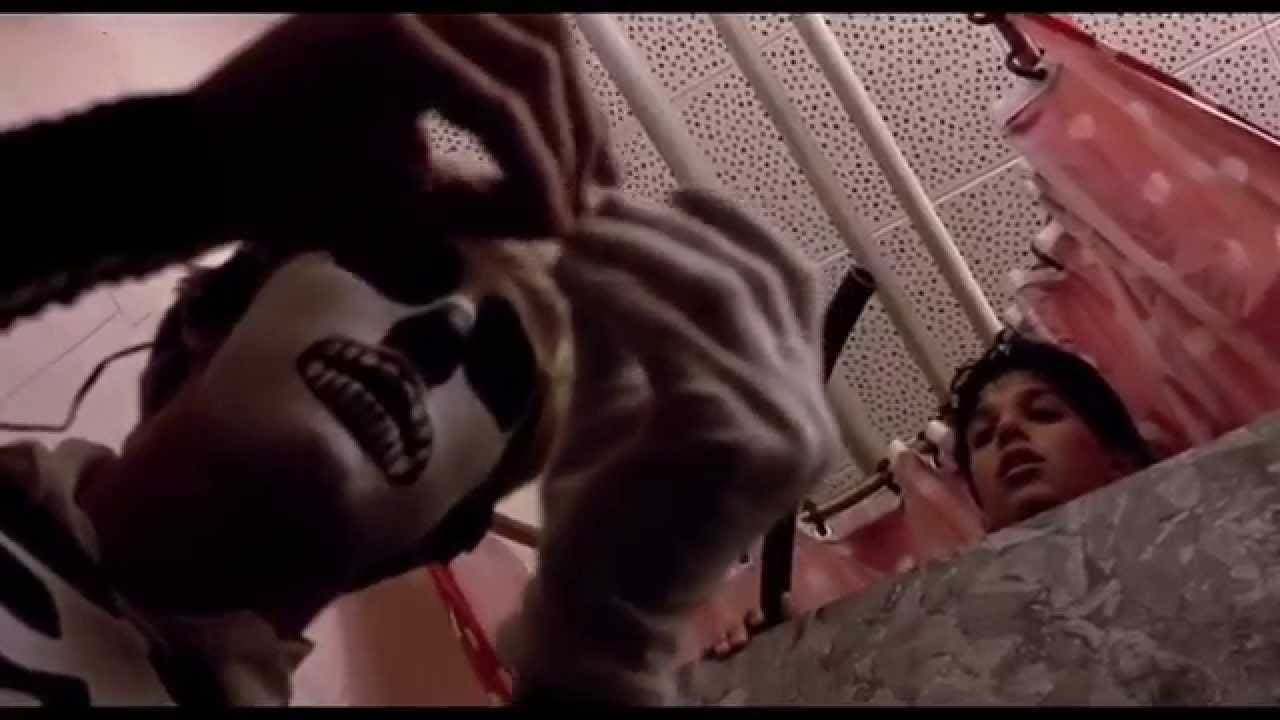 Daniel may be Gen X's most accurate representative, or at least, accurate of how Gen X sees themselves. He stands up to a bully who is manhandling a girl.  He tries to handle his own problems. He respects his elders. To overcome a gang of bullies, Daniel puts in the hard work to train. He's never in it for revenge, but rather, to solve his problem. Yet, even The Karate Kid has moments of…HUH??
·         Mr. Miyagi has 15-year-old Daniel drive him around. Neither one of them has a driver's license.
·         Mr. Miyagi gives Daniel a shot of whiskey.
·         Johnny is in the bathroom rolling a joint.
·         Duh. While it's hard to blame Daniel for "hosing" Johnny when he had the chance – who wouldn't want to seize the moment to get the upper hand on someone who repeatedly beats them up? – poking a sleeping dragon (or cobra!)  is never a good idea.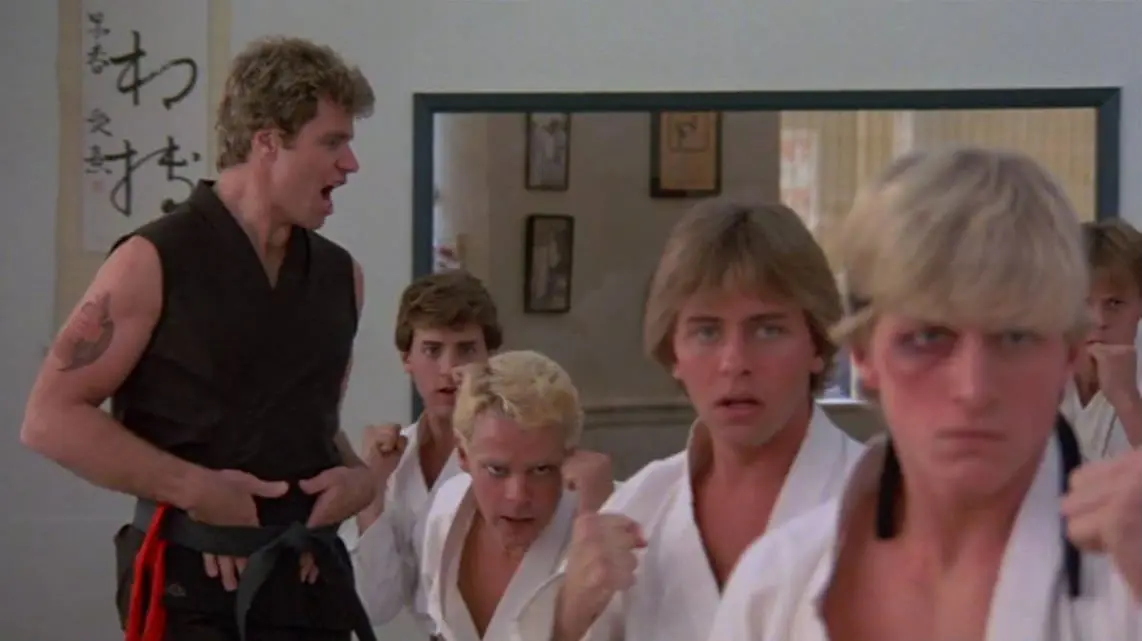 The Karate Kid is based on two true stories.
Producer Jerry Weintraub optioned a story he saw on the local news about a non-athletic, not "well built" 9-year-old kid from the Valley who was constantly getting beaten up on his way home from school. His mother enrolled him at a karate studio on Ventura Blvd. where his sensei became his mentor. When the bullies learned he was doing karate, they left him alone. The boy became a black belt.

Robert Mark Kamen, who was fresh off the young male drama Taps, was hired to write the story. When he was 12, he was beaten up by a group of bullies at the 1964 World's Fair in New York. To learn to defend himself, he took karate. His first sensei was a former Marine who, according to a Sports Illustrated article, "preached raw violence."  Kamen wanted the spiritual connection and found Okinawan Gōjū-ryū, which is focused on self-defense, as well as developing physical and mental well-being.  His sensei – who spoke little English –  had trained under one of the founders of Okinawan Gōjū-ryū, named….Chojun Miyagi. The founders of this practice believed in intense training, and Kamen trained for four hours every day.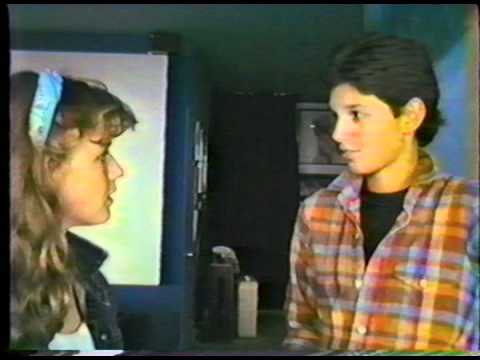 CASTING
John Avildsen had auditions at his apartment in New York. Macchio said, "There's a ton of guys out in the hallway, all joking about the hideousness of the title and how corny it was. I've always said when I first read the script, I felt like I was getting a cavity, it was just too sweet."
Macchio audition consisted of the Halloween beatdown and meeting Ali for the first time.
Ralph Macchio, Elisabeth Shue and Pat Morita were the first actors seen for their respective roles. Actors, take note: there's something to be said for being the first person seen for a part. 
Who came in to audition after Macchio? Robert Downey, Jr. Avildsen said Downey is a great actor, but lacked the vulnerability Daniel portrays. Macchio wore his vulnerability on the surface.
At the time, Shue was recognizable as the Burger King girl, featured in the fast food restaurants ad campaign at the time. She had been a commercial actress for five years, also starring in ads for Chewels chewing gum and Atari.
Elisabeth Shue was the first actress Raph Macchio read with for the role of Ali and, by all accounts, they had instant chemistry.  Avildsen referred to them as "the dynamic duo" and "the strawberry shortcake and the cannoli."
S.E. Hinton teen movie adaptations became was the springboard for casting. Avildsen was impressed with Macchio when he saw him in The Outsiders. Also considered for Daniel were Macchio's Outsiders castmates Emilio Estevez, Leif Garrett, C. Thomas Howell and Matt Dillon. Rumble Fish actors considered were Nicolas Cage and Chris Penn.
Now that he's an adult, Macchio said he realizes he got the part because "I was just THAT kid." Looking back at the audition footage, he said, "Even then, I was just Daniel LaRusso way before I had any idea who he was and what he was it. It was just the right time, the right role, the right actor, the right place, the right story, as opposed to my being in a movie before."
Others considered for Daniel include Fisher Stevens and Matthew Broderick (the casting notes denote it was due to his role in the stage production of Neil Simon's "Brighton Beach Memoirs" that came to mind, not 1983's War Games). Additionally, Ike Eisenmann (Witch Mountain movies), Doug McKeon (On Golden Pond), Chris Makepeace (who played a bullying victim in 1980's My Bodyguard), Timothy Busfield (who was on an ABC comedy series "Reggie"), Anthony Edwards (Revenge of the Nerds), Eric Brown (Private Lessons), Scott Baio and Willie Ames (who had starred together in 1982's Zapped! but best known for "Happy Days" and "Eight is Enough"), Lance Kerwin ("James at 15"), and Eric Shea ('70s kid actor who finished his career on "Mary Hartmann, Mary Hartmann"). Other interesting thoughts about casting Daniel include Grant Heslov (later George Clooney's producing partner) and Dondi Bastone (who had a role in 1982's relatively known bizarre film Café Flesh but went on to be a prolific music supervisor on films).
Actors who auditioned for the role of Daniel included brothers Emilio Estevez and Ramon Estevez, Robert Downey Jr., Doug Toby (Red Dawn), Jason Planco (The Joy of Sex) and Robert Rusler (Weird Science).
One part of his Macchio's audition he really nailed: knowing nothing about karate. Kamen said, "John called me up [to his apartment on 89th Street in Manhattan] and said he was bringing someone over. I open the door and there's Ralph: no musculature, a skinny little string bean of a kid. He wasn't particularly coordinated for martial arts. I showed him some simple blocking and punching moves and he couldn't do them at all. I said, 'That's perfect. We have a kid that knows nothing.' I wanted a wimp. And Ralph is the paradigmatic wimp." 
Actors who auditioned for the role of Johnny included Charlie Sheen and Billy Warlock ("Happy Days"). Callbacks for the role of Johnny included Crispin Glover and Jeb Adams (who didn't get the part but the next year was cast as Troy's friend in The Goonies.) Steve Antin (The Last American Virgin) auditioned for an unknown role. Shannon (later "Shane") Sinutko from The Shaggy D.A. auditioned for the roles of Daniel, Johnny and Bobby – you see, he knew karate.
The Karate Kid was William Zabka's first feature film. When he heard about the project, Zabka was a 17-year-old high school wrestling champ who'd just graduated but hadn't yet started college at Cal State-Northridge. He was in commercials (including for Pepsi, Kook-Aid, milk and Tilex) and said he always booked All-American nice guy roles. 
At Zabka's read with Macchio, he said casting had hired a "gang leader" to stand in for Kreese. It was an intimidating environment, especially sitting with all the other actors, so Zabka sat in his dad's Volvo and listened to heavy metal (Zebra, to be exact) until it was his turn. After the audition, he waited for Macchio to come out and asked how it went. Macchio replied, "Everybody was really good. I told them you scared the s--- out of me."
Avildsen wanted actors, not kids who knew karate. Ron Thomas said his agent told him not to let on he knew the sport. A few weeks in, Pat Johnson pulled Thomas aside and said, "you know something, don't you?"
Ron Thomas was a cast member in the 20-minute live show "Conan" – based on Conan the Barbarian – at Universal Studios. After filming, he returned to that production until it closed.
Zabka's only "previous experience" as a bully was at a wrestling tournament. He told GQ: "For two hours, I stalked this kid around the gym, just staring him down and trying to intimidate him before our match. But when they called us out for the match, another guy came out. I realized I was staring down the wrong guy." 
Other considerations to play Lucille, Daniel's mother, include Christine Baranski, Dixie Carter, Tuesday Weld, Jill Eikenberry and Conchata Ferrell (best known now for "Two and a Half Men" but at the time, best known for "B.J. and the Bear.") Actresses who made the final callback were lesser known: Jennifer Ashley and Karen Kondazian.
Perry King was the actor Avildsen wanted to play Kreese, envisioning he could play him like an ex-Nazi. King was unavailable because he was committed to starring in the TV series, "Riptide."
Steven Seagall auditioned for the role of Kreese. Clabe Hartley, was who had just been in the TV movie "The Last Ninja" with Nancy Kwan and Michael Beck, was also considered. Avildsen said he also read actors he didn't know but were highly recommended by their agents, including one unforgettable candidate. "This guy came in around 7 or 8 p.m., I'd never heard of him, and he was wearing a white cape, he started talking about his work with the CIA, and I thought, 'Whoa! This guy is from another solar system.'"
On the DVD commentary, Martin Kove said Avildsen talked to him about the part early on and wanted the role so much, he turned down other work. By the time he was finally called into audition, he was irritated at having turned down so much work. When he finally was in front of the director to audition, Kove berated Avildsen and turned in an angry, intense audition. 
Avildsen doesn't appear to recall having spoken to Kove about the part. He states after a search they'd come up with no one and began shooting without their John Kreese. Casting director Caro Jones brought him Martin Kove. He said, "Marty came in, was very angry that he had to be kept waiting. He had a lot of attitude and I thought, "this could be our guy!"
Very few people involved with the production thought it had much chance at success, including Columbia Pictures, who only allotted an $8 million budget. Ron Thomas ("Bobby") told Sports Illustrated, "My manager told me, 'This movie has no audience. It's not going anywhere.'"
Many '80s teens recognized Pat Morita as Arnold, the owner of Arnold's Diner where the teens hung out, on the sitcom "Happy Days." The role was something of a cartoonish portrayal and drastically different than Miyagi. Avildsen met with Morita on the advice of casting director Caro Jones. Avildsen was completely unfamiliar with Morita, having never watched "Happy Days," so he had no preconceived notions.  Executive Producer Jerry Weintraub, on the other hand, knew Morita from his stand-up comedy act as "The Hip Nip" (Nip is short for "Nippon;" it's a racial slur) and had actually booked him for gigs. In fact, First Assistant Director Clifford Coleman said, "Nobody wanted Pat Morita; he had a horrible background. He was the type of stand-up comic who got up on stage loaded, dirty and foul. He was not Pat Morita the sensei."
Morita's daughter, Aly Morita, said, "My dad had come from playing these ching-chong-Chinaman roles. That gets tiring and demeaning and draining. Here was a character who had a past, a history, and there was this wonderful relationship between him and Daniel."
Avildsen insisted Morita be given a screen test. Morita said he had been living in Hawaii and his hair was a bit shaggy as a result. When he came in for the screen test, it was just Avildsen. A few days later, Weintraub sees the screen test and is impressed (actually Weintraub said he cried)– but he doesn't recognize Pat Morita. Morita says he was brought in five more times to read: the second time to make sure he could replicate the initial audition, the third time for a chemistry test with Macchio, the fourth time with he and Macchio in costume in front of the studio heads and the fifth time on an empty stage, in costume, filming it. 
The tapes didn't lie. Weintraub said there was no doubt, Morita was Miyagi. Morita says Weintraub called him and said, "Pat, I want to tell you I almost made the worst mistake of my life. I just want to be the first to congratulate you, you got the part of Miyagi."
Previously, Weintraub had wanted to cast Akira Kurasawa mainstay Toshiro Mifune, who lobbied for the role. However, Mifune's limited English-speaking skills was a big problem. Finally, Mifune's brand was playing characters of strength, the filmmakers thought it was more important to show modesty. James Shigeta was also brought in to audition – an actor most of us know as Mr. Takagi from Die Hard. Academy Award nominee and Chuck Norris favorite Mako (The Sand Pebbles) was reached out to for the role, but had already committed to Conan the Destroyer.
Sarah Jessica Parker was offered the role of Susan, Ali's best friend.  She was to be paid $328/day + 10% for her agent for rehearsals. A scheduling conflict caused Parker to back out and the part instead went to Juli Fields.
The Karate Kid is Juli Fields' only on-screen role. She is currently a TV producer who has worked on HGTV and Food Network shows. 
Jerry is the one black cast member (oh '80s movies). He's played by Larry Scott, who plays the only black cast member in another movie that came out in 1984 – Revenge of the Nerds. The Karate Kid was Scott's first film, but he had been working for years in TV.
Casting the kids of movie stars was a strategy hatched by Weintraub. Chad McQueen (son of Steve McQueen) played Dutch, Frank Avalon Jr. (son of Frankie Avalon) played Chucky, and Tom Fridley (son of Ellen Travolta, nephew of John Travolta) played Alan. Tracy Nelson (daughter of Ricky Nelson who was also starring in the TV show "Square Pegs" was originally cast to play Ali's friend, but she dropped out. Actors with Hollywood DNA considered for the role of Daniel include Emilio Estevez (son of Martin Sheen), Nicolas Cage (the nephew of Frances Ford Coppola), Sam Robards (son of Jason Robards and Lauren Bacall), Kyle Eastwood (son of Clint Eastwood), Robert Downey Jr. (son of Robert Downey) and Jimmy McNichol (brother of Kristy McNichol). Charlie Sheen (also son of Martin Sheen) was considered for the role of Johnny. Chuck Norris' sons Mike and Aaron Norris and Peter DeLuise (son of Dom DeLuise) also auditioned for unknown roles.
Clint Eastwood sought retribution for his son Kyle not getting the part. Clint reportedly banned Coca-Cola products from the sets of his films. At the time, Coca-Cola was an owner of Columbia Pictures.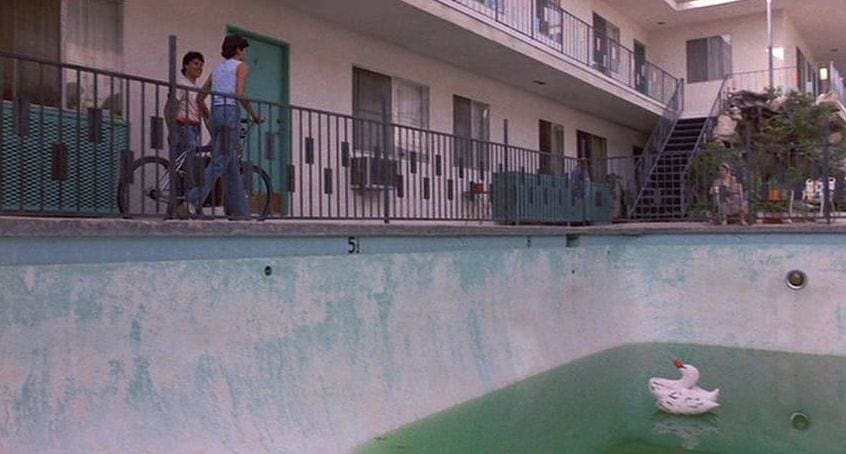 LOCATIONS
Using the San Fernando Valley as the setting was a key part to the movie's success. The LaRussos live in Reseda and Ali lives in Encino Hills. The cities are close together (on opposite sides of the 101, to be precise) and represent the close-range financial disparity that exists in The Valley.
The exterior shots of the LaRusso apartment are at a real apartment complex, South Seas on Saticoy near Tampa in Reseda. It looks almost exactly the same today. The interior of the LaRusso apartment was filmed on a soundstage, which was built to match what the real apartment looked like. Mr. Miyagi's South Seas work room was actually the building's carport. The pool was drained and made to look dirty, Avildsen said, to symbolize "the shabby California dream that [Daniel] wasn't buying just yet."
Cobra Kai dojo is located in North Hollywood, a 30-minute drive from Reseda.
Golf 'n Stuff is in Norwalk – even farther – but in reality, the Sherman Oaks Castle Park (then a Malibu Grand Prix) – a decades-old Valley institution – is where Ali and Daniel were more likely to go hang out.
While the locations were used to portray accuracy, the beach scenes make no sense. For kids who only got around on two wheels, they did not go to the closest beach: they're at Leo Carillo Beach in Malibu.
Miyagi's house was in Canoga Park. It's no longer there.
"West Valley High School" is really Charles Evans Junior High School in Woodland Hills. It was a school that was no longer in service, which made it an ideal filming location. It's also used as Ocean Front High School in Summer School (summer school link). The school is now used as office and warehouse space for various LAUSD youth programs.
The plaque on the high school was a twist of good fate. It's the real plaque that hangs at Charles Evans Junior High School. When Avildsen spotted it, he thought it fit in perfectly with the film's story.
Morita lived in Tarzana and lived close to filming locations. After school, his daughter Tia would go to the set and do her homework while sitting in his director's chair.
The All-Valley Karate Championship was filmed at the Matadome at California State University-Northridge. Zabka had attended CSUN as a film major.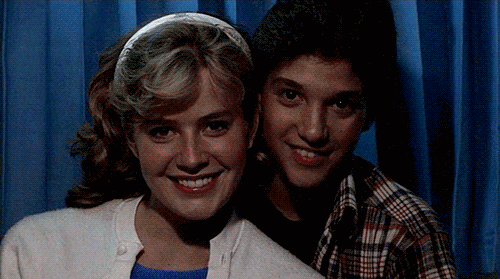 THE MAKING OF….
Karate Kid already existed in the Legion of Superheroes. Long before The Karate Kid, DC Comics had a character named Karate Kid who was in their Legion of Superheroes. DC gave permission to use the name for the movie's title and are thanked in the closing credits. In today's superhero movie world, it's hard to imagine that kind of allowance would be made today.
Dennis Palumbo (My Favorite Year) was considered to write the script, however he said in the documentary Tales from the Script, that he said he'd write it on one condition: that Daniel lose in the end. "You can't have Mr. Miyagi tell him 'It doesn't matter if you win or lose' for 90 minutes and then have to have him win," Palumbo said.  "They made four sequels to that movie, so obviously I was wrong."
Sensei Kreese, an Army vet who served in Vietnam, is based on screenwriter Robert Mark Kamen's first sensei, a former Marine sergeant who had a brutal approach. That guy was kinder than the sensei he almost studied under, who Kamen said taught students to break their opponents' noses. "He thought that in combat only one person should be left standing, and the other person should be hurt."
William Zabka, who plays bully Johnny, could also relate to the storyline. He said when he was in elementary school, his family moved from New York to Los Angeles. On the first day of school, a bully pushed him off of his bike.
Karate wasn't nearly as popular a sport in the 1980s. Now, in Los Angeles at least, there's a martial arts dojo on every block. 
While Daniel authentically looks 15, Ralph Macchio was actually 22 during filming (no one in the cast believed he was that old). Randee Heller ("Lucille") was only 14 years older than Ralph Macchio; after their initial meeting, she says she thought, 'Wow! He's so mature for 16 years old!'
To all the men who lusted for 16-year-old Ali through the years, take comfort: Elisabeth Shue was 20 years old, so you're slightly less creepy. She also had to interrupt her studies to be in the film – she was attending Harvard.
By the way, everyone on the production hated the title The Karate Kid. Shue said she had her doubts about taking the role because of the title. Macchio, in particular, fought hard to change the title, thinking he would be made fun of for the rest of his life with that moniker. Also not a fan of the title was the film's director, John G. Avildsen, who also directed Rocky. He originally balked at the idea of directing The Karate Kid because, as he thought he'd be mocked as "Ka-Rocky" or "The Rocky Kid." However, he says he changed his mind, seeing the films as totally different stories. Rocky is a love story, The Karate Kid is a teen who finds a father figure and overcomes the odds to defeat his enemies.
Sylvester Stallone didn't see the difference quite as clearly. Kamen said, "Sylvester Stallone and I joke about that all the time. He says: 'You just f------ ripped off my movie.' I've got an Italian kid, an old man. . . yeah, you know what, you're absolutely right. You had one good idea and I ripped it off!"
The name of Macchio's character was originally Daniel Weber. When Macchio was cast, they changed his name to Daniel LaRusso.
Ali is named after Kamen's daughter, Allesandra. The Karate Kid III has a character named Jessica – also the name of one of his daughters.
Shue's famous "Ali with an i" line came from Macchio. It was an improv he threw in during his first audition with Avildsen. The director liked it and put it into the official script. 
Miyagi's late wife is named Yuki, the same name as Morita's wife.  The name was meant to help Morita's emotional performance.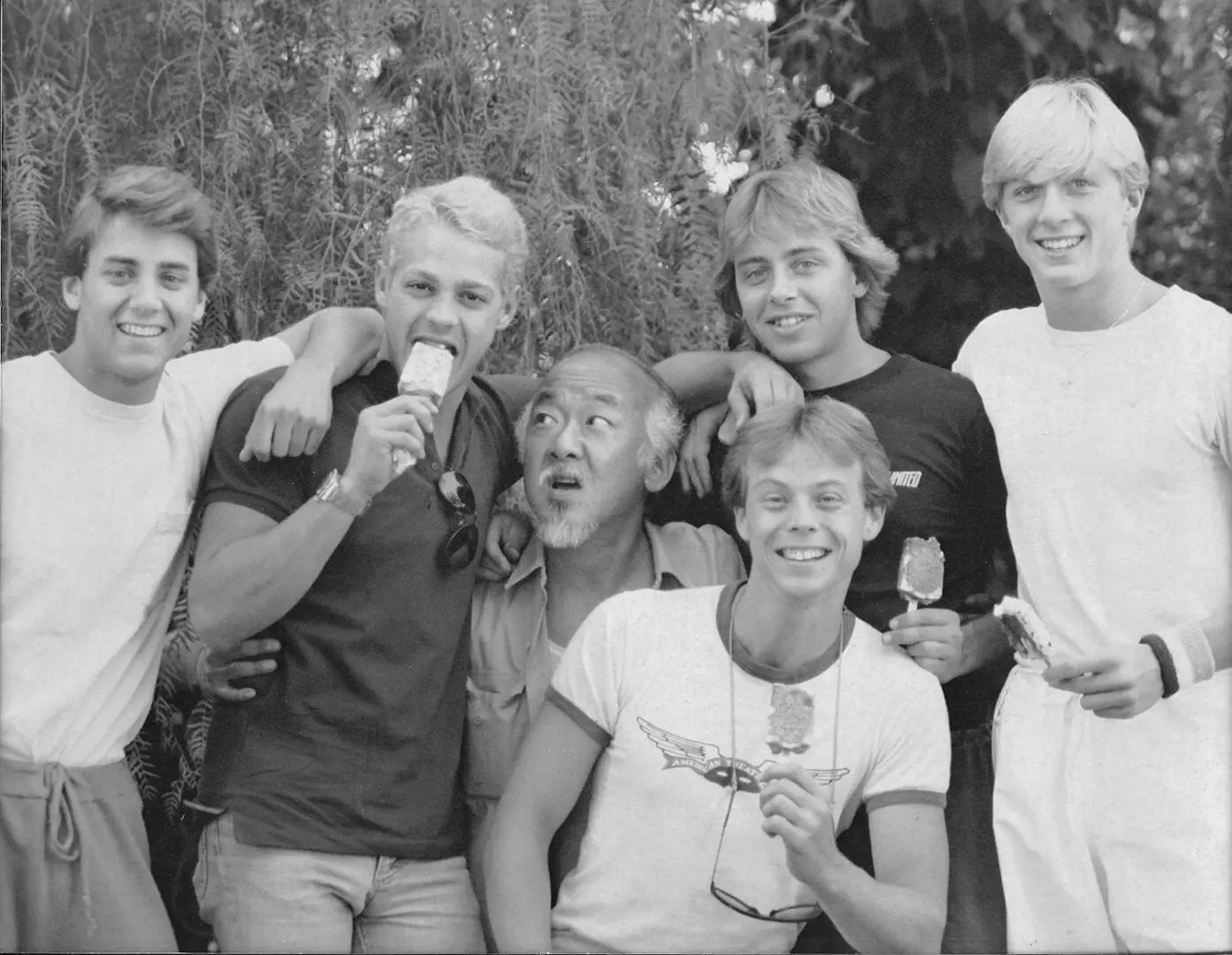 Like Daniel, Macchio had just moved to LA.  He's from Long Island, but was hired to play a cousin for the final season of "Eight is Enough." He says he could relate to that East Coast-West Coast feeling "that the whole turned blonde and everyone had a nicer car than I did."
In fact, Avildsen turned up the blonde. The Cobra Kai were intended to look like an all-blonde Aryan group of kids. Chad McQueen had to dye his brown hair blonde for the production.
The Cobra Kai kids became life-long friends as a result of how Avildsen set them up to bond as a unit. They were together almost nonstop for at a month or so before shooting began, bonding and becoming a unit during that time. That included activities like soccer (training with a guy who played with Pele), karate and bodybuilding – four hour a day, five days a week. Additionally, the Cobra Kai students went through motorcycle training so they could ride their dirt bikes effectively – they were all taken the Columbia Studios ranch on a Sunday when it was closed, riding Hondas around familiar locations – doing donuts on the "Fantasy Island" set, riding through western saloons and by the "Leave it to Beaver" house (all while getting paid triple-time).
Ralph Macchio was kept separated from the Cobra Kai actors. He wasn't included in these sessions and his trailer was positioned far away from theirs. Avildsen kept Macchio busy with rehearsals for other scenes the Cobra Kai were not in. Zabka said one time when he was headed to hang with Macchio, Avildsen discouraged him and told him to go spend time with the Cobra Kai instead. In doing this, Avildsen ensured Cobra Kai would unite and also wouldn't become friends with Macchio, therefore, making it easier for the actors to team up against him.  Not only did their bonding work for the making of the film, the Cobra Kai are all still best buddies and see each other regularly – including Martin Kove.
Pat Johnson, a 9-degree black belt who trained with Chuck Norris and was the captain of Norris' undefeated karate team, trained the Cobra Kai for six weeks. Zabka told Sports Illustrated, "If I was doing something sloppy, Pat would grab me and twist my leg. If I ever turned my back on him, he'd sweep me to the ground and say, "Never turn your back on anybody!"
Avildsen gave Kove these acting notes for Kreese: "No smiling," "I want death," and "stay deadly!"
Kove was in character as Kreese for his first meeting with the Cobra Kai actors. They met for the first time in the dojo, intentionally. While they're all still friends, Zabka said he's still afraid of Kove. 
Johnson trained Macchio and Pat Morita in Okinawan karate, separate from the sessions from the Cobra Kai who were learning a different style of karate. Johnson said it helped the two form that Daniel-Miyagi relationship - they bonded over their shared misery of training!
Morita didn't know any karate before starting filming nor was he athletic. Macchio said, "By the time the sequel came around, I think we almost got him to touch his toes!"
Morita's mastering of the training sessions is its own success story: Morita had spinal tuberculosis as a child and was in a full body cast for a decade, living full time in a hospital where doctors hold him he'd never walk.
Johnson is seen on-screen as the referee of the final fight at the All-Valley Karate Championship.
Morita helped the young actors, many of whom it was their first film. The Cobra Kai kids called him "Uncle Pat." Morita nicknamed William "Billy" Zabka "B.Z." and advised to "rehearse at 110% so that when shooting time came, 'it's like bread and butter.'"  Ron Thomas ("Bobby") said he was stumped on how to make himself cry for a scene in an audition, Morita told him "don't blink" because it will cause your eyes to water. 
Most of the audition and rehearsal footage is on YouTube. Avildsen was the rare director who spends a lot of production time on rehearsals and, even more so, filmed all the rehearsals. Avildsen and Morita worked together on the little details to make sure all the characters were fully fleshed out. Macchio said he never had any downtime because he would be sent to rehearse mechanics – car waxing, painting, karate moves, etc. so they'd be authentic when the time came (Macchio said it was tiring but effective). Additionally, Zabka and Macchio rehearsed the final fight sequence from the very beginning of the shoot. All of those rehearsals can be seen now on the late director's YouTube channel.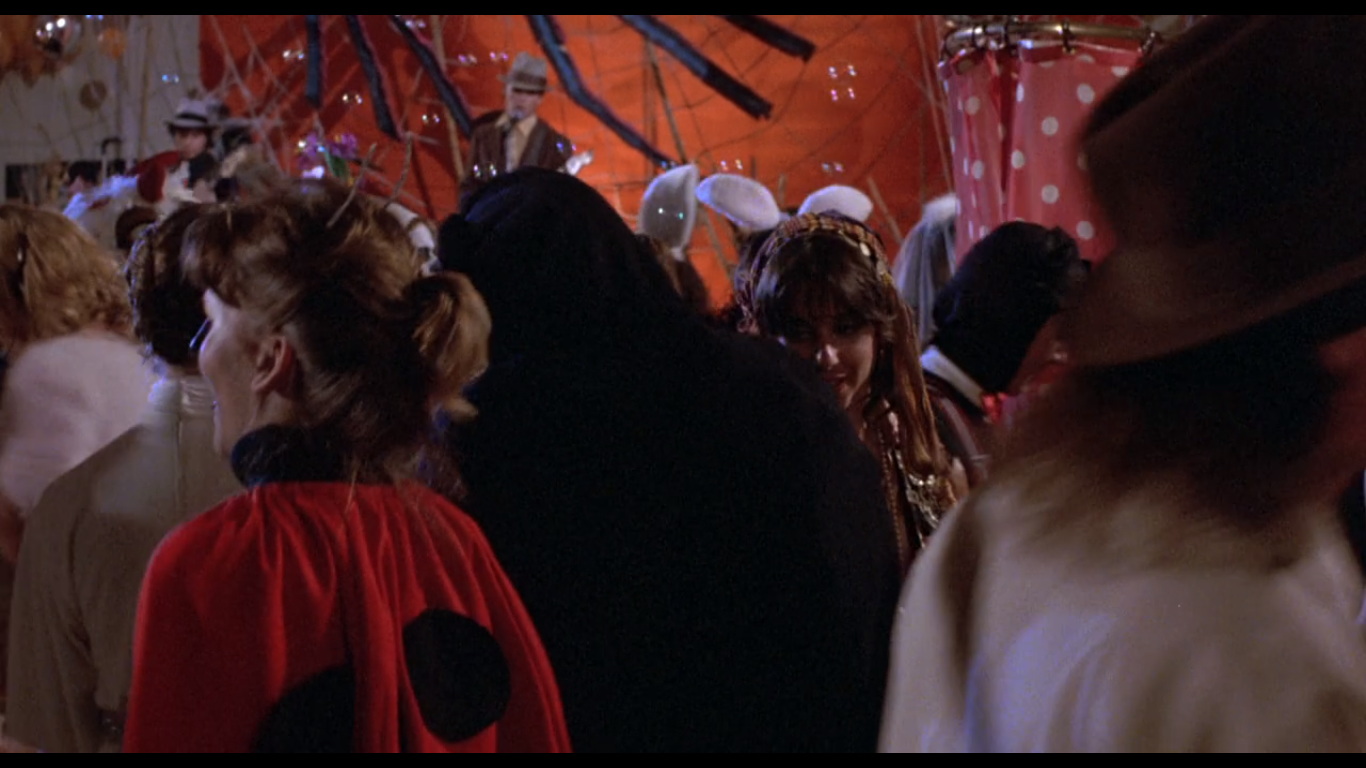 Music supervisor Bill Conti created the score and soundtrack based on the dailies and rehearsal footage Avildsen had sent him. Conti and Avildsen have worked together on all the Rocky and The Karate Kid movies. Conti says they're soulmates.
Conti said the score elements were taken from the title - Karate (Eastern music) Kid (youthful)  - and the fact they're moving from New Jersey to California (West). Pan flute musician Gheorghe Zamfir happened to be performing a concert in the LA area, and it gave Conti the idea to have him play his instrument for the score. Conti called Zamfir out of the blue - Zamfir agreed, Conti sent a car, and they recorded it. 
With the soundtrack music, Conti said it had to represent the music of the day – what kind of music would '80s kids listen to? A great help, according to Avildsen, was Jerry Weintraub. For the first decade of Weintraub's career, he'd specialized in making TV specials for music superstars like John Denver and the Carpenters. He knew the music community well and was able to get songs written for the scenes they were intended for. 
Broken Edge is the band playing at the Halloween dance (pictured above).  The music they're playing transitions into Broken Edge's song "No Shelter" that plays behind the scene where Daniel is fleeing the skeleton-dressed Cobra Kai and gets severely beaten.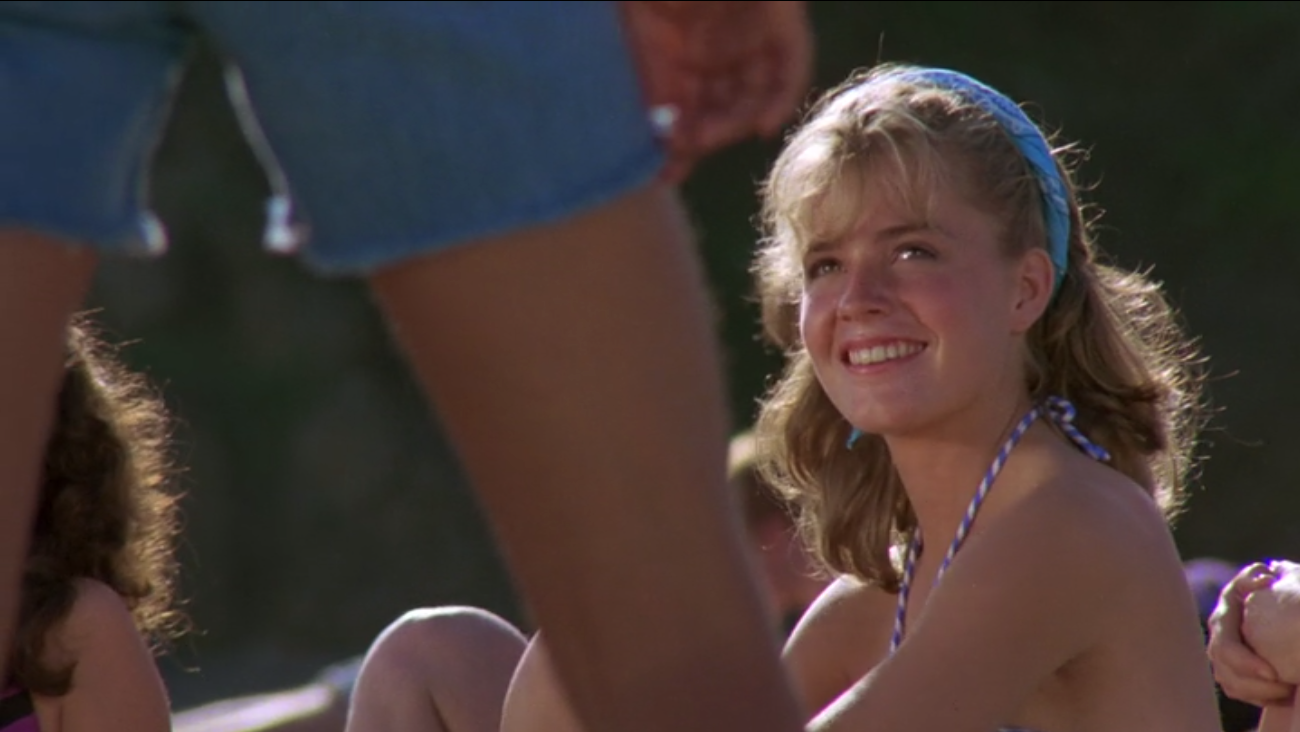 First day of filming was on Halloween, 1983. However, that is not when the Halloween scenes were filmed. Instead, the end-of-summer beach party scenes were filmed first on Leo Cabrillo Beach in Malibu. Filming was banned on that beach, so California's governor had to personally make an exception.
Eighties workout icon Jake Steinfeld ("Body by Jake") was hired to get Elisabeth Shue in shape for her bathing suit scene, attire she says she was "very uncomfortable" wearing for the camera. Shue told Sports Illustrated, "Once the beach scene was shot, I went back to eating whatever I wanted. Watch, I slowly gain weight throughout the rest of the movie."
Shue had three brothers and grew up with sports. She's acknowledges she's been a bit bitter that she didn't get to do any of the karate training. She said on Rich Eisen's radio show that she was a much better soccer player than she was allowed to show in the film, much better than Ralph Macchio.
In the soccer tryouts scene, Israel Juarabe ("Freddy") really takes a soccer ball to the face.
Andrew Shue ("Melrose Place"), Elisabeth Shue's brother, is one of the background members of Cobra Kai.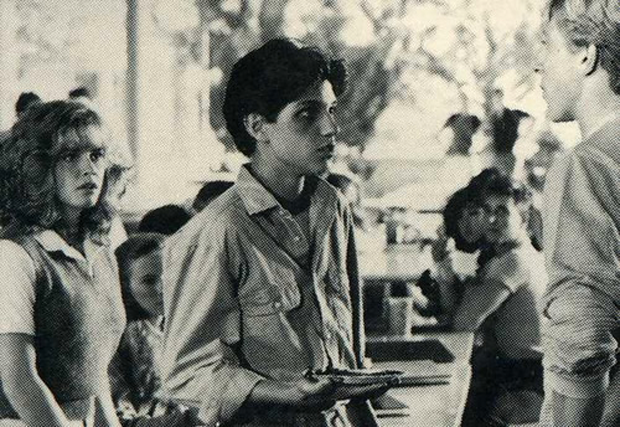 Martin Kove said John Kreese saw himself in Johnny and wanted to see Johnny accomplish what he felt he couldn't. "He was a great champion and when he went to Vietnam, unfortunately, he was not allowed to win – like a lot of our soldiers, despite their physical prowess and their intelligence. When he came back, he vowed he would never lose and none of the Cobra Kai would ever lose under any circumstances," said Kove. "Karate was an offensive sport rather than a defensive art." 
For those who are on the side that Johnny was the victim, not the bully – two scenes were deleted of Johnny bullying Daniel.
One scene is in the high school cafeteria on the first day of school: Johnny puts blueberry pie in Daniel's chair just as he's sitting down, so he gets blueberries all over his pants. Angry and embarrassed, Daniel picks up the pie and smears it across Johnny's shirt – a fight ensues. (see pic).

In another scene, Daniel comes up from a drink at a water fountain to find Johnny who presents him with his "death certificate" – here's a piece from the original script:

Daniel: We both know you can kick my ass seven ways from Sunday. So why do you still bother?

Johnny: Maybe 'cause I like to.

Daniel: You ever think he might be wrong?

Johnny: Who?

Daniel: Your teacher.

Johnny: Watch your mouth, asshole.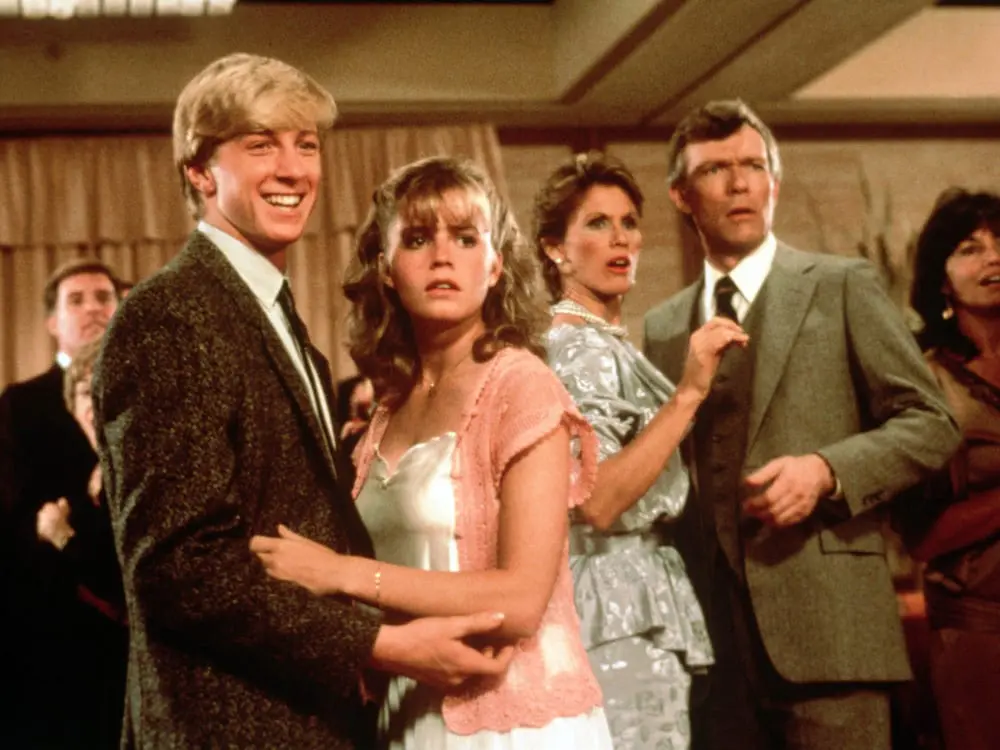 The "chores" training exercise that was the hardest is "wax on, wax off." Macchio said it is more painful than "paint the fence" because his wrist bone would hit the block Miyagi set up. 
Maybe the real bully was Elisabeth Shue: she kept smacking William Kabka. Shue said she hit Billy really hard while filming the beach scene where he breaks her boombox. Those scenes were the first ones filmed and she said, "I felt like it was all real because I was so new to it ... the way [the Cobra Kai] treated [Daniel] really made me angry, personally, all the time."
Zabka concurred. He laughingly recalled Shue hit him for real, every time in the country club. "For all the feet flying in my face the whole movie, it was Elisabeth Shue who connected with me every time, and she couldn't pull her punch, for sure."  
In fact, the scene at the country club where Johnny is laughing at Daniel with spaghetti sauce all over him isn't what people think. Zabka said, "What my laugh is really saying is, 'She hit me again. I can't believe she really hit me again.'"
Originally, Ali is sexually assaulted in the Golf 'n' Stuff parking lot. In rehearsal footage, it's revealed that when Ali storms out of the arcade, angry with Daniel for believing she was cheating on him with Johnny, a group of thugs grab her, pull her into a dark corner and are attempting to rape her. When Daniel goes looking for Ali, he finds the guys attacking Ali and uses his karate moves to save her. Luckily, Avildsen realized that young couples have misunderstandings and make up easily and that it wasn't necessary for strong, capable Ali to become a victim.
Lucille moves Daniel across the country for a job at Rocket Computers. In his 20s, Morita was the head of computer operations at an aerospace firm.
Freddy says he's never heard of Rocket Computers, which seems like a random comment. It's not.  In the film, it looks like Lucille has taken a job working at a restaurant, but it's not really explained. A deleted scene makes sense of it all: Rocket Computers went out of business just as Lucille arrived. Here's what she tells Daniel: "They went bankrupt!...[But] listen to this. I walk out of Rocket with the beginning of Excedrin headache one through ten about to come on, and I'm going back to the car when this woman comes flying out of this restaurant, The Orient Express, and she's screaming, 'I quit! I quit!' Right behind her is this guy and he's yelling just as loud, 'You can't quit! You're fired!' It's one minute to noon, people are coming in to lunch, I'm the first but only applicant — I got the job!" Lucille tells Daniel she is a hostess, not a waitress. A subsequent scene that is in the film has Lucille saying she's being trained to be a manager which means she'll have to work two nights a week – explaining some of Lucille's absence. She also says working at the restaurant has great benefits that she "could never get working in computers."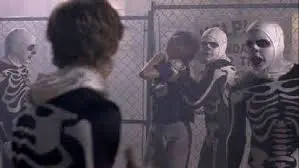 At the Halloween party, the costumes are pretty unusual for a high school event. For instance, Ali's friend Barbara says she was a "cigarette girl." The audience never gets a great look at her costume, except the top hat, bow tie and yellow flower Ali borrows from her label...AND  a long brown cigarette in a cigarette holder. A FANTASTIC break down of all the costumes is in this i-mockery article – which identifies Easter Eggs to films The Warriors and identifies The Karate Kid in the same universe as Halloween III: Season of the Witch.
The skeleton costumes were skin tight...so Chad McQueen said he wore a rolled-up sock in his codpiece. He told the other Cobra Kai actors that his dad, Steve McQueen, had given him that advice before he died because "it made it look nicer."
Todd Lookinland, brother of Mike "Bobby Brady" Lookinland, is "Chicken Guy" (the guy inside the egg-throwing chicken costume).
The Halloween party beating scene had to be shot over and over for one reason: Macchio was a slow runner. He said they had to keep making the Cobra Kai run slower because William Zabka could catch him in 10 seconds. "I was the tortoise and he was the cheetah!"
Real injuries did occur in the Halloween beatdown scene. Cobra Kai beat up Daniel and then Mr. Miyagi beats up Cobra Kai. In reality, Zabka accidentally roundkicked Macchio in the jaw, and while Macchio was in pain, he was okay. However, Pat Morita's stunt double Fumio Demura accidentally kicked Rob Garrison ("Tommy") in the face and really broke his nose. Garrison said he was on the ground bleeding, and they couldn't actually use that take because it's illegal to show real blood. After that, stunt doubles were used.
Oh...and Demura didn't get off the hook entirely. The stuntman begged wardrobe to give him layers in the seat of his pants in case of a rip. They refused. Sure enough, the seat of his pants got snagged climbing the fence and he was exposed. He then solved the problem himself: Demura wore underwear the same color as the pants (and perhaps this is why Miyagi simply walks through the gate after picking up a bloody Daniel?).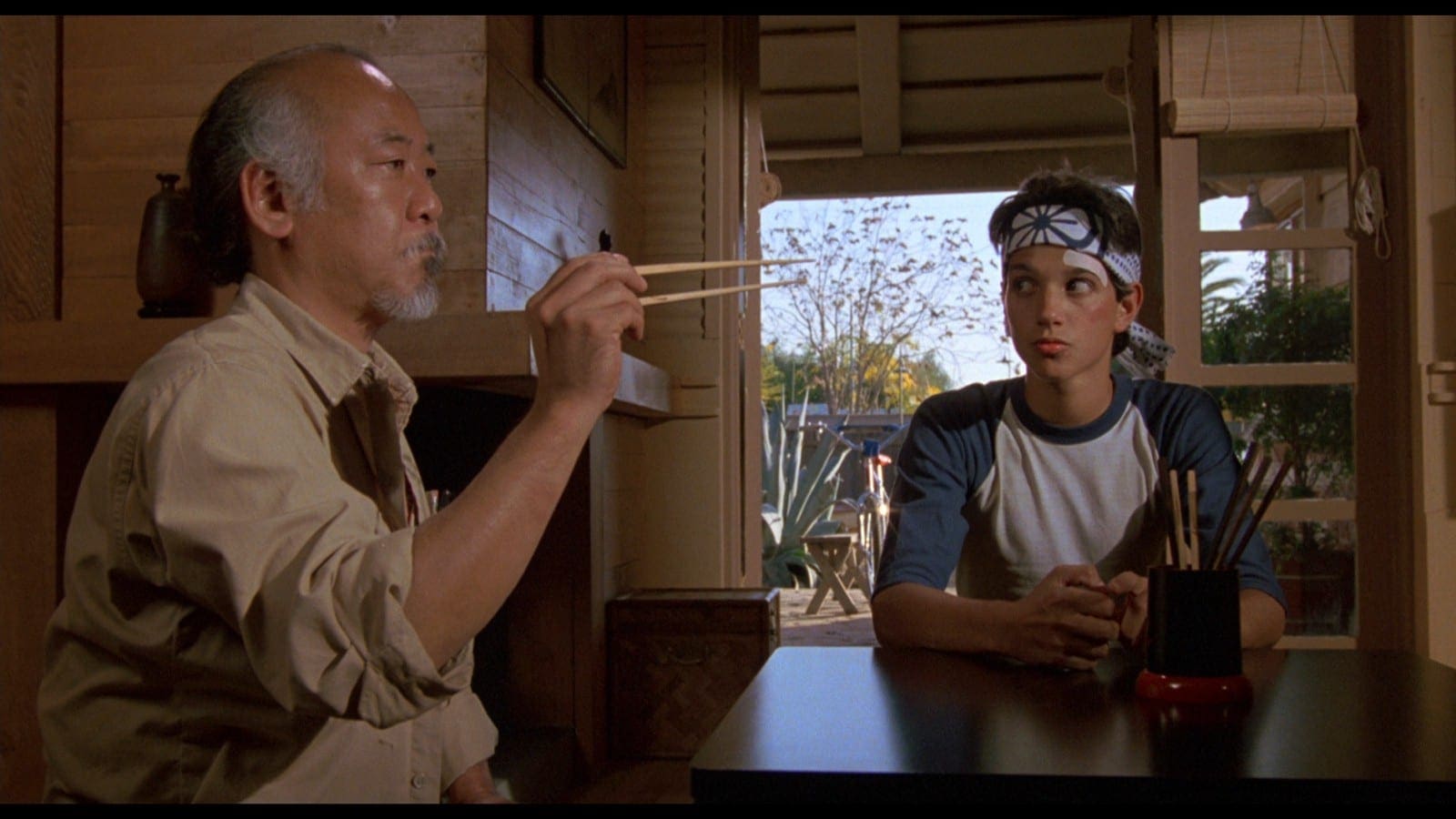 How does one catch a fly with chopsticks pre-CGI? That scene is an homage to 1956's Samurai III: Duel at Ganryu Island (starring Toshiro Mifune, no less), where a similar scene takes place. How that was pulled off in 1956 is unknown, but for The Karate Kid, a fly wrangler was hired. The wrangler put the flies in a refrigerator with the idea that the cold would make them fly slower. In fact, as they warmed up, they would fly faster. The crew also tried putting a dead fly on a wire. That also didn't work. In the end, they abandoned using real flies and what Daniel catches is a piece of sweater fuzz hanging on a thread (from the black sweater the script supervisor happened to be wearing that day).
The studio asked Avildsen to cut the scene where Miyagi is drunk and we learn his wife and baby died in a Japanese internment camp while he's fighting in the 442nd regiment. They didn't want to cut it because it shows the wise mentor drunk – or because he gives underage Daniel a shot of alcohol – it was because the scene doesn't push the story forward and the movie was longer than two hours. Avildsen refused, seeing it as pivotal and the "love scene" of sorts between Daniel and Miyagi. The scene is recognized as what got Morita the Academy Award Supporting Actor nomination. It was also significant to Japanese-American audiences because it was one of the first American films to acknowledge the World War II internment camps. The 442nd, made up of Nisei, did, in fact, win more medals of honor than any other regiment during World War II. (The late Sen. Daniel Inouye from Hawaii was a member of the 442nd.)
Pat Morita related to Mr. Miyagi's anguish because it was truly his own. Morita spent years of his childhood in a Japanese internment camp in Gila River, Arizona. When Avildsen realized Miyagi was lacking a backstory, he, Morita and Kamen created the ideas for the scene based on Morita's personal experiences.
The 1948 Ford De Luxe that Miyagi gives Daniel was selected because it's the same car that Avildsen's father gave his sister at the end of the war. Avildsen said he felt it was good luck. 
Morita was paid very low wages for the role, around $30,000.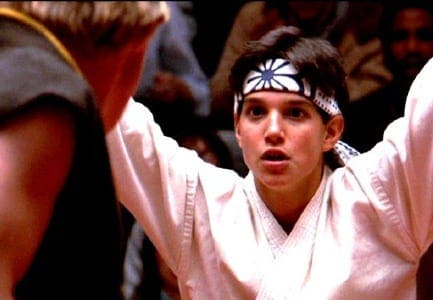 To make the All-Valley Karate Tournament more realistic, Avildsen set up a real karate tournament, complete with trophies for the real winners. By the time the final Daniel vs. Johnny fight occurs, the crowd was really into it, booing Zabka. Zabka's parents were in the stands, he said his mom was telling everyone, "He's my son! He's not a bad guy!"
Where is Lucille during the Tournament? During the "You're the Best" montage, Daniel's mom is seen talking to Ali, Miyagi and Daniel after the tournament starts with a referee indicating she needs to leave the floor. A deleted scene reveals Daniel needed a parent's signed consent. On the evening of Daniel's birthday, he wakes Lucille for her to sign the form and she refuses, crinkling the paper and throwing it on the ground. Later, we see Mr. Miyagi, Ali and Daniel entering the competition having forged Lucille's signature. The man working the registration table asks, "Where is Lucille?" but the trio distract him and the clerk abandons tracking down Daniel's mom. When Lucille wakes up in the morning and realizes Daniel isn't home, she figures out they are at the tournament and shows up.  
During Daniel's battle with Bobby, Macchio accidentally popped Ron Thomas in the mouth. That bloody lip Bobby sports is authentic. Darryl Vidal ("Karate Semi-Finalist") also accidentally made contact with one of his competitors, seen in the "You're the Best" montage. Vidal said his opponent showed him the bruise after.
Johnny's reaction to Kreese's order to "sweep the leg" was authentic. Even though he knew it was coming, Zabka said they'd all become so close to their characters and that in the moment, when Kove uttered the words so close to his face, it was intense and his reaction was real. 
The Crane Kick was a wow-er in 1984 because no one had seen that move before. That's because it was created for the film by Darryl Vidal (seen as the competitor who comes in third place in the All-Valley Karate Championship) who was discovered by Avildsen and casting assistant Randy Subasawa at an LA karate tournament.  Vidal said the idea originates with Kamen, who had the concept that with Daniel's leg injured, he would stand on one leg, jump and land on that same leg. But, after rehearsing it, it was clear that wasn't going to work, so Vidal had to come up with something that made sense with the story. While there is a karate kata called the crane stance, Vidal said the kick is based on the double jump kick and he added the arm and hand sweep. Karate champs have said that technique would likely not win any championships in real life. In fact, Vidal said, "here is very little practical application to the technique." 
Vidal is Miyagi's double in the beach scenes. He is wearing a padded suit and bald wig. Pat Morita never did the crane kick.
Macchio told Sports Illustrated, "I'm proud of myself for the kick, but I'm equally proud of Billy for taking the kick. Like a great passing play in football, it's all about timing." (Zabka said he was never actually kicked in the face for real.)
Most people, including Ralph Macchio, believe the Crane Kick is actually illegal. However,  Macchio points out, Johnny elbows Daniel before that…and by the same rules, that would also be illegal.
The final fight was shot over and over from many different angles with many different cameras – some of it Macchio was on a ladder. In the end, only two shots captured the final moment. The creators of YouTube Red's "Cobra Kai" were able to use that footage to show the final fight from Johnny's point of view (mixed with newly shot material). Josh Heald says the real find was a close-up of Johnny getting kicked in the face.
The film was originally written to end in the parking lot where Miyagi and Kreese would have a showdown. Miyagi was to tweak Kreese's nose with the other members of Cobra Kai dropping their belts on the ground to signify they were abandoning their defeated leader and his harsh methodology. Then, Miyagi and Daniel walk off together "into the sunset." However, Avildsen felt Daniel winning and being carried off was a better choice to end the film, so they wrapped shooting there. Later, though, Avildsen felt he did need that moment with Miyagi and Daniel. Months after the film had been turned in and test audiences watched it, Avildsen shot the final frame of Morita giving the knowing nod while Daniel says (off camera), "Mr. Miyagi! We did it!"
The last day of filming was the last day of 1983 – so the production started filming on Halloween and ended on New Year's Eve.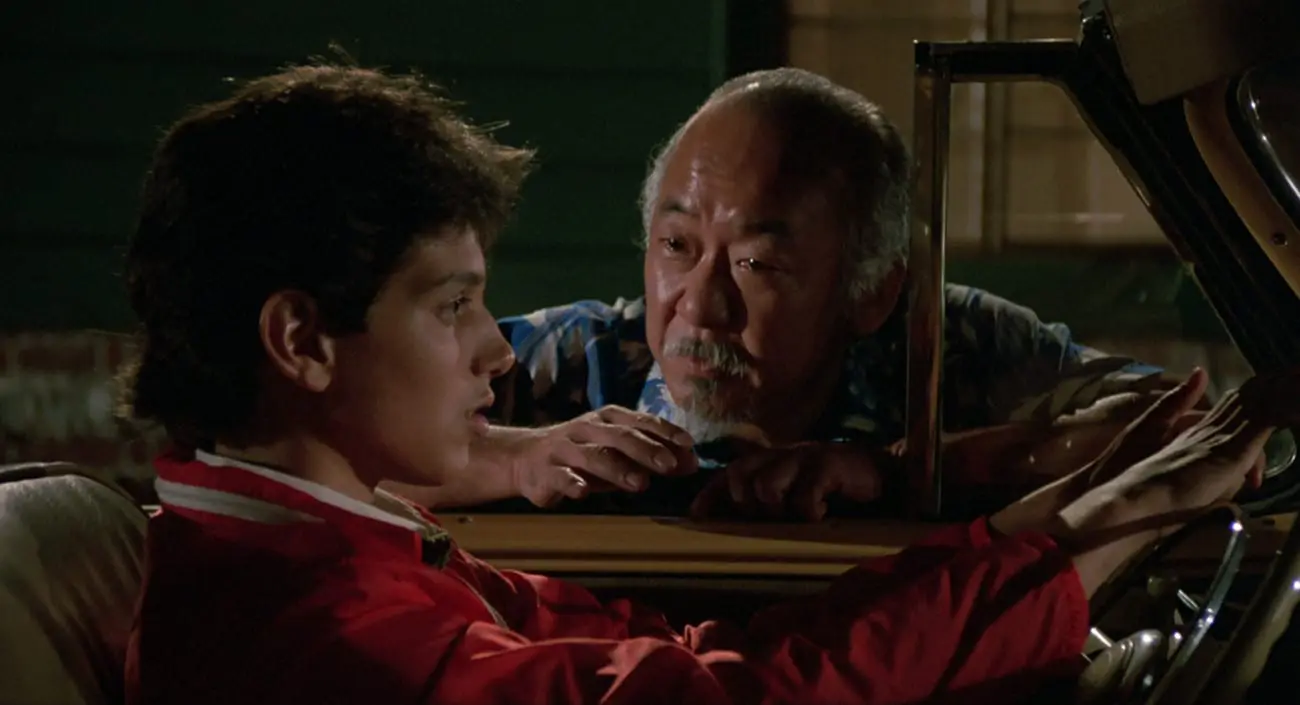 SINCE FILMING
Elisabeth Shue was written out of the second film because, according to Avildsen, "she asked for too much dough."
For The Karate Kid III, Daniel and Miyagi were to time travel back to China to the original Miyagi who created his style of karate. It didn't work out because a deal with Coca-Cola fell through. Avildsen indicates that's why the third film isn't as good – it was thrown together at the last minute. 
Zabka said he continued to train with Pat Johnson after filming. He said he's always a target in sparring because everyone wants to take Johnny out.
For the 15 years following the film's release, whenever Zabka would rewatch the end of the movie, he said he'd get chills and relive the emotional anguish of defeat. It wasn't until the next 15 years when he could start to watch it objectively and realize, "I really am a jerk!" He says, now when he watches it, he thinks, "what an idiot!" 
Assistant Director trainee William Choi met his wife during the All-Valley Karate Tournament. She was one of the extras.
Macchio named his son Daniel, after his character. Macchio's daughter Julie is an actress and did the national stage tour of Flashdance in the Jennifer Beals' role.
Ron Thomas is now Sensei Ron. He is a martial arts instructor with his own dojo. Pat Morita visited the dojo and met with Thomas' students.
Debate exists that Johnny wasn't the villain after all. Originally stated by Barney Stinson (Neil Patrick Harris) in "How I Met Your Mother," a theory has emerged that Johnny Lawrence is the real karate kid. 
When the karate students see Marty Kove, they call him Kreese and he calls them his Cobra Kai. They are all still tight.
Macchio stayed close to Morita. He said they had a special relationshioff-screenen as well.
Macchio delivered the eulogy at both of Morita's memorial services. He titled his piece, "Forever My Sensei."
Aly Morita,said with the success of The Karate Kid and the sequels, her dad Pat Morita had a hard time balancing family and career.
Macchio still lives in his Long Island community where he grew up. He kept his distance from Hollywood in an effort to stay grounded, and he said it's worked, he's led a well-adjusted life. He met his wife Phyllis at his cousin's Sweet 16 party being held at his grandmother's house. They had two children. They're still married.
Many of the cast members held on to original wardrobe and props. Zabka still owns the red Cobra Kai jacket. Macchio said he had the original headband and trophy, which are used in the YouTube series "Cobra Kai"
In real life, Macchio was given the yellow 1948 Ford Super De Luxe that Miyagi gives Daniel on his 16th birthday. Macchio still has the car, although since he's owned it, it mostly hasn't run. Macchio said it barely worked when they used it in the film! (Avildsen said he wanted to have the car stall out on the railroad tracks and a train to smash it into pieces, but he was told no. 
The Karate Kid transformed Macchio as an actor. He believes working with Morita helped him to learn to give up control and just listen, and that he realized a lot of acting is reacting. But, when he saw the May 18th sneak preview of The Karate Kid in Manhattan, he was able to gauge how the audience was drawn into the story through Daniel's eyes and ears – and that listening is just as important as speaking. 
The Karate Kid allowed Kamen to pursue another passion, wine-making. His Kamen Estate Wines in Sonoma Valley makes Cabernet Sauvignon and Syrah.
"Karate Kid: The Musical" is in the works. Kamen was hired to write the book for the stage production.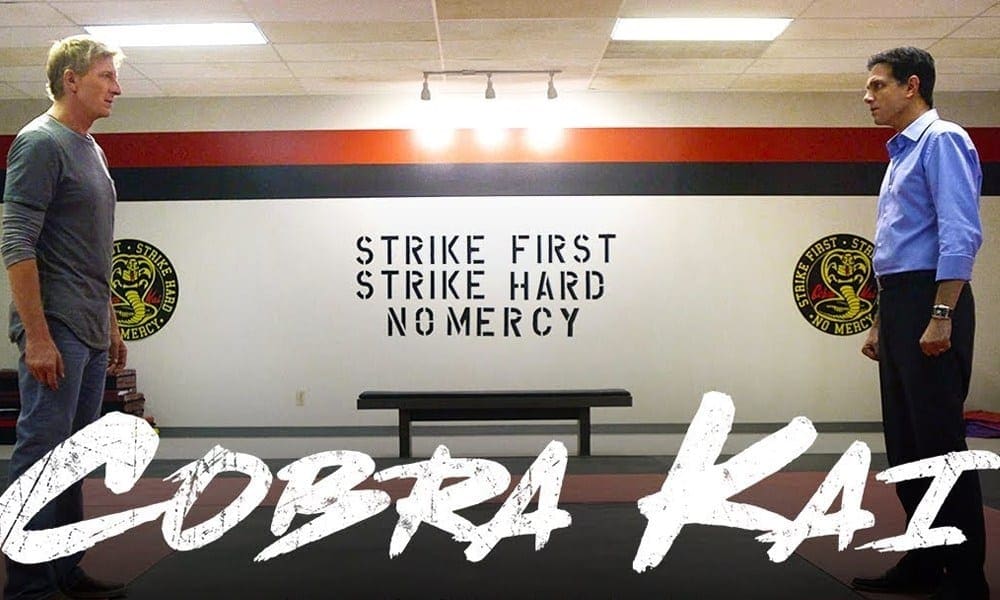 LEGACY
"Cobra Kai!" The YouTube Red phenom is proof that audiences still care about these characters and this story. "Cobra Kai" came about because the show isn't just about revisiting old characters, it's addressing "What happens to a bully 30 years later?" It's also intended to show why a bully becomes a bully. 
Karate as a sport has booned. American parents now often enroll their children in karate so they can defend themselves against bullies.
Pat Morita was nominated for Best Supporting Actor Academy Award and Golden Globe. It is The Karate Kid's only Oscar and Globe nods.
A liquid nicotine for e-cigarettes is named Sweep the Leg.
Macchio believes part of the reason The Karate Kid still holds up is the "soulful, magical" relationship between Daniel and his surrogate father/mentor Miyagi.
The quotable phrases that still permeate pop culture include: "wax on, wax off," "karate kid," "sweep the leg," "get him a body bag," "you're the best friend I ever had," "strike first, strike hard," "no mercy," and "Fear does not exist in this dojo! Pain does not exist in this dojo!"
Soundtrack
No doubt filmmakers thought they'd hit gold when they secured Survivor to sing the theme song, "Moment of Truth." However, the song was not another "Eye of the Tiger." Instead, the earworm that audiences responded to was "You're the Best Around," used in the karate tournament montage. Singer Joe Esposito said that song was actually written for another Avildsen project, Rocky III. Esposito said the song works except for the line "history repeats itself…" which made a lot of sense for Rocky, but made no sense for Daniel. John Avildsen said that the rest of the music was written to fit the scene - a result of producer Jerry Weintraub's long history working in the music business.
Director: John G. Avildsen
Screenwriter: Robert Mark Kamen
Release Date: June 22, 1984
Rating: PG
Opening Weekend Rank: #6. At #1 was Ghostbusters, #2 was Gremlins, #3 Indiana Jones and the Temple of Doom and #4 was the other new release, Rhinestone.
Opening Weekend Box Office: $5 million
Lifetime Gross: $91 million
Budget: $8 million
Production Company: Columbia Pictures
Distributor: Columbia Pictures