March 18, 2020
/
/
Comments Off

on FOR THE RECORD: FOXES' Kandice Stroh on why Dierdre is so misunderstood and the deleted scenes that explain everything.
FOR THE RECORD: FOXES' Kandice Stroh on why Dierdre is so misunderstood and the deleted scenes that explain everything.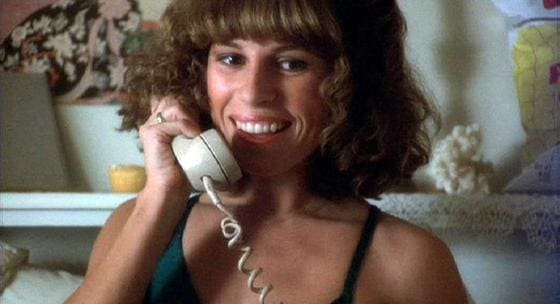 This year marks the 40th Anniversary of the Jodie Foster cult classic Foxes, about the wild lives of four teen girls growing up in LA's San Fernando Valley in 1979. Kandice Stroh made her feature film debut as Dierdre, an outrageous flirt who sleeps around. In our email Q and A, Stroh gives us dyno details on how she became a part of a landmark teen film.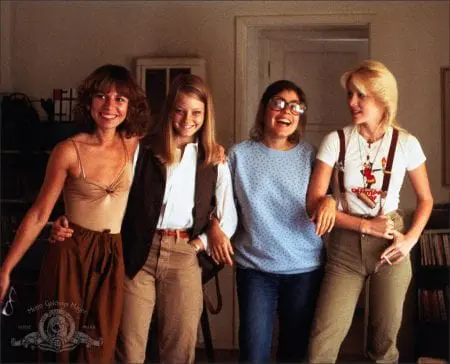 '80s Movie Guide: WHAT WAS HAPPENING WITH YOUR CAREER AT THE TIME YOU AUDITIONED?
Kandice Stroh: I was living in NYC – Brooklyn Heights, studying with Warren Robertson, doing theater, commercials, small film roles, industrial films, print work and writing, primarily sitcom pilots. After a meeting with the head of casting at Universal, I began to receive interest from agents and producers in LA. I was flown out to LA several times by Norman Lear's Co. Tandem to meet with writers and producers about starring in one of their pilots. Apparently, physical comedy was one of my skills. At the same time, I pitched one of my sitcoms to Brandon Tartikoff. That was a big deal.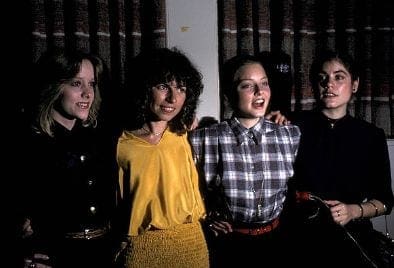 80sMG: WHAT WAS THE CASTING PROCESS LIKE? DID THEY DO ANY KIND OF CHEMISTRY TEST?
KS: August in NYC – hot, not very busy, on my way to Copake Lake. I almost left my Foxes audition because I saw a room full of models. I was 5'5â€, skinny, and had just gotten a perm! It was another case of "what am I doing here?†that a lot of actors experience. My agent encouraged me to stay. David Puttnam and Adrian Lyne were the only people in the room and they were talking, directing and filming all at the same time. I remember David taking me aside and putting bobby pins in my hair to keep it away from my face. I read for two roles but the Deirdre telephone monologue scene was my last. I was sure that despite Adrian's direction to be superficial and narcissistic, (since I was "deep†having done Ibsen,) I would never land that role. In fact, when I received the call to fly to LA for a screen test, I asked my agent what part because if it was for Deirdre, I was only "kidding.â€
So in LA, I was screen tested for Deirdre. The only people at the stage, which included a bedroom set-up, were Lyne, Putnam, the small crew, Jodie Foster AND her mom, Brandi. Jodie and Brandi sat in chairs opposite the bed as I did the monologue. We did a few takes. I spoke with Jodie and Brandi – chit chat mostly about NYC and my background. I never met anyone else onset and other than Jodie and Randy Quaid and Sally Kellerman, no other cast was mentioned.
So, no – no chemistry test. I returned to NYC, was offered a role in a long running soap, which I turned down, and then got the call for Foxes.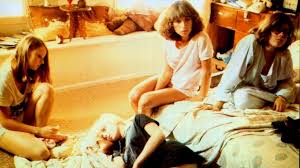 80sMG: THE PERFORMANCES ARE SO AUTHENTIC. WAS IT ALL SCRIPTED OR WERE SOME OF THE GIRLS CONVERSATIONS OVER BREAKFAST, AT THE CONCERT, ETC., IMPROV? OR WAS IT ALL SCRIPTED
KS: For the most part, everyone adhered to the written word. Gerald Ayers, the writer, had a pretty solid sense of the appropriate dialogue. I think the characters each actor developed, their tone, body language, choices, etc. made it seem non-scripted at time but that's a testament to the work.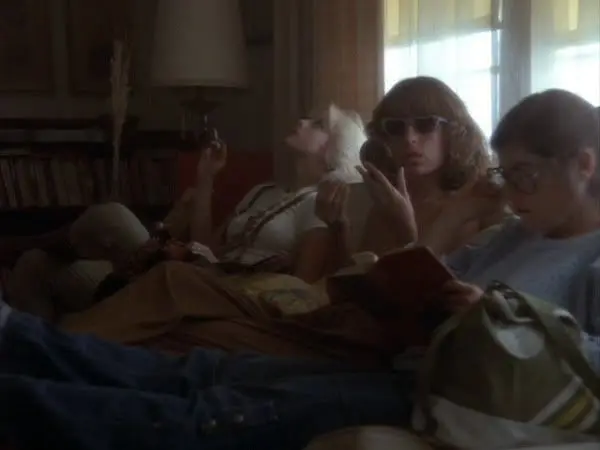 80sMG: TO THAT END, WERE THEIR REHEARSALS OR ANY KIND OF ACTIVITIES FOR ALL THE GIRLS TO GET TO KNOW EACH OTHER AND BUILD RELATIONSHIPS?
KS: We met for the first time on a stage and had 2 weeks of rehearsal with the writer and director. That was quality time spent. Most of the scenes were group scenes, kitchen table, etc. That was basically it. No group activities or prep in the sense of building relationships. I think we all seemed pretty friendly from the onset. For me, this was significantly different than prepping for a play. I realized that I had a lot of homework to do on my character.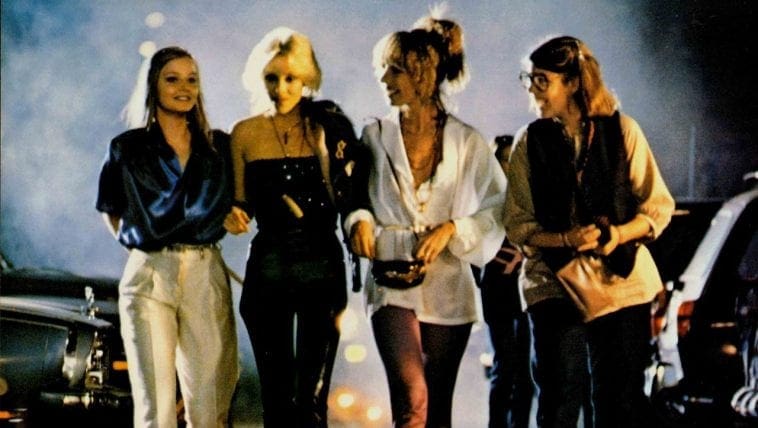 80sMG: WERE ANY REAL LIFE FRIENDSHIPS MADE?
KS: Yes, for a while. Cherie and I stayed friends for a few years. She visited me in Brooklyn and I saw her in LA. Then, as with many working relationships, you don't get to see or work with those people again.
80sMG: HOW SIMILAR WAS THE STORY LINE TO TEEN LIFE IN 1979?
KS: Hard to say. I grew up on the East Coast. It seems that Ayers' story is authentic to the period, locale, and socio-economic background of his characters.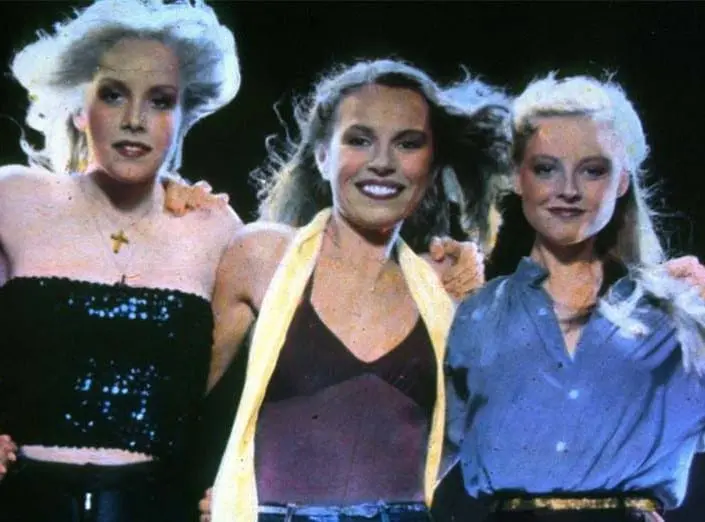 80sMG: WHAT WAS IT LIKE FOR YOU TO MAKE YOUR FILM DEBUT WITH THE RUNAWAYS LEAD SINGER AND JODIE FOSTER?
To have a starring film debut with Jodie Foster was thrilling and exciting. I was familiar with her work and admired her talent. Frankly, I didn't know about The Runaways. Maybe it's an East – West coast thing? Or a music thing? It just wasn't anything I was tuned into.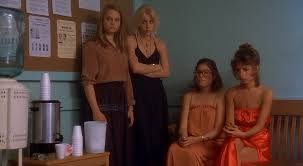 80sMG: WAS ANYTHING ORIGINALLY FILMED WITH DIERDRE'S PARENTS? SHE'S THE ONLY ONE OF THE FRIENDS WHOSE PARENTS GO UNSEEN.
KS: Oh, well, I could go on about this. Even "I†argued with the producers about this, until the last day when it still seemed a possibility. It was unfathomable to me that this scene would not be filmed. But, yes, it was a budget cut!!! Towards the end of shooting, things became increasingly more tense between the producers and Lyne. You couldn't miss those onset moments, even as a newbie. Lyne was a perfectionist but unfortunately, money trumps artistic perfection. There was a wonderfully sad but funny pool scene at my parent's home, somewhere between Beverly Hills and Mulholland. You see, Deirdre, despite being friends with these Valley girls, was from a wealthier home. Okay, hard to reconcile, but had that scene been in the film, perhaps it would have not only added depth to her character but also, a firmer understanding of why she was as she was. I recall that Sheree North, a wonderful actress, was set to play the turban-hatted, swimsuit, bejeweled mom, and I'm not sure who was to play the step-dad, Franklin. But he was quite the character, right out of Sopranos – gold chain, cigar, belly, shitty role model – at least that's what the script described. So, it truly upset me and in truth, I think it compromised the development of the characters to the degree that to this day people ask me the same questions – where are you parents?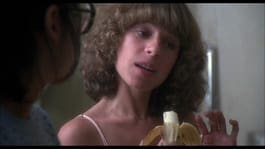 80sMG: IT SEEMS THAT DIERDRE HAS AN EATING DISORDER, BUT THAT ISN'T SPELLED OUT. WHAT WAS YOUR TAKE?
KS: WOW. That never even crossed my mind. This is the first time someone has posited this question. And where is that implied or indicated? I'd welcome your comments on how you arrived at that assessment. Do you mean because she only bought yogurt at the market and in the other scene she only ate a banana – which was scripted? Or because I was thin and not a 5'10†model? Interesting. In fact, Cherie was very thin so I'm just curious if you have asked her that question? I danced all my life. Being toned and physically fit, healthy, are integral to your stamina – whether that's for the rigors of dance of film or theater or life.
80sMG Response: The script is extraordinary because it works in so many details about everything going on with teens at the time — and the girls are each struggling with something. For Jeannie, it's balancing the complicated relationship with her divorcee mother and absentee dad; for Madge, it's an overbearing mother and feeling like she's undesirable compared to her friends – which is why she responds to a much older man's attention; and for Annie, she's addicted to drugs and alcohol which is portrayed through her excruciatingly thin character (according to Cherie Currie, during filming she was taking Benzedrine to increase her focus – but the amphetamine was popularly prescribed at the time for weight loss) . Extremely thin models were in vogue, and mixed with a new health consciousness that had developed during the '80s, it was spurring eating disorders among teen girls with public awareness spiking around the late '70s and early '80s. Other than Dierdre being "boy crazy" as they used to say, her other defining character is her relationship with food which Ayers and Lyne specifically highlight: choosing one container of yogurt when her friends are getting a whole grocery cart full of snacks, a close-up of the lone yogurt on the checkout stand conveyor belt with Annie asking "is that all you're eating?", pointing out to Greg how "I just bought this little container of yogurt" with a hand gesture indicating just how tiny it was. She eats a banana and yogurt at breakfast when the other girls are eating cereal and donuts. When the girls are alone, costume designer April Ferry dresses Dierdre in a way to show off her slim physique, but when they go out, she wears baggier clothes – typical of an anorexic. Then, there's the scene when she returns from the grocery store with the food for the dinner party. It's clear she tried to buy what she thinks "normal" teens eat – Fiddle Faddle, Twinkies, Chips – but doesn't realize she needs to buy dip and it seems couldn't bring herself to buy the cream cheese they'd specifically requested. She says she's on a diet, even though she's clearly so thin. She melts down at their criticism, crying "I'm the only one who has to go to the store all the time and buy that stuff!" That moment indicates how stressful the experience of going to the grocery store (and presumably, being surrounded by food and putting fattening food in her cart) for her – which she tries to hide by talking about how her mom doesn't know where she is – something she's never before indicated is any kind of concern for her. But, of course, there's no outright mention of an eating disorder, which is why we wondered if that's the conclusion the viewer is supposed to draw. Your answer – that there was no conversation about why Dierdre eats like a bird between you and the writer or director – is enlightening; it then seems that the delicate eating is more an extension of the importance to Dierdre to be seen as sexually desirable, which comes from her mother – perhaps then, why she immediately pivots to talking about her mother when crying about having to shop for food.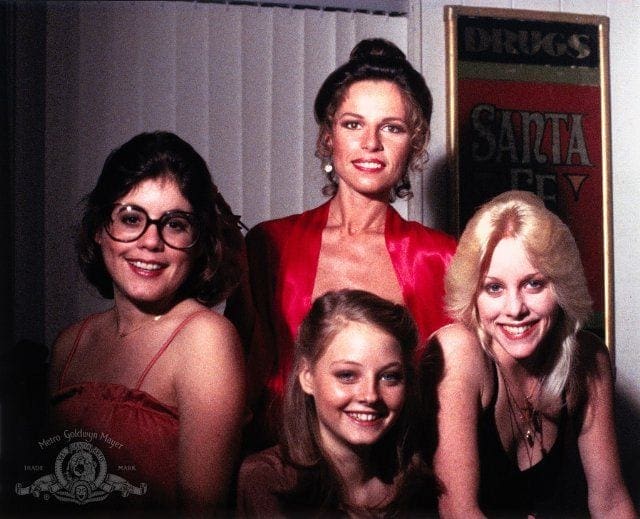 KS: So, this is why the whole issue of Deirdre's parents/socioeconomic background is so profoundly missed in the script. Had you seen their lifestyle, this would inform the economic discrepancy. And it's sad that that element of the story line took a hit. My take. The director and writer never delved into an eating disorder as character information with me. What I found to be true from my own substantive character analysis was that Deirdre was quite literally outside the group. I mean, truly look at her. She had her hair done at SAKS. She lived in an upscale area. She wore extremely fashionable clothes and was bold in her expensive choices. Most of her wardrobe is physically revealing -like her leotard and bolero pants. You can't miss that waistline! The dress worn at the dinner party was purchased at Giorgio's in BH. When I shopped with April Ferry, the choices were very upscale. We purchased my cigarette holder for the dinner party – at my insistence, I must say, from an exclusive art deco shop on Bedford Drive. Her expensive taste (by comparison), were designed to create a character that exuded money and a nonchalant attitude about life.
She was different. She needed to keep herself stylish, current, attractive, and emotionally apart because she was insecure and vulnerable and not really a part of the group, and yet, she wanted to belong somewhere. She didn't regularly shop for food items for herself. Her parents had staff. The reason she says "I'm the only one who has to go to the store and buy that stuff all the time" is because she could PAY for it. The other characters did not have that ability. I don't think she ever thought twice about a group of teens gathered for a hell-raising night. Just look at what she wore!! So, the breakdown about the dip was a catalyst for not fitting in – anywhere. Not at home, not with her friends, nowhere, except perhaps at Saks, or Neiman's, or somewhere where she could be comfortable financially but surely not emotionally. For all intents and purposes, I think she was a latch-key child. Had you meet her parents, this would have been very clear.
But, as I said in my retelling the story of my audition, the room was full of models. And to that degree, you are spot on about the standards put upon young women – particularly those in the entertainment industry. I found other reasons for Deirdre's self image issues. To me, it was all about inclusion and acceptance.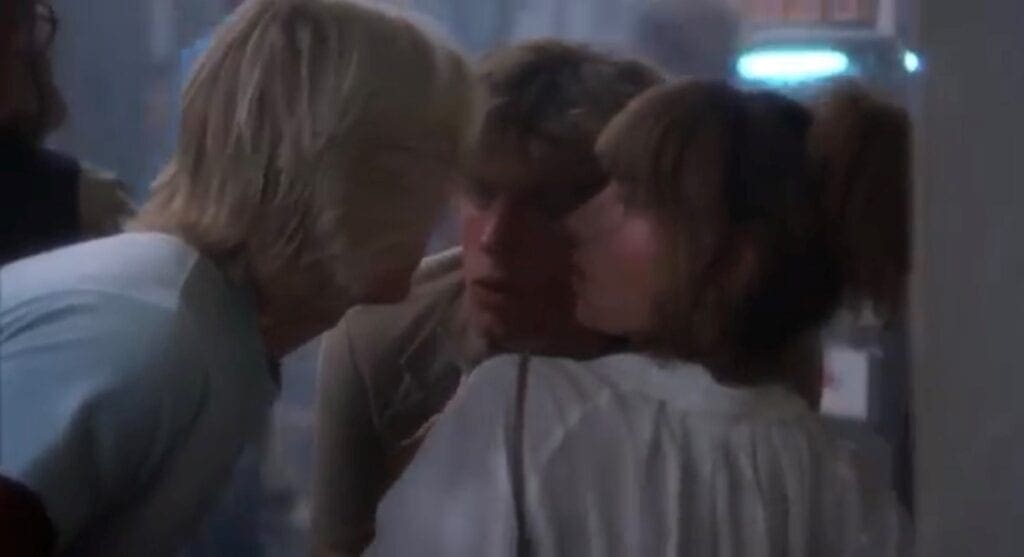 '80sMG: WAS THERE ORIGINALLY MORE OF A WRAP OF DEIRDRE'S STORYLINE? SHE JUST SORT OF DISAPPEARS.
KS: No. As I said, the final filming was replete with 'crunching.†In the script, Deirdre walks off to a happy life with a preppy, well-schooled, appropriate boyfriend and her hair is no longer permed. It's a wonderful life!!!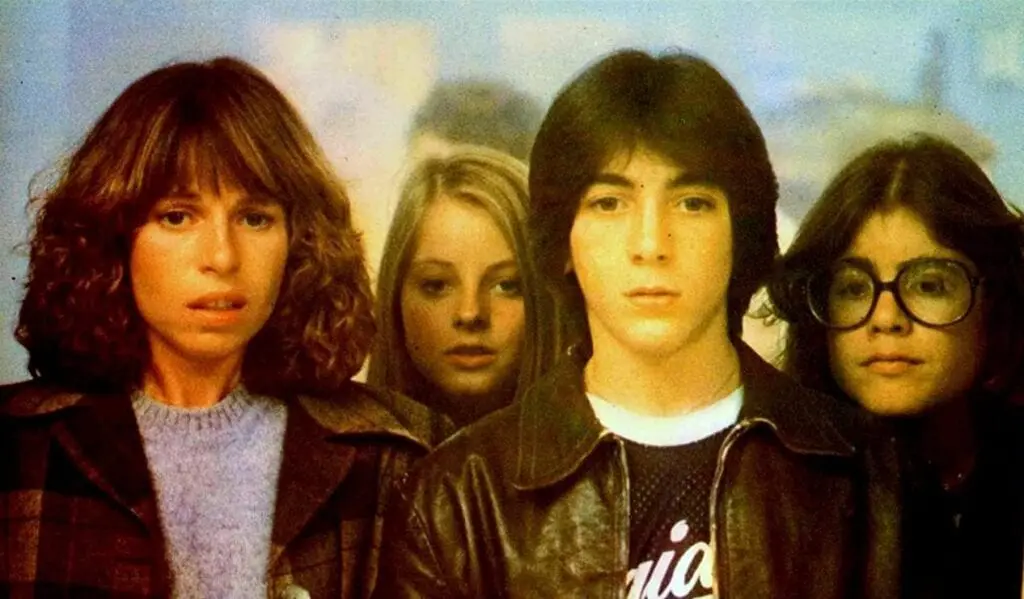 80sMG: MARILYN KAGAN SAID JODIE TALKED ABOUT THE CRUSH SHE USED TO HAVE ON SCOTT BAIO. GIVEN THAT HE WAS SUCH A TEEN BEAT HEARTTHROB AT THE TIME, DID ANYONE ELSE CRUSH ON HIM OR DATE HIM DURING FILMING?
KS: Not to my knowledge.
80sMG: CHERIE CURRIE HAS INDICATED THAT WHILE SHE WAS AN ADDICT, SHE WAS ABLE TO STAY CLEAN-ISH THROUGH MOST OF THE SHOOT. ON THE OTHER HAND, CASABLANCA WAS KNOWN FOR HAVING DRUGS AND ALCOHOL FLOWING TO GET WHAT THEY NEEDED IN THE MUSIC BUSINESS. WHAT WAS THE SITUATION WITH SEX, DRUGS, AND ROCK N ROLL IN REGARD TO FILMING?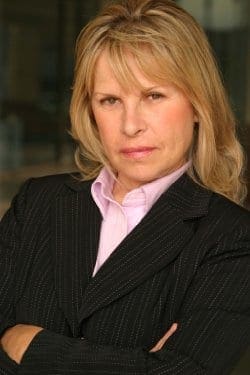 KS: I prefer to not comment.
80sMG: WHAT ARE YOU UP TO NOW?
KS: I am still acting – if I find or have the opportunity to read for material that's challenging and interesting, I'm there. My last major film role was a lead in Sound of My Voice. I continue writing. I'm working with two international screenwriters on scripts. Theater as you know is not a force in Los Angeles. I also have students, most of them actors and screenwriters, even a few people in finance and business, for one on one accent reduction lessons. I find this work both interesting and creative because so many of my students welcome my diversified life experiences and background and I am thrilled to be a part of their growth and success. I am inspired and learn everyday and I am open to all creative possibilities.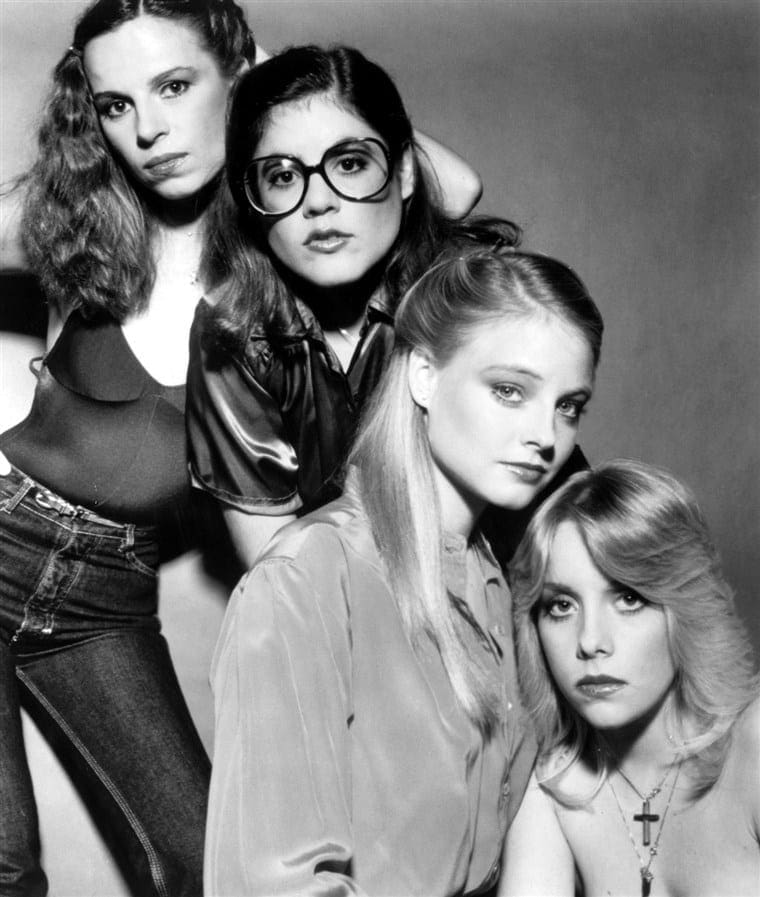 80sMG: HOW DID STARRING IN FOXES IMPACT YOUR LIFE AND CAREER?
KS: In some ways good. In some ways not so good. Ultimately, we make choices about what we will do or not do. Yes, there are regrets.  But there are unexpected surprises. Doors open. Doors close. Life pops up and says, Hey, what about this? I've worked on things I never thought I was capable of doing – raising a child, producing films, designing a house, directing and choreographing an original musical. My road has been twisted and rocky, wonderful and unexpected, blessed with good health and a remarkably talented daughter, but most importantly, I create. Whether as an actor, writer, theater director, or producer, I am a creative person and every experience impacts my life and career. I welcome them all.
Check out our Foxes movie guide page, including all the behind the scenes and making of details: https://80smovieguide.com/foxes/