November 12, 2021
/
/
Comments Off

on Why GHOSTBUSTERS: AFTERLIFE is the movie we need right now
Why GHOSTBUSTERS: AFTERLIFE is the movie we need right now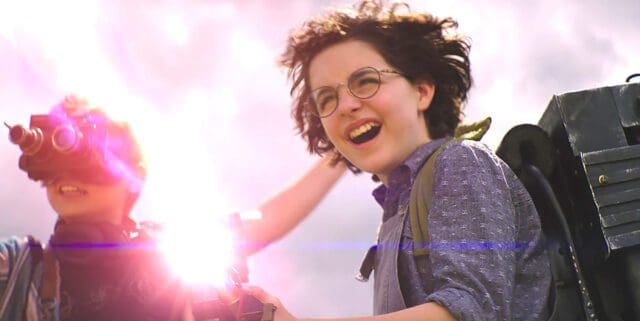 When anyone postulates, "Who ya gonna call?" most everyone smiles, knowing the 3-syllable answer. Thirty-seven years have passed since the Stay-Puft Marshmallow Man pounded the streets of New York, but there's never been a better time for a satisfying reboot the whole family can rally behind.
Ghostbusters: Afterlife is actually a rebirth, launching the franchise in a new direction with tweens and teens slipping into the jumpsuits. A financially struggling and cynical single mom (Carrie Coon) moves with her two kids to a rural Oklahoma dirt farm she inherited from her estranged father. Paranormal activity is peeking around corners, and the kids – middle school science whiz Phoebe (McKenna Grace) and high schooler Trevor (Finn Wolfhard) seem to be the only ones spotting it. As the two discover a certain Ecto-1 and other mysterious equipment around the farm, they realize they may not be dealing with your everyday poltergeists – and that they're the only ones equipped to restore order.
Writer-director Jason Reitman doesn't just reward Ghostbusters fans – he's got something for all who love '80s movies. It's Easter Eggs galore, including summer school teacher Mr. Gruberson (Paul Rudd, in what is surely an homage to Mark Harmon's Mr. Shoop) whose daily assignments are watching '80s horror films like Cujo. Through the score, the lighting and the camera techniques, it captures the '80s magic. In this new kidventure, it's full force Ghostbusters reinvented as The Goonies – and it works, no matter your age.
It's hard to imagine a better way to bring a franchise back, especially because those who saw the 1984 original are parents and grandparents now. This reboot allows those viewers to share their love for the movie with their offspring, while also experiencing it in a new way. It works, even if you've never seen one of the earlier films (although it's certainly more fun if you have). And, worrisome content that parents remember from the original doesn't continue here (no ghosts having their way with sleeping humans here).
In our turbulent times, and as we emerge from isolation and are more aware of how to treat one another better, Afterlife eliminates the demons of our past and introduces a fresh future. You might wonder why the release date is Thanksgiving instead of Halloween. That's because whether you're at the theater with your multigenerational family or someone spending the holiday all alone, Afterlife is a spooky, funny film made to lift everyone's spirits.
Opens in theaters Nov. 19.